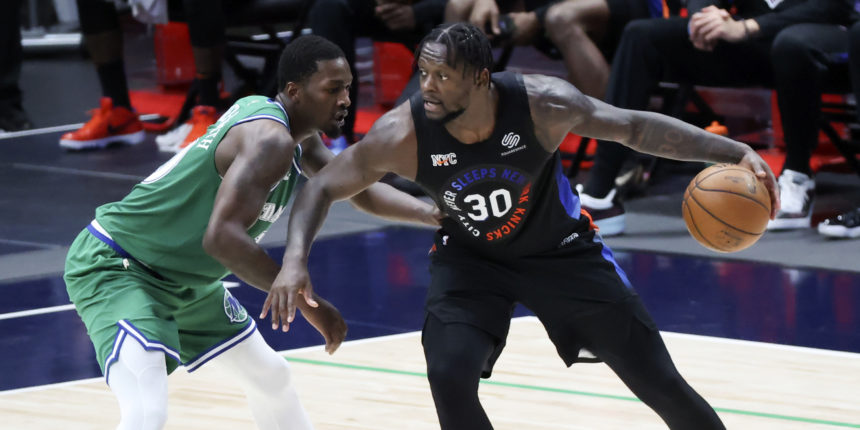 What more does Julius Randle have to do to get MVP consideration?
Much has been made about the New York Knicks' lack of success over the past two decades. The Knicks have won just one playoff series this century. They've also had only one player garner consideration for the Most Valuable Player award — Carmelo Anthony, during the 2012-13 campaign when New York advanced to the Eastern Conference semis.
Knicks fans are hoping that both those ignominious facts change this spring.
To that end, Julius Randle has done his part, and then some. But to this point, he hasn't received much mention of being among the league's most valuable players.
Here's why his name belongs in the conversation...
Back in December, multiple outlets projected New York to finish with one of the league's worst records. Las Vegas set the Knicks over/under win total at 22. Well, with fewer than a dozen contests remaining in the 2020-21 season, the Knicks have already racked up 34 victories and find themselves in fourth place in the Eastern Conference standings, meaning this once woebegone franchise would host Game 1 of an opening-round playoffs series if the postseason began today.
And the biggest reason, by far, for New York's shocking success has been the awe-inspiring play of its All-Star power forward.
Randle ranks inside the top-15 in the NBA this season in scoring, rebounding and dishing, averaging a whopping 24.0 points, 10.5 boards, 6.0 assists and 2.2 made three-pointers, while posting a True Shooting percentage of 57.3%. With less than a month left in the regular season, he is on pace to become just the second player in NBA history to average at least 20/10/6 and two made threes per game (joining Russell Westbrook, who matched those numbers during his otherworldly 2016-17 MVP campaign).
According to Basketball-Reference, Randle is also on track to become the second player ever to average more than 10 rebounds and more than five assists while shooting over 40% from behind the three-point arc and over 80% from the charity stripe. The only other player currently in the exclusive club is Larry Bird (who notched those numbers in 1984-85, winning the MVP award in the process).
To put Randle's superlative statistics in context to his contemporaries this season, consider this:
Randle has scored more points than Kawhi Leonard and Devin Booker in 2020-21.
Randle has grabbed more rebounds than Joel Embiid and Giannis Antetokounmpo.
Randle has handed out more assists than Stephen Curry and Ben Simmons.
Randle has made more three-pointers than Trae Young and Bradley Beal.
Randle is shooting a higher percentage from three than Damian Lillard and Kyrie Irving.
For the analytics crowd, Randle has a higher VORP than Chris Paul and Rudy Gobert.
The Cambridge Dictionary defines the word "valuable" as "very helpful or important." Those adjectives most certainly apply to Randle, whose contributions have been indispensable to the Knicks.
He leads New York in total points, boards, dimes, steals, made three-pointers and made free throws. Randle is the only player in the NBA this season that is his team's outright leader in each of those statistical categories.
Earlier this month, in a victory against the Dallas Mavericks, Randle racked up 44 points, 10 rebounds and 7 assists. After the game, head coach Tom Thibodeau told reporters that Randle's "aggressiveness set the tone," adding, "I've said it many times: He's our engine. He makes us go."
In last Wednesday's win over the Atlanta Hawks, Randle became just the fourth player in NBA history (joining James Harden, Kevin Durant, and Westbrook) to tally 40+ points and more than 10 rebounds, 10 made free throws, 5 assists and 5 made triples in a single game. Coming into this season, no Knickerbocker, in the 70-year history of the franchise, had ever recorded a 40/10/5/5 game. Randle's done it twice in the past two weeks.
Legendary football coach Bill Parcells is credited with coining the phrase "availability is the best ability," and that's another area where Randle has outpaced his peers (thanks in large part to Coach Thibs' fearlessness when it comes to leaning heavily on his key cogs). Randle has missed just one contest this season and leads the NBA in minutes played, just ahead of Nikola Jokic (RJ Barrett ranks third).
When determining a potential candidate's MVP credentials, team success is also undeniably part of the equation. As noted above, the Knicks have certainly exceeded expectations.
The Knicks have won 9 in a row.

Julius Randle in that span:

31p | 10r | 1a | 5 3pt
40p | 11r | 6a | 6 3pt
16p | 10r | 7a | 1 3pt
33p | 5r | 10a | 2 3pt
44p | 10r | 7a | 6 3pt
32p | 8r | 5a | 5 3pt
34p | 10r | 4a | 2 3pt
26p | 8r | 5a | 1 3pt
15p | 10r | 11a | 1 3pt pic.twitter.com/NHEUil7LBd

— StatMuse (@statmuse) April 24, 2021
New York enters play on April 26 with a nine-game winning streak. The Utah Jazz, owners of the NBA's best record, are the only other team in the league to record a winning streak longer than eight games in 2020-21. According to NBA.com, the Knicks are the only team in the NBA to rank in the top five in both Defensive Rating (107.2) and Offensive Rating (116.5) in April. New York leads the league in net rating this month, having outscored their opponents by 119 points in the 13 games they have played.
Most pundits believe Jokic is a lock to win this season's Most Valuable Player Award, and rightfully so. Embiid, Curry and Luka Doncic, in some order, will likely round out the top four. It is very likely that one of those deserving four will end up winning the award.
Still, it can easily be argued that Randle deserves to land somewhere in the top 10, and if the Knicks can hold onto the fourth seed, he could rise as high as fifth.
Surprisingly, in NBA.com's most recent MVP ranking, published late last week, senior writer Michael C. Wright did not have Randle listed among his top 15 players worthy of MVP consideration. When comparing Randle's statistical profile to certain players who are more frequently mentioned as MVP candidates, there appears to be some disconnect.
(For what it's worth, only five players in Knicks franchise history have ever finished in the top five in MVP voting: Willis Reed, Walt "Clyde" Fraizer, Bernard King, Patrick Ewing and Carmelo Anthony.)
Aside from having a chance to join that illustrious group, Randle also has a legitimate shot at becoming the first Knick to win Most Improved Player.
Over his first five seasons in the NBA (311 games), Randle made a grand total of 104 three-pointers. Through New York's first 60 games this season, he's knocked down 132 trifectas. He had dished out double-digit assists in a single game six times in his career coming into this season. Randle has seven such games in 2020-21.
🗣 M-V-P

Julius Randle started receiving MVP chants from the home crowd in MSG 👏 pic.twitter.com/KmlEK8h8hT

— ESPN (@espn) April 24, 2021
"One of the best one-season turnarounds I have ever seen," Knicks announcer Mike Breen said of Randle's current campaign, noting how the powerful power forward "has improved in every facet of the game."
During a national TV broadcast in mid-April, Jeff Van Gundy declared Randle is "definitely the most improved player in the league," adding that he deserves MVP consideration too.
However, Randle has made it clear that he'll judge this season not by the number of points or boards he tallies, but rather the number of wins and losses his team compiles. In an article he authored for The Players Tribune in early March, Randle explained that his "main goal" was making sure the Knicks scale the standings. Randle wrote that taking a significant step forward in 2020-21 wasn't contingent upon posting impressive individual stats, but rather "about this entire Knicks team finding its best self."
Julius Randle is playing the best basketball of his life. Not coincidentally, the Knicks are on pace to finish a season with a winning percentage north of 55% for only the second time this century.
If you are wondering if New Yorkers are aware and appreciative of the importance of Randle's contributions—listen to the raucous "M-V-P" chants that rain down from the rafters every time he steps to the free-throw line inside Madison Square Garden.