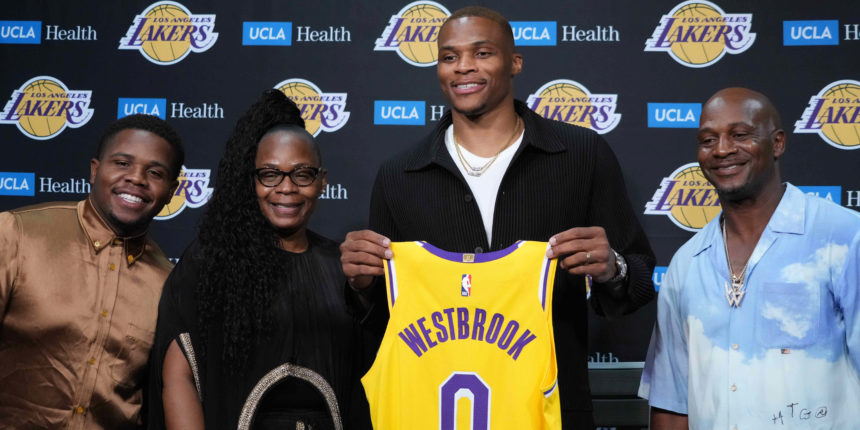 Russell Westbrook's MVP odds range from 25-1 to 85-1
OK, Lakers Nation: Your team is stacked like never before in the LeBron James era.
Anthony Davis will be back healthy. Russell Westbrook is coming aboard. So is Dwight Howard, along with Carmelo Anthony, Wayne Ellington, Malik Monk, Kendrick Nunn, Trevor Ariza and Kent Bazemore.
This team is loaded.
And while they are certain to win the NBA's geriatric award, a championship is no sure thing. But when it comes to dominating the regular season, both in terms of media coverage and watchability, nobody is even a close second.
Bear that in mind for a couple of reasons, not the least of which is that the writers and broadcasters who vote for the NBA's Most Valuable Player award watch a whole lot of basketball on TV. And it is safe to say we will see a heck of a lot more of the Lakers than we will of, say, the Thunder.
The Lakers have three legitimate MVP candidates in Westbrook, Davis and James. But for whatever reason, the major U.S. sportsbooks have listed all three of them with very long odds for MVP. At DraftKings Sportsbook, Davis and Westbrook are listed at +2500, to use the new parlance, and James is +1500.
At FanDuel Sportsbook, Westbrook is an astonishing 85-1. He is 55-1 at PointsBet, and 50-1 at WilliamHill.
And if you think those odds are going to stay that high in the long-term, we have a bridge in Brooklyn that we will sell you for a very low price.
Here is the thing about the legalized U.S. sports gambling market: The books are not all that great at setting the futures odds accurately. They are very good at most things they do. But on some of these future markets, they are off by a country mile. The sharp gamblers know this, and you should, too.
Westbrook, in case you have forgotten, spent last year with a Washington Wizards team that closed the season with a tremendous finishing kick after having their campaign hugely disrupted by COVID-related postponements. They won 17 of their final 24 games, and Westbrook had triple-doubles in 19 of those contests. He was one assist shy of two more triple-doubles.
The guy gets bashed a lot for a variety of things (including switching teams so often in recent years), but do not let the haters convince you that he is a bad player. He remains a super-stud, and there are worse things you can do with one Benjamin than lay it on Russ at 85-1 for the MVP. If he opens the season with three of four triple-doubles in a row, you are going to see that number shrink considerably (perhaps to single digits).
Of course, Davis is a legit MVP contender as well, and there is a chance that the Lakers spread the wealth around so much that these guys cancel each other out. And while that may indeed be the case, there is still questionable logic in having Luka Doncic (+400), Joel Embiid and Kevin Durant (+700), Giannis Antetokounmpo and Steph Curry (+800) and Damian Lillard (+1200) listed with lower odds than any of the Lakers. Also at +1500 along with LeBron is reigning MVP Nikola Jokic (+1800). Trae Young (+1800), Devin Booker (+2000) and James Harden (+2000) are also listed lower than Westbrook and Davis. (All of those odds from DraftKings Sportsbook).
Jokic won the MVP award last season for a lot of reasons, not the least of which was his durability as he appeared in all 72 games while averaging 26.4 points, 10.8 rebounds and 8.3 assists. But the Denver Nuggets finished tied for third in the Western Conference, and it is pretty rare for a player from a third-seeded team to win the award.
Voters typically look at individual stats first and a team's record second. Last season, because of the amount of injuries around the NBA, Jokic sort of won it by default, getting 91 of 101 first-place votes. Embiid, who finished second, got just a single first-place vote (from Duane Rankin of the Arizona Republic). Steph Curry, who finished third, got five first-place votes.
Assuming the senescent nature of the Lakers roster does not lead to the same type of injury problems they had last season, they will finish atop the Western Conference. FanDuel Sportsbook currently lists them as +195 to win the West, followed by the Golden State Warriors and Los Angeles Clippers at +500, and the Utah Jazz at +650.
The Brooklyn Nets (+230) and the Lakers (+400) are the two favorites to win the NBA title.
But remember: The Most Valuable Player award only takes into account what happens during the regular season. If Westbrook plays the same way for the Lakers as he did at the end of last season for the Wizards, churning out triple-doubles on a nightly basis, he could win MVP in the same sort of runaway fashion as Jokic did last season. Dennis Schroder and Alex Caruso are gone, and Kendrick Nunn (who's more of a shooter than a playmaker) is now the de facto backup point guard.
There are no sure things in the gambling world. But there are reasonable risks.
Wagering on Westbrook, who has 184 career triple-doubles, is not the worst idea in the history of ideas. Give it some thought, especially because others are not.
BetMGM spokesman John Ewing said that Curry has taken a league-leading 14.8% of tickets to Westbrook's 2.3%. PointsBet's Wyatt Yearout said that Doncic is taking a league-leading 10.71% to Westbrook's 7.14% (the same as Antetokounmpo, Durant and Curry).