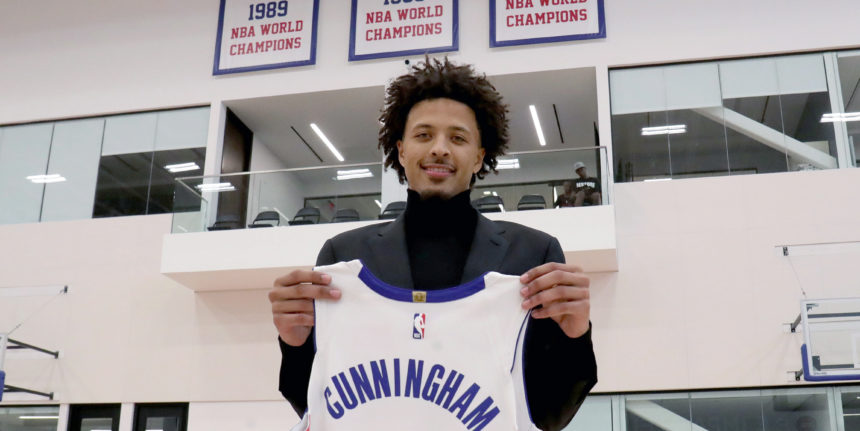 Motor City Renaissance: The future is now for the Pistons
A new era of Detroit Pistons basketball has officially begun in the Motor City. After over a decade of waiting anxiously for a return to relevance since the golden years of Chauncey Billups, Richard "Rip" Hamilton, Tayshaun Prince, Rasheed Wallace and Ben Wallace, Detroit is back on the map.
Securing their first No. 1 overall pick in franchise history, Detroit landed one of the most pro-ready star prospects in the modern era.
Cade Cunningham instantly became Detroit's top sports figure once he donned the Pistons' hat during the 2021 NBA Draft. After dominating the competition at Oklahoma State University on his way to winning the Wayman Tisdale Award (given to the top freshman in college basketball), Cunningham was a sure-fire No. 1 selection with limited flaws in his repertoire.
Cunningham represents how franchise-changing players enter the NBA: jumbo playmakers who can score efficiently on all three levels. Many of today's top young stars, such as Devin Booker, Trae Young, Luka Doncic and Jayson Tatum, possess these traits that have helped them reach new heights in short order.
Becoming the immediate No. 1 option in Detroit's system, Cunningham will put up numbers during his rookie season, but don't sleep on his defense. Cunningham has every tool at his disposal to become a top-20 player in the league within the next few years, which should make Pistons fans giddy for their immediate- and long-term future.
During the NBA Summer League in Las Vegas, Cunningham has continuously flashed his sky-high potential by averaging 18.7 points, 5.7 rebounds, 2.3 assists, 1.7 steals and 1.3 blocks per game while shooting an eye-opening 50% (13-for-26) on three-point attempts. Of course, it's a small three-game sample size, but Cunningham is showing exactly why he was one of the easiest No. 1 picks in recent memory.
With their young superstar secured for nearly a decade, Detroit also has a promising trio of prospects already in their development system.
2020-21 All-Rookie forward Saddiq Bey is locked in as Detroit's wing of the future. Perfectly fitting within the 3-and-D label, Bey shined last season, averaging 12.2 points with a 38.8% clip from deep.
Killian Hayes, the No. 7 overall pick from the 2020 draft, struggled adjusting to NBA speed on both ends, but he looks the part of a low-usage primary initiator who can play solid point-of-attack defense.
Isaiah Stewart made veteran center Mason Plumlee expendable after showcasing real value as a multi-faceted big man who can contribute in every fashion. Among players who logged at least 700 minutes last season, only four averaged 13.0 points, 11.0 rebounds and 2.0 blocks per 36 minutes: Rudy Gobert, Clint Capela, Robert Williams and Stewart.
The No. 1 pick can join this solid young core and quickly expedite their rebuild. Cunningham, Bey and Stewart check the boxes at each of the game's three foundational spots (ball=handler, wing and big), but questions still loom about whether Hayes is a compatible fit long-term alongside Cunningham due to his lack of shooting at this stage.
We haven't even discussed Jerami Grant yet, who exploded onto the national scene once he finally received an expanded role in Detroit. Showcasing himself as one of the NBA's best role players in Oklahoma City and Denver — thriving alongside stars such as Russell Westbrook, Paul George, Nikola Jokic and Jamal Murray — Grant decided to bet on himself, signing with the Pistons instead of returning to a potential Finals contender. During the 2020-21 season, Grant averaged 22.3 points as his career-best usage rate jumped over 10 percentage points from the year prior with the Nuggets (18.0% to 28.5%).
Detroit is still a year or two away from playoff contention, but having Grant on board will ease the pressure placed upon Cunningham. The Grant-Cunningham duo will create highlight moments and wreak havoc in two-way situations as a guard-wing combination. Cunningham will allow Grant to slide back into a secondary role as well, which should make him an even stronger complement to the Oklahoma State product.
Although they will surely fly well under the radar next season, Detroit has a complementary core that fits well together. Cunningham, Bey and Stewart are part of the long-term core, while Grant has the potential to ascend to an All-Star-caliber player with extra help surrounding him.
This leads us back to the biggest question currently on Detroit's roster: Hayes. The 20-year-old French point guard is the X-Factor in Detroit's status as a rising franchise. Hayes struggled mightily during his rookie campaign, which resulted in a porous 42.2% True Shooting percentage. Hayes flashed the defensive ability to handle point guards in one-on-one matchups, but the offense was a net negative. The 6-foot-5 guard averaged 6.8 points per game while shooting 27.8% on three-pointers. In order for Hayes to become a strong complement to the sturdy core already in place, he needs to expand his two-way profile.
So far in Las Vegas, the results haven't been encouraging during Summer League action. Hayes is 7-for-22 (31.8%) from the floor, including 2-for-11 (18.2%) from deep. Hayes' inability to keep defenses honest is a real concern moving forward, questioning again whether he can be a real complementary piece around Cunningham, who needs floor-spacers to showcase his playmaking chops as a 6-foot-8 offensive engine.
Once Detroit added Cunningham, they made a real effort to acquire perimeter gravity within their system. Signing Kelly Olynyk to a three-year, $37.2 million contract on the first day of free agency — the best floor-spacing big on the open market — sent a message about how the Pistons' offense will function in 2021-22 and beyond: completely through their generationally-talented rookie. Detroit also signed Trey Lyles, another jump-shooting big, and re-signed Frank Jackson and Rodney McGruder.
Hamidou Diallo, whom Detroit acquired mid-season from Oklahoma City, has his restricted offer waiting from the Pistons. It's currently a waiting game between both sides, but it should get done eventually, returning a springy athlete to feast on lobs and cuts around the basket from Cunningham.
Scanning through Detroit's rotation, it's not a collection of misfit toys. There's real talent assembled in the Motor City, allowing head coach Dwane Casey to trot out a potential 10-12 man unit that could look like this:
Starters: Killian Hayes, Cade Cunningham, Saddiq Bey, Jerami Grant, Isaiah Stewart
Bench: Frank Jackson, Saben Lee, Hamidou Diallo, Rodney McGruder, Josh Jackson, Trey Lyles, Kelly Olynyk
Sure, the Pistons are not a real threat in 2021-22 and perhaps not in 2022-23. However, don't be surprised if the team makes a leap quicker than expected. With Cunningham, they have a win-now, face-of-the-franchise prospect who could lift a subpar roster on his own terms. Throw in their strong ancillary pieces and Detroit is coming down the pipeline as a real Eastern Conference playoff threat. In the meantime, they're definitely near the top of the list of squads to follow on NBA League Pass throughout the season.