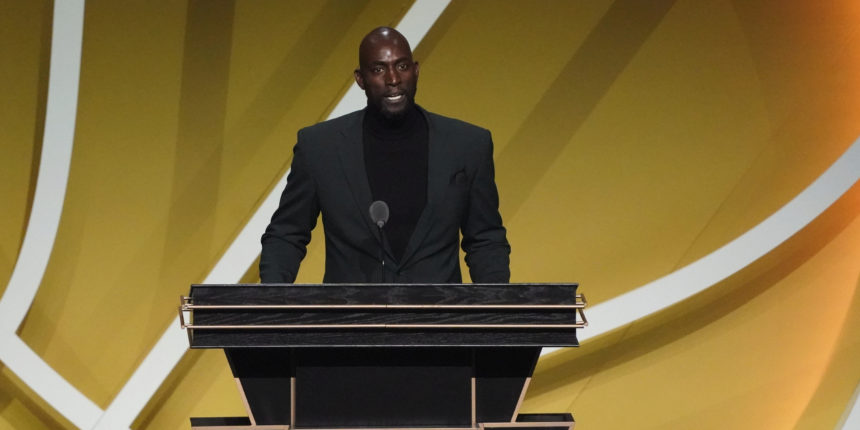 Rumor: Alex Rodriguez wants Wolves in Seattle, Kevin Garnett could push back
According to Charley Walters of the Pioneer Press, Alex Rodriguez wants to relocate the Minnesota Timberwolves to Seattle. But Kevin Garnett, who could join as a major player in the organization, wants the team in Minnesota.
"There's buzz now that Kevin Garnett, who is said to be worth more than $200 million, will be heavily involved in the Timberwolves basketball department if he joins franchise investors Alex Rodriguez and Marc Lore if/when they gain full control in 2023," Walters wrote. "The word is Garnett, the ex-Timberwolf, wants the franchise to remain in Minnesota but Rodriguez wants to move it to Seattle, where he played for seven seasons."
Rodriguez and Marc Lore are still working out the $1.5 billion gradual purchase of the Timberwolves from current owner Glen Taylor. Rodriguez played for the Seattle Mariners from 1994-2000.
Taylor has said that the franchise remaining in Minnesota was a condition of the sale with Lore and Rodriguez.
"There was no use talking to them if they didn't agree to that," Taylor told The Associated Press in an April 10 interview.
Taylor once again expressed confidence that the NBA franchise will remain in Minnesota after it is sold, responding to a federal lawsuit against him by one of his investors alleging breach of contract.
"As a policy, we do not comment on pending legal matters," Taylor said. "I stand by my prior statements and commitment to keeping the Timberwolves and Lynx in Minnesota."
The lawsuit was filed by New Jersey real estate magnate Meyer Orbach, whose ownership stake is about 17%.
"The complaint accuses Taylor of misleading public statements about the contractual requirement that Lore and Rodriguez keep the Timberwolves in Minnesota. According to the language in the deal, the plaintiff wrote, the issue of relocating the team must be presented to an advisory board that cannot actually stop the new general partner from moving," according to The Associated Press.
The City of Minneapolis, which owns Target Center, has an agreement with the team through 2035 that carries a $50 million penalty for breaking the arena lease, per The AP.