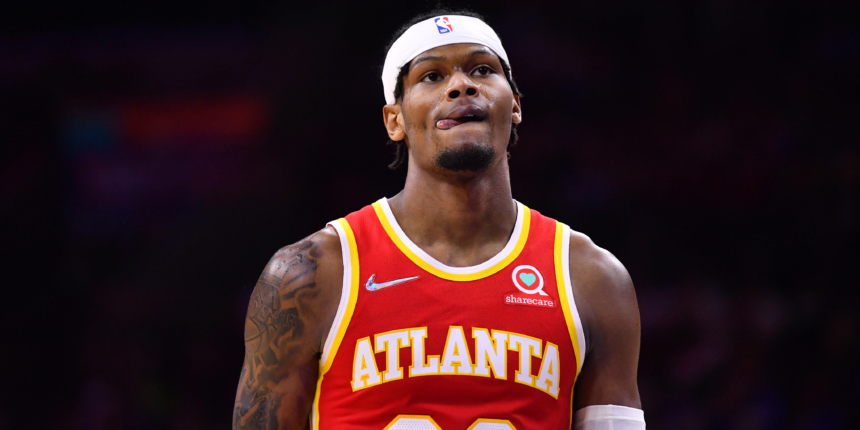 Instant reaction: Cam Reddish trade a no-brainer for Knicks
The Atlanta Hawks have been disappointing so far in 2021-22, winning only 17 of their first 40 games — a major step back after advancing to the Eastern Conference Finals just last season. With that kind of a start, moves are inevitable.
So late Thursday morning, Atlanta reportedly sent Cam Reddish, Solomon Hill and a 2025 second-round pick (via Brooklyn) to the New York Knicks for Kevin Knox and a protected 2022 first-round pick via Charlotte, per Adrian Wojnarowski.
Let's take a look at how this affects both teams involved.
KNICKS
This move is a major win for New York. The Knicks had in interest in the 6-foot-8 Reddish leading up to the 2019 NBA Draft. They ultimately selected Reddish's teammate, RJ Barrett, third overall. Reddish was taken by Atlanta with the No. 10 pick.
Considering that Barrett and Reddish played together for a season at Duke, cohesion should not be an issue. Somewhere in or around New Orleans, Zion Williamson is probably jealous that his two former teammates are reuniting without him. Be on the lookout for Zion-to-New York rumors heating up, especially if Reddish and Barrett are both in New York long-term.
But Reddish-to-New York isn't a pure reunion. Reddish's game has grown a lot since 2019. He's playing the best basketball of his career this season, scoring a career-high 11.9 points per game on a career-best 37.9% on three-point attempts. He's done that while playing a career-low 23.4 minutes per game. He's been more aggressive as of late, putting up two 30-plus point games in late December, and his defensive prowess is still noteworthy too.
Welcome to New York, Cam Reddish! pic.twitter.com/eE1sVzYKsO

— Ballislife.com (@Ballislife) January 13, 2022
Reddish's versatility should solidify New York's already-capable second unit, adding a true wing to a lineup that needed one — a role that was tailor-made for Knox, who never won the trust of head coach Tom Thibodeau. Alternatively, Reddish could replace Fournier in the starting lineup. Reddish will almost certainly take on the limited minutes Knox received, as well as probably taking some from rookie Quentin Grimes and Alec Burks. Reddish's presence should also enable Thibodeau to rest Julius Randle, Barrett and Fournier a bit more too.
Reddish is eligible for a contract extension following this season. If a deal isn't reached, the 22-year-old will become a restricted free agent in 2023. As alluded to above, Reddish will likely receive more playing time in New York to showcase what he can do before the summer.
The Knicks are presently 21-21, slotting in at No. 11 in the Eastern Conference. New York is in a similar position to where it was last season the team traded for Derrick Rose. Rose helped power the Knicks into the 2021 NBA Playoffs. If Reddish can have a similar impact, look for negotiations to commence this offseason.
Hill is unlikely to receive a significant role in New York, and could be waived depending on how Thibs views his fit with a crowded frontcourt room.
HAWKS
The cost of adding a versatile wing was a no-brainer for the Knicks. On the other hand, it seems as though Atlanta could have returned more for a young player like Reddish.
But that doesn't mean it's a bad deal for the Hawks. Firstly, Atlanta has struggled establishing and sticking to lineups, which has been further complicated by injuries and protocols. While the 10th pick in an NBA Draft is certainly a considerable investment, De'Andre Hunter — the fourth overall pick of the same draft — is obviously more of a priority; Kevin Huerter and Bogdan Bogdanovic are too, and that left Reddish among the odd men out.
We should also hold off on judging Atlanta's decision to move Reddish until at least the trade deadline (Feb. 10). The Hawks could very easily be working on a follow-up deal that makes this move sensible. It also could be as simple as Atlanta striking before word leaks that the franchise possibly did not anticipate opening contract negotiations with Reddish, which would've hurt his trade value.
It's worth mentioning that the pick used on Reddish originally belonged to the Dallas Mavericks, and was sent to Atlanta as part of the Luka Doncic-Trae Young trade — meaning that ultimately, in a web, Atlanta received Young, Kevin Knox and a 2022 protected first-rounder for Doncic.
Ironically, the Hawks are struggling this season too, just one spot behind New York in the Eastern Conference. A shake-up was imminent, as was foreshadowed recently by Hawks general manager Travis Schlenk on an Atlanta-area radio show. Rumors have also circulated about the availably of veteran wing Danilo Gallinari.
Ultimately, this deal was a home run for New York. It may or may not help catapult the Knicks into the playoffs, but more importantly, it gives them another reliable and versatile young player around whom they can continue building.
It's a little less clear what this accomplishes for Atlanta. Knox's inability to consistently contribute means he'll probably play a very limited role, similar to that which he had with the Knicks. But stay tuned for subsequent deals regarding the Hawks.