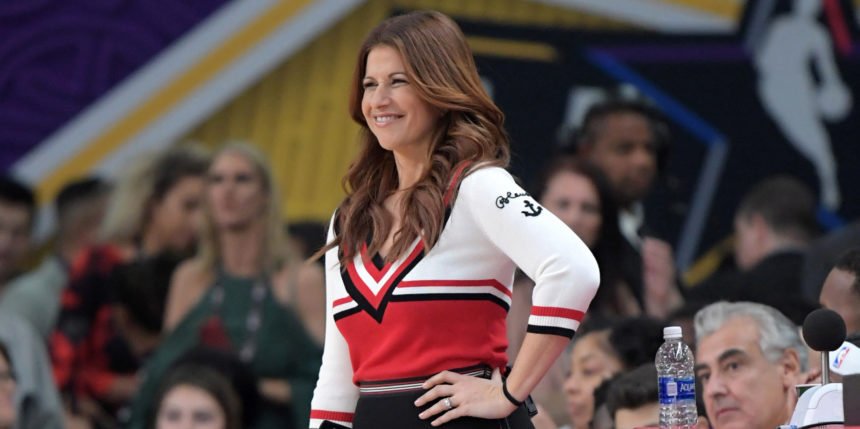 Rachel Nichols-Maria Taylor incident exposes ESPN's racism, sexism
On July 4, 2021, The New York Times published a story detailing the fallout of a leaked Rachel Nichols' video, wherein the host of ESPN's "The Jump" questioned the merit of her colleague, Maria Taylor.
"If you need to give her more things to do because you are feeling pressure about your crappy longtime record on diversity – which, by the way, I know personally from the female side of it – like, go for it. Just find it somewhere else," Nichols said while unknowingly being recorded.
Since the release of the article, ESPN has been hard at work trying to extinguish the fire sparked by Nichols' comments.
Rachel Nichols began today's episode of The Jump with this apology to Maria Taylor and others at ESPN https://t.co/9cXsDmMMhZ pic.twitter.com/yQj5j8akMw

— Awful Announcing (@awfulannouncing) July 5, 2021
Still, flames sit at every corner of this story. They range from small to large, and they highlight the injustices at ESPN. The New York Times forced ESPN's hand, so now the company is trying to put out this fire as quickly as possible before it reaches the deep pit of grease at the story's core: ESPN's insidious environment of racism and sexism.
Some of these flames include the direct fallout from the tape — like criticism over the repercussions former ESPN video producer Kayla Johnson faced for sharing the audio with Taylor — to larger structural grievances with how the media conglomerate uses women.

Despite Nichols igniting the match, many have pointed out that she's been burned by ESPN, too. They point to the toxic culture at ESPN, and how animosity between women is fostered at a company that so rarely makes room for more than one.
When women are relegated to hosting and sideline reporting, there are limited opportunities to truly flourish. And when success can no longer be had as a collective and only in spite of one another, toxicity and animosity are cultivated.
"It's particularly unfortunate that two women in the industry are pitted against each other," NBA Commissioner Adam Silver said when asked about the situation.
A toxic environment is still not an excuse for the racist dismissal of Taylor, especially from someone with the history and experience of Nichols.
Nichols is a seasoned journalist of over 26 years, having worked for The Washington Post, CNN, Turner Sports and ESPN covering both basketball and football. Throughout her career, Nichols has stood out by carving her space in media as a much-needed female voice that challenges the misogynistic culture in sports — from confronting NFL Commissioner Roger Goodell following the Ray Rice scandal to questioning the redemption narrative surrounding Derrick Rose's 50-point game two years after a civil trial for rape allegations. (Editor's Note: A federal jury ultimately cleared Rose of all counts.)
Nichols recognizes the value her identity adds to her coverage, giving her a unique perspective in a male-dominated industry. And yet, she somehow fails to recognize Taylor's value in a moment of national racial strife.
Many people have also been harping on Nichols' claim that it was in her contract to host NBA Countdown during the 2020 NBA Finals... But that is entirely beside the point.
For starters, ESPN asked Nichols if she wished to switch to sideline duties — a request she was allowed to decline. And the controversy is not about a contract dispute. It is not even about whether Nichols felt she deserved the job more than Taylor. It is about her comment at that moment. Had she only made reference to the contents of her contract, there would be no story and no backlash.
There's also the invasion-of-privacy issue that, rightfully, is being discussed as well. Since the recording was captured on Nichols' laptop through software she uses to record "The Jump," this is another small fire for ESPN to investigate. However, again, this is not at all what the public outcry is about.
While these issues may individually hold merit, they do not serve as a defense, and they have been used to detract from the core issue at hand: Rachel Nichols' racist comment.
At the core, this is a story about a powerful White woman weaponizing her Whiteness to dismiss and demean a Black colleague to another White person who's in a position of power.
The backlash and outcry are so loud because this is a story that Black people are all too familiar with. Nichols' comment had no basis in reality, but deep roots in history. It suggests that Black people do not belong, and any advancement is the result of external assistance.
A handout.
Claiming that Taylor was given this opportunity instead of earning it completely dismisses her unique voice and perspective. Nichols' compliments of Taylor's skill and talent evaporate the very second Nichols questions Taylor's merit. Her success is no longer credited to her hard work, but to the color of her skin.
The stereotype that Black people get by on handouts is a tale as old as time. This ranges from overt racist sentiments like Ronald Reagan's "welfare queen" trope to more subtle microaggressions in corporate settings.
Dismissing the accomplishments of Black people is a core tenant of White supremacy. Implicit bias transmitted through microaggressions is the exact strain of White supremacy that Black people fear in their workplaces. It's a pervasive form of racism that is felt immensely, but near impossible to call out.
You feel it through glances and through inner circles you can't penetrate, cementing the belief that you don't belong. You feel it when you look around and rarely see faces that look like yours. You're forced to exist in a space that's unwelcoming to you, wondering whether others question your worthiness.
It's a culture of exclusion, which Nichols is acutely aware of.
"Those same people — who are, like, generally White, conservative, male Trump voters — is part of the reason I've had a hard time at ESPN," Nichols said on the same recording.
The leaked audio of two White people dismissing a Black woman's credibility confirmed people's suspicions to be true: that these conversations do happen behind closed doors. It's why so many were hurt and offended.
It's important to note that Nichols said this to Adam Mendelsohn, an advisor to LeBron James and NBA agent Rich Paul (who founded Klutch Sports Group and represents many stars). These are the inner circles that outsiders feel they cannot penetrate. Questioning Taylor's credibility leaves her on the outside with Mendelsohn and all of his notable clients.
What's even more troubling is that Mendelsohn felt safe saying he was "exhausted" by #MeToo and the Black Lives Matter movement — sentiments he would likely never share with Black journalists (or his Black clients). This furthers distrust because it illustrates how issues that should be treated as universal are discussed differently by White colleagues depending on the setting. There's the public response and then there's the behind-closed-doors response.
Once we understand what the core issue is, we can examine why Nichols' apology fell short.
Her apology addresses a workplace issue at a colleague-to-colleague level rather than a racial issue. Instead of a White woman apologizing to a Black woman for racially insensitive comments, Rachel deflects, explaining that she does not want to be the story.
She did not have to be.
Nichols could have used her learning experience to highlight the pervasiveness of implicit bias and the importance of language.
In quick monologues, Nichols so often educates her audience on a prominent storyline — from the death of Ruth Bader Ginsburg to the protests across the United States in the wake of George Floyd's murder.
She is a leader in using her show to highlight the importance of difficult conversations in sports, and why the coverage around basketball cannot solely be about the Xs and Os.
Yet, in a prime opportunity to use her show as she and ESPN often do so well, both failed.
Instead of apologizing for her actions and explaining that she (more than anyone) understands that utilizing diverse identities isn't about meeting quotas, but rather about enriching coverage, Nichols apologized for the way Taylor was made to feel.
To accompany Nichols' apology, Kendrick Perkins and Richard Jefferson, two Black men, were asked to speak — despite having nothing to do with the matter.
Perkins spoke to knowing Nichols' heart and shared his wonderful experience working alongside her. Jefferson, meanwhile, spoke to his 20-year relationship with Nichols and made mention of difficult conversations being had behind the scenes — while also adding that Nichols was not excused and that he and Perkins weren't either.
Bringing in these two former NBA champions to discuss race added nothing of value to Nichols' apology, and only exposed yet another issue of diversity at the company. Why were two privileged Black men brought in to discuss racism between an established White woman and a younger Black woman? Also, why were these two Black men put in this position and used as pawns? The fact that, after 24 hours, this was the best ESPN could do is baffling.
They haphazardly attempted to douse the flames once and for all, but like water on a grease fire, the blaze was not subdued. Instead, burning oil splattered far and wide, reaching Twitter Spaces. The next day, ESPN removed Nichols from its 2021 NBA Finals coverage, with Malika Andrews handling the sideline-reporting duties in her place. Apparently, ESPN's power structure only doles out punishments for racist comments once they are made public.
For now, ESPN's solution will be to cover the fires with a cloak — a temporary answer to a grand problem. The structural damage, however, will remain until it works to rebuild its infrastructure from the ground up.