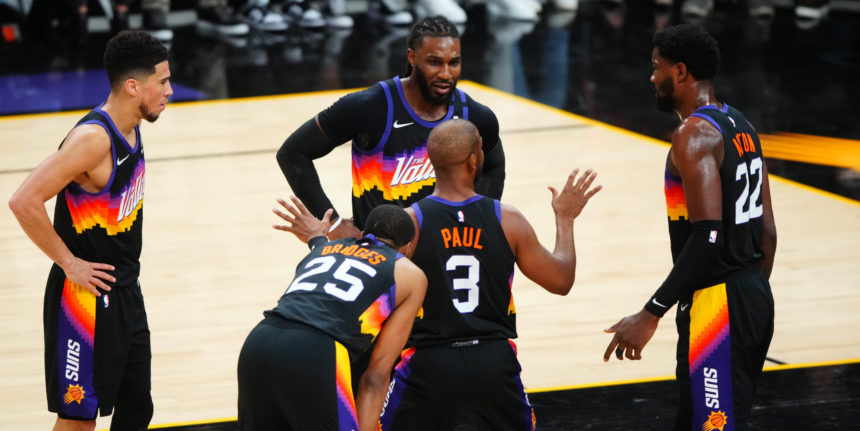 Depth, shooting, unselfishness on display in Suns' Game 2 win
The Phoenix Suns are one of the deepest teams in the NBA, and that was on display in their 118-108 win over the Milwaukee Bucks in Game 2 of the NBA Finals.
Sure, Devin Booker had a superstar performance, overcoming early shooting struggles to finish with 31 points, 7 threes, 6 assists and 5 rebounds.
However, Phoenix's supporting cast also stepped up in a big way.
Mikal Bridges had 27 points (on 8-of-15 shooting), 7 rebounds and 3 threes. Jae Crowder, Cam Johnson and Torrey Craig combined for 25 points while shooting 8-of-15 from the field (53.3%) and 7-of-12 from three-point range (58.3%).
"That's just team basketball," Booker said. "It's not just me, it's 1-through-5. It's all the collective group, it's team basketball and that's why I feel like we have been successful for most of the year… That's all of us. Everybody can play. Everybody's hoopers. Even the guys that aren't playing [for us] can play on any other team and are still a big part of how we continue to grow, how we continue to get better."
The Suns kept driving and kicking it out to their shooters, and it felt like they couldn't miss. Phoenix finished with 20 threes on 50% shooting from beyond the arc, after making just 11 threes and shooting 32.4% from deep in Game 1 (although they still won that contest).
"With our team, we got shooters. Like, real shooters," Chris Paul said. "And I say this all the time, it's nice when you kick it to the guy and you expect him to make it. Like, I get mad at some of these guys when they miss it. They miss it and I'm like, 'Come on man, you don't miss that in practice!' And it's different, too, when you know the work that they put in. When shootaround is over, practice is over, everybody's still in there shooting. So, that's the trust that you build because you know the guys put in the work."
"We know how hard we work; the second unit, first unit, last dude off the bench, don't matter," Deandre Ayton added. "Everybody has the same work ethic. Everybody has to bring it. Coming into practice, everybody has to come in early, get some work in. Everybody has to touch the ball, put shots up, do something, and that's why we're so consistent in what we do now."
Booker started the game shooting 2-of-10, which he explained by saying he was "amped, excited... rushing a few shots." However, once he calmed down, he caught fire. From that point on, he made 10-of-15 shots.
Crowder had a strong bounce-back game after struggling offensively in Game 1 (when he shot 0-of-8 from the field and 0-of-5 from three). In Game 2, he finished with 11 points, 10 rebounds, 3 assists, 3 threes and 1 steal while shooting 50% from the field and 60% from three.
"Obviously, our team is deep enough — we have enough to get it done, even if I have an off night, even if Book have an off night, even if Chris has an off night," Crowder said. "We have enough to get it done in our locker room and we totally believe in one another. So, that Game [1] was just a glimpse of what we have been preaching all year: we have each other's back and my teammates had my back that game."
"Our team is built a little different," Paul added. "We have a real team – a team where you can't just key in on one guy or two guys. Everybody on our team is capable of having a big game and everybody is comfortable and accepts their roles."
At one point, in the final minute of the second quarter, the Suns had a beautiful play where they completed 11 passes and got Ayton an easy field goal under the basket.
You can tell a team is truly connected, on a different level, after seeing sequences like this. Special. pic.twitter.com/v3ln2dH65T

— Pierce Simpson (@PierceSimpson) July 9, 2021
That play — with the stellar ball movement and unselfishness — perfectly encapsulates what this Suns team is all about.
"That's just who we are," head coach Monty Williams said. "One of our pillars is sharing the ball. My time in San Antonio and being under Pop for all those years, I learned that when the ball moves like that, one, everybody gets to take ownership and, two, it can have an effect on the defense when you move the ball. Now, it's not commonplace in the NBA to have that many passes, but that was a huge momentum play for us. But that's who we have been for two years."
"We have a saying with our team, it's called 'good to great,'" Paul added. "We pass up good shots to get great shots, and it's the unselfishness of our team. Any coach in America, I'm sure they would love to show their team that clip, and DA finishes at the end."
Now, the Suns are two wins away from finishing this series and winning their first championship in franchise history.