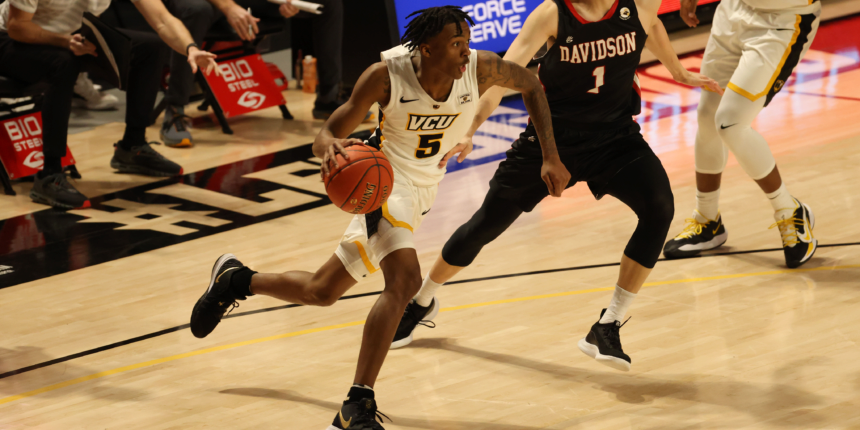 Q&A: Draft prospect Nah'Shon 'Bones' Hyland demands your attention
Nah'Shon "Bones" Hyland can light up a room with ease.
The 20-year-old is confident that he has the best personality of any player in the 2021 NBA Draft, and he has tried to display this during the pre-draft process. When he interviewed with teams at the NBA Combine, he kicked off some of his meetings with a rap performance. Hyland is extremely personable, treating complete strangers like close friends that he's known for years.
On the court, he has drawn comparisons to Jamal Crawford, Lou Williams and Jordan Clarkson, among others. As a sophomore at VCU, Hyland averaged 19.5 points, 4.7 rebounds, 2.9 threes, 2.1 assists and 1.9 steals on 53.9/37.1/86.2 shooting splits. BasketballNews.com recently spent time in the gym with Hyland to get a behind-the-scenes look at his pre-draft training.
In BasketballNews.com's latest 2021 NBA Mock Draft, our Matt Babcock has Hyland going No. 27 overall to the Brooklyn Nets. Babcock's scouting profile of Hyland reads:
"Nah'shon 'Bones' Hyland is a skilled guard who easily has legitimate NBA range as a three-point shooter. In two seasons at VCU, he hit 39.9% of his 331 three-point attempts. He broke out as a sophomore, averaging 19.5 points per game. He lacks the ability to play as a true point guard, but he's a good playmaker who can create looks for both himself and others. If he cleans up his shot selection and defensive discipline, he projects nicely at the next level."
Recently, I had the opportunity to chat with Hyland, and he opened up about his game, why he feels he's the top point guard in this draft, his outgoing personality, how he can help an NBA team, his off-court interests, how a childhood tragedy changed his life and much more.
I love your confidence. Early on in this process, you talked about how you were going to shine at the Combine and dominate workouts, and then you did exactly that. Have you always been like that? And where does that confidence come from?
Nah'Shon "Bones" Hyland: "Yeah, honestly, that confidence really came from, first of all, the man above – God gave it to me – but also it came from me trusting in my work. I've always lived by: 'Nobody works harder than me.' So, it came from that as well. I'm always ready for the moment. I'm never a step or two behind, I'm always three steps forward."
After the Combine, there was a lot of buzz about your performance. What did it mean to you to make the most of that opportunity and shine on that stage?
Hyland: "It just shows them how much I've been working and how much I've been waiting for this moment my whole life. March Madness was taken away from me, so I came into that Combine like, 'This is my March Madness; this is my coming-out party. I'm about to show the world that I'm the top point guard in this draft class.' I wanted to show them that, and I feel as though I displayed a lot of my talents. I definitely put them on notice, and I turned a lot of heads toward me, for sure."
Over the years, I've seen a number of scorers who really helped their stock during the pre-draft process because they were able to get hot and dominate their workouts. I feel like this process is perfect for someone with your skill set. Would you agree with that?
Hyland: "Exactly. Yeah! (laughs) -- It almost feels like all of these teams are playing catch-up with me, honestly. I say that because I feel as though they was [high] on a lot of other players and now they're [high] on me, and it feels great. I really showed these teams that I could've helped them during this playoff run, or that I can help them go from a losing team to a winning team with my attributes. I feel as though I put them on notice, in a lot of ways."
Another thing I like about you is that you really seem to love the game. I've heard that a lot of today's younger players don't really play pick-up or 21 or anything – they just do their drills and then only play the games on their team's schedule.
Hyland: "Yup! Exactly."
But with you, I've seen videos of you playing streetball and pick-up. I feel like you'd be playing basketball every day even if you weren't trying to make it to the NBA. Is that rare nowadays? And if so, why do you think that is?
Hyland: "It's very rare. It just shows you that the love of the game has gone away from a lot of players, honestly. They just want to work out and they don't want to play as much. They don't want to get no bump in; they just want to work out and then leave the gym. And, man, I get mad. I get frustrated because I'm like, 'What are you coming to the gym for if you only want to work out? You aren't gonna play?! You don't want to get better by playing?' I'm the type of kid where I want to play basketball! Basketball is so fun! First, I want to dominate everybody in the gym, but I want to have fun in the gym as well. It don't matter if it's 1-on-1, 2-on-2, 3-on-3 or 5-on-5 -- I can play [a] mad [amount of] games in one day and then have a game the next day and still kill, because that's just the type of player that I am.
"I just have a different love of the game. You can speak to anyone about that, and they'll tell you the same thing: I get mad at people who don't like to play basketball. Even in college, when a lot of the players just wanted to sit out and nobody wanted to come have runs in the gym at night or during the day, I was like, 'What are we here for?! You all just want to sit in your rooms?' It made me frustrated, but I can only control what I can control. Whether we had the runs or not, I still got my work in. And I'd always try to get at least a little bump in here and there."
I've talked to some older players about that and they were confused by it. I remember Jamal Crawford was confused by it, like, "Playing pick-up is the fun part! What do you mean you don't want to play?!"
Hyland: "Exactly! (laughs) Like, I look forward to that type of stuff! I'm gon' go at them guys! It's sort of like why I should be that No. 1 guy, for sure. [I] just have them vibes on the court, you know? For a lot of people, the love of the game went away."
Speaking of which, when did you first fall in love with basketball?
Hyland: "When I was about 2 years old, honestly. My brother installed basketball into my life. We went to the park and he just gave me a basketball, and I just fell in love with how the ball bounces, how it sounds, how the ball goes into the net… And ever since then, I just ran with it and it's been my passion."
Who are some players that you've modeled your game after or studied?
Hyland: "None, honestly. I do like to watch players like Jamal Crawford. I like to watch Ja [Morant]. I like to watch Trae [Young]. But nah, I don't try to model my game after anybody. I feel I have a very unique game. But I definitely like those players, though."
You love to get out in transition and pull up for deep threes and things like that. Do you think your game is a perfect fit for today's NBA?
Hyland: "Most definitely. Like I said, a lot of teams are starting to inch toward me because they've seen how much my game translates to the next level – more than a lot of these players in this draft class, honestly. I'm the type of kid who has the kind of scoring ability that a lot of teams need. I'm that spark. You see guys like J.C. (Jordan Clarkson) of the Jazz and a lot of guys like that; I have that kind of scoring ability, but I can score in many more ways and I can do many more things than just the things that he does. I feel as though I'm that guy that teams should invest in, for sure."
What are some aspects of your game that you're focused on improving?
Hyland: "All areas. I feel as though I'm a very solid defender, but I'm working on my defense. I want to just keep improving on everything, honestly."
You got the nickname "Bones" because you were so skinny. When did that nickname first come about and who gave it to you?
Hyland: "When I was younger. Her name is Chicken. She's a female, and she was my best friend. She gave me that name and it was probably when we were, like, 10. It just stuck with me. Ever since then, I was like, 'Man, that's a nice name, I'm gonna run with that!' And ever since then, it's just been legendary."
So since you were best friends, you two were "Chicken Bones" then?
Hyland: "Yes! (laughs) And everyone would always say both names because we would always be with each other. So, it was like, 'Chicken and Bones,' 'Chicken and Bones,' 'Chicken and Bones,' and then it just went from there. (laughs) That just shows those names are legendary, for sure. Like, those are some nice names!"
Are there any misconceptions about you or your game that you're trying to disprove throughout this process?
Hyland: "Uh, no, not at all. I'm the same man, and I don't want to change nothing about me. I don't have no regrets. I just want the world to know: I'm that guy who got the best personality. No matter what, I can light up a room. I can light up a locker room. I just want the world to know that."
You're very personable and easy to talk to, which I'm sure helps you when you're interviewing with teams.
Hyland: "Yeah, they love me. Every single one! In every interview, they love me. (laughs) Just my confidence, my personality... I rap for some of the teams. I'm just so outgoing, and when I step into a room, it [feels] like I've known them for so long. It's like we knew each other already. That's the level of confidence that I have and that's also the personality that I have. I can light up a room in seconds."
You rapped when you interviewed with some teams? That's incredible!
Hyland: "Yeah, I have some songs that I've made and I did a little snippet of those for them, and they loved it! Just right off the bat, from the rip, I was rapping. I ain't shy, I ain't nothing. They just loved me, honestly."
I found some of your tracks on YouTube. When did you start rapping?
Hyland: "Back in 2018, I started rapping because I faced the house tragedy. I just found a different passion and love, and it was rapping – releasing my thoughts through the mic, and it would help me. It was very therapeutic for me."
[Editor's Note: In 2018, when Hyland was 17, his house caught on fire, killing his grandmother, Fay, and his 11-month-old brother, Maurice. He escaped through a second-story window, tearing his patella when he landed on the ground.]
I read about the tragedy, and I'm so sorry you had to go through that. I didn't realize that you turned to rap as a way to cope with that.
Hyland: "It was more so, like... I couldn't hoop, so I had to find something else or I was gonna go crazy."
I'm glad you found music. How did that life-changing tragedy change you?
Hyland: "It shaped me into a wise young man, honestly. I just showed a lot of people how tough I really am. And no matter how much adversity is coming my way, I won't ever give up. God kept his palm on me, and I'm just blessed to be here. I wake up with a smile every day. That changed my life forever."
That's a great way of looking at it. You mentioned having the best personality. Do you try to be that glue guy in the locker room who is friendly with everyone? And do you think your personality allows you to make an impact off the court as well?
Hyland: "Yeah. You know how on some teams, they're with each other a little bit, but you can tell that there's a little bit of animosity within them? I feel as though I can come in and be that middle man and make everyone get on the same page and get everyone to respect me. Even if I'm young, I'm wise beyond my years. They will listen to me and hear where I'm coming from, and I can help solve their problems. Honestly, that's why I think I can help a losing team become a winning team. I'm big on building relationships."
You mentioned being the best point guard in this class. What are some of your long-term goals for your NBA career?
Hyland: "Just being the best person that I can be, controlling what I can control day-in and day-out. I don't ever like to look too far ahead; I like to stay in the moment, honestly. But whoever misses out on me, they're gonna regret it in the next few years – because I'm that golden child, I'm that gem that you need, honestly."
What will it mean to you to hear your name called on draft night? Has it sunk in yet?
Hyland: "Yeah, I like to dream about that a lot and look forward to that a lot. That's the only thing I look ahead to. (laughs) It's going to be a dream come true. It's going to be like, 'Wow, I really did it. I really overcame so much and accomplished my goal.' I can show the kids back home that no matter how much adversity you face, you can do it as well.
"Keep God first, keep your faith, keep working and keep your love for the game. Never let nobody steer you wrong. Stay on your path and just show everyone that you can do it. That's what I'm doing. That's what I feel I'm on this earth for: to display my story and showcase my talents to the world."
Let's say you run into an NBA executive and they ask you, "Why should I draft you? Why should I want you on my roster?" What would you tell them?
Hyland: "I have the best personality. I'm a kid that you're gonna fall in love with. I'm a kid that's going to change your program around, or I'm a kid that can keep your program at a high level. I can help in many ways, with my scoring abilities, my shooting abilities, my playmaking abilities and also on the defensive end. I'm a great kid to invest in. I'm a kid who has his head on straight. On and off the court, I'm a great kid and I'm definitely the best investment that you'll make."
What's the best piece of advice you were ever given?
Hyland: "Never give up. From my mom. No matter how tough life gets, never give up."