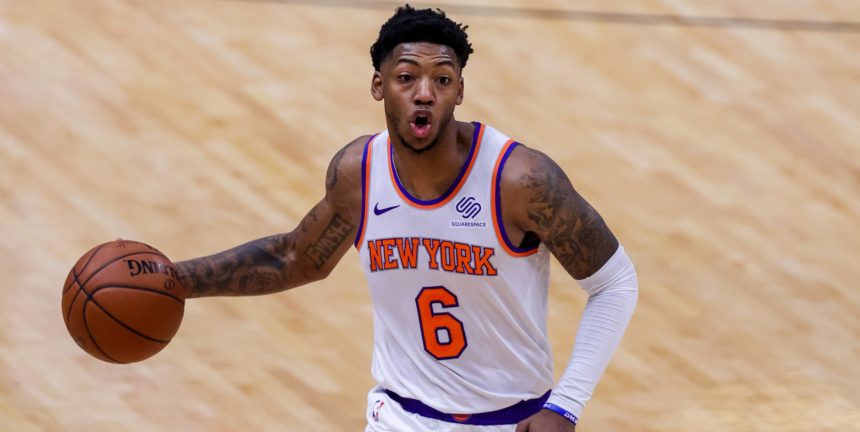 Elfrid Payton Q&A: Knicks 'still have more doubters to prove wrong' in playoffs
The New York Knicks are back in the playoffs for the first time since 2012-13, and they are the No. 4 seed in the Eastern Conference.
Back in the summer of 2019, Elfrid Payton signed with the Knicks and felt confident that this group would return the franchise to glory.
"I feel we embody what New York basketball was about back in the day – just being grimy, tough guys who play with a chip on their shoulder and have something to prove," Payton told me prior to last season. "I feel like we have a lot of talent at every position. I think we are way deeper than people think."
It took an extra year -- the Knicks won 21 games in 2019-20 -- but Payton was right. This team is physical, tough and deep, and they have one of the best defenses in the league (allowing just 105.7 points per 100 possessions, which is third-best in the NBA).
This season, Payton has averaged 10.1 points, 3.4 rebounds, 3.2 assists and 0.7 steals in 23.6 minutes, while starting all 63 games that he appeared in. He has played in the second-most regular-season games without a playoff appearance (450), behind only Washington's Alex Len (531). Both will make their playoff debut on Sunday.
Before Game 1 against the Atlanta Hawks, BasketballNews.com caught up with Payton to discuss the Knicks' success, his first playoff appearance, the matchup against Atlanta, Tom Thibodeau's impact, Julius Randle's development, the criticism he's received from some Knicks fans and more.
Over the years, we've talked about your playoff aspirations and how making it to the postseason was your top goal. Now, you're about to experience playoff basketball for the first time. What emotions are you feeling? What's going through your mind?
Elfrid Payton: "Excited. Anxious. I'm just trying to take it all in, man. It took so long, and it takes a lot to get here. You gotta be good, you gotta have good coaching, you gotta be injury-free as a team and you gotta have a little bit of luck. I'm just taking it all in and I'm excited, man. I'm excited for this opportunity."
When you signed with the Knicks, you called this! You said that the team would "embody what New York basketball was about back in the day – just being grimy, tough guys who play with a chip on their shoulder and have something to prove." You also raved about the team's depth. How nice is it to prove the doubters wrong?
Payton: "It means a lot for us, I'm not gonna lie. Everything you do is going to be doubted, but it's great to finally see this team do what we're here to do, and for what I said to be true. We pretty much brought the same team back. Obviously, there were key additions as well, but for the most part, it's the same team back. We still have some more [doubters] to prove wrong, to be honest. We're still hungry. We knew what we had, but it still felt good to go out there and prove it."
And it's not like you guys snuck into the playoffs either. You guys finished fourth in the East and have dominated all season. Do you feel like that's a statement to the rest of the league?
Payton: "For sure. There's probably going to be people who say, 'Oh, it was a wacky year with COVID...' And it was. But, nah, we've been beating people all year. Since the beginning of the year, if you look at those games early on, [we were winning]. And then throughout the season, we just got better and better. We didn't sneak in, we're the fourth seed. We earned that."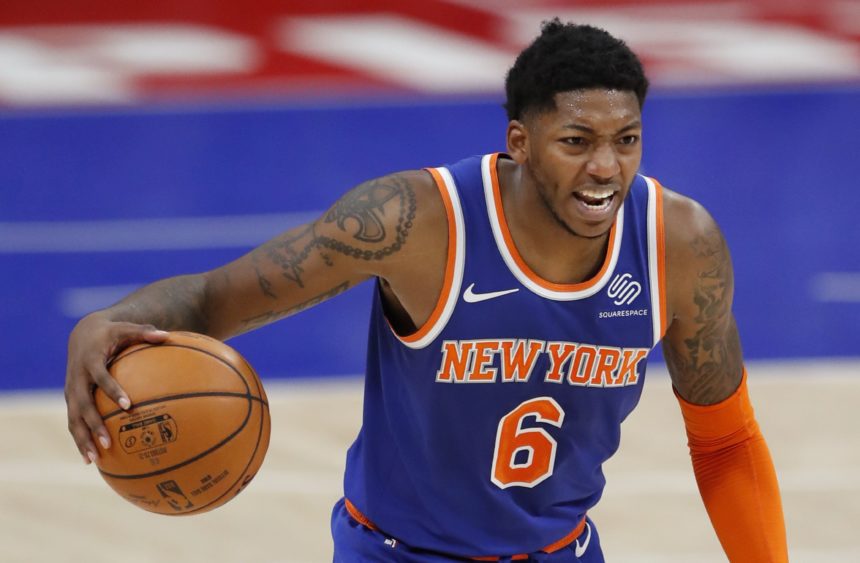 Tom Thibodeau is a big part of this team's success, and he has been a huge supporter of yours. He's praised your physicality, ability to switch, toughness and size. What is your relationship with Thibs like and what does it mean to have that kind of support from him?
Payton: "We have a good relationship, for the most part -- we're just like any player and coach. But it means a lot to have that kind of support from him; he's obviously very good at his job. As you can see, he always wins wherever he goes. He has a certain way that he likes the game to be played. You've gotta respect that. And you've gotta respect his consistency; he's the same every day. Nothing changes. He's been a big help to this team."
Immanuel Quickley has exceeded all expectations. It wasn't long ago that you were the young point guard picked in the first round; now, you're the vet who's mentoring the young guys. What is your relationship with IQ like and, given everything you've experienced, have you tried to mentor him?
Payton: "Oh yeah, for sure. I try to talk to him as much as I can without, like, over-talking, you know what I'm saying? (laughs) Just little things that I might see or things that I come across. I [tell him about] things that I've been through. I tell him all the time how blessed he is to come in and have a coach like Tom Thibodeau as his first head coach. He's going to be light years ahead of his class, just because of the culture he's part of. He gets to be in the playoffs during his rookie year! For me, it took seven years! To be able to come into the league and make the playoffs in his first year, that's been a blessing. He's gonna be really good, man."
It seems like the acquisition of Derrick Rose had a big impact on this team -- not only on the court but also in the locker room and from a leadership standpoint. What did acquiring D-Rose do for this team?
Payton: "It's been huge. One of the reasons why we've been successful this year is this: Obviously, Julius is gonna get his, but that next guy, you never know who it's going to be. Quick has had multiple good games, I've had multiple good games, Alec Burks has had big games, RJ [Barrett] has had big games, [Reggie] Bullock… you go down the line and each guy has stepped up and had big games. And then you have D-Rose and he comes in and does the same thing. He gives us another dynamic. And it's good to have someone around who has a longer relationship with Thibs because he's able to relay certain things from him back to the players. And just being around him, he's a humble dude. He makes it easy, man."
Some people may forget that you played with Julius Randle on the New Orleans Pelicans during the 2018-19 season. I know you guys are close and he played a big role in your decision to sign with the Knicks. Randle was really good with the Pelicans, but it's amazing to see how he's elevated his game and become an elite player. What has it been like watching Randle's development over the last three years?
Payton: "I mean, you see how well he's shooting the ball and how he's had a lot of triple-doubles this year, and I think it's a perfect storm. He found a coach who wants to put the ball in his hands. And then being ready for the opportunity; he works like no other, he's always watching film and things like that. He's in a great mental space. The game seems to be slowing down for him a lot. Everything that he's getting, he deserves it. He definitely deserves it. He's a huge part of our team. Huge."
How do you feel you matchup against the Hawks in the first round, and how have you been preparing for the series?
Payton: "I think we matchup well against them. They have a lot of weapons over there, a lot of guys who can shoot the three; John Collins is playing well, [Clint] Capela is a force inside and they've got a good bench with Lou Will and [Danilo] Gallinari. I think we're just a little bit deeper and a little bit more physical, and that's going to make it tough for them. As far as the preparation, it's been crazy. It's my first playoffs, so… It's kinda what I expected, but having so much time off, we were able to really dive into a lot of film and a lot of their tendencies."
I would imagine one of your biggest responsibilities in this series will be guarding Trae Young, who does such a great job in the pick-and-roll and can score from anywhere. What are some of the keys to guarding Trae?
Payton: "The first thing is just keeping him off the foul line. That's one of the biggest things; he does a good job of drawing fouls. So just not letting him go in from the free throw line and find his confidence and his rhythm there. We just gotta make everything tough -- make it as tough as possible. It's a team thing. I always tell our guys that when we're going against really good players -- whether it be Trae Young or Jayson Tatum or Giannis Antetokounmpo or whoever you want to name. It's not just one person, it's a team thing. We've been [going] over this a bunch of times, so I think we'll be fine."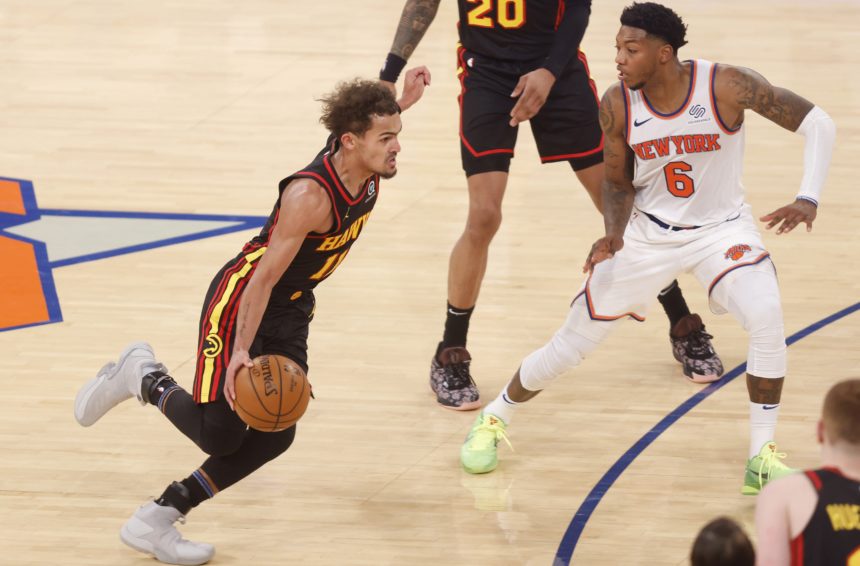 As you mentioned, Trae is great at stopping on a dime and drawing fouls. He uses your momentum against you. How do you defend that?
Payton: "You don't want to get caught up in it. You can get lost in it and frustrated by it, [and you don't want that]. So we're just watching film, trying to study his tendencies and hope that the refs don't put it in their hands and kinda let us play a little bit. And you're kinda just reading the game. Sometimes, I believe that it is a foul. But more times than not, I feel like it's an offensive foul. So you hope that the referees read it right, but you don't get into it. We'll just let the chips fall where they may."
I've seen some tweets and articles about the criticism you've received from Knicks fans. How have you dealt with that?
Payton: "I'm gonna be honest, man. I have a great relationship with God, and I feel like everything is already written and everything happens for a reason. And I'm able to live with myself because I know the work that I put in. I know how much I put into this game, so if it doesn't work out, I'm okay with that because I know I've exhausted everything that I possibly could. And another way I've been [able to live with myself] is: We're playing well, man! We're playing really well right now. My teammates are killing it and I'm happy for them. We're winning! I don't know, man. It's just funny. People always have stuff to say.
"I don't see any of that stuff; I don't read about myself. I'm so focused on us and how we get better; I don't hear a lot of that stuff. But it's crazy because I've done a couple of interviews over the last couple of days and they've been asking kind of similar questions and it's not shocking, but I'm like, 'Dang...' I was oblivious [to it]. I feel like I had a pretty good season, man. This is the most games that I've ever won and I feel like I had a pretty good season. I've had better numbers in the past, but I would take this any day. This season that we had? I would take this [over better stats] any day, being able to compete in the playoffs."