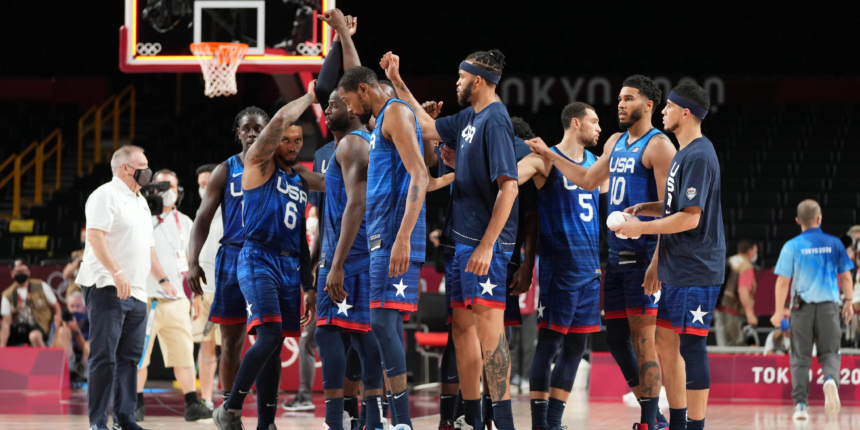 Pump the brakes: Team USA can recover from loss to France
Hold off on the hysteria, okay?
Team USA's loss to France was a bad one, no question -- but it is not the end of the world. Heck, it is only the beginning of the Olympics.
They can recover from this. All they have to do is beat Iran and the Czech Republic (or lose one of those games, but advance on point differential) in the group phase. If that gets accomplished, Team USA will make it to the single-elimination quarterfinals. By then, the team should have developed some chemistry and cohesion. By then, we probably will not see the knee-knocking we saw late in the fourth quarter.
In a nutshell, this went wrong in the final minute when it could have gone either way.
Open three-pointer, miss.
Another open three-pointer, clang.
Yet another, and... even the friendly rims at Saitama SuperArena were unfriendly.
Team USA lost to France in its Olympic opener on Sunday not because they were outplayed, but because they could not shoot when it counted most. It was that simple. The very best team that the American federation could put together could not hit a shot when it mattered.
It had been 17 years since the United States lost a game at an Olympics, and that one – a 19-point loss to Puerto Rico in the Americans' debut at the Athens Olympics—was far more putrid than this one. But what was most disconcerting about this loss was that Kevin Durant, Damian Lillard and Jrue Holiday all missed wide-open looks with about 30 seconds remaining and the Americans trailing by two.
After the last miss, Lillard was called for an unsportmanlike foul for inadvertently tripping Evan Fournier. His free throw, and two subsequent free throws by Rudy Gobert, finished off a 14-0 fourth-quarter run for France, and now Gregg Popovich has to figure out a way to get his players to shake this one off -- no matter how much their collective pride is wounded.
"When you lose a game, you're not surprised. You're disappointed. I don't understand the word 'surprised.' That sort of disses the French team, as if we're supposed to beat them by 30. That's a hell of a team," Popovich said in a postgame news conference.
This was only a pool play game, and although a gold medal seems out of the Americans' reach given the way they played in their opener, there's one important thing to keep in mind: The Olympics are far from over. They have just begun. And even when the Americans lost to Puerto Rico and Lithuania in the 2004 Athens Games, they were still alive for a gold medal until losing to Argentina in the semifinals.
This loss was inglorious, for sure. But for Team USA, there is the undeniable fact that it is lacking in harmony after Holiday and Devin Booker (and Khris Middleton, who only played 5 ½ minutes) just joined the team late Saturday night; they have plenty of time to practice together with the new additions, and the goal here is not to win every game. It is to win the last three.
"This was my first day," Holiday said. "Literally, my first day."
Lillard missed 7 of his 10 shots, and six of those were from three-point range. Durant was saddled with foul trouble (he got four quick ones, and FIBA rules carry a disqualification for a fifth) and shot just 4-for-12, including 1-for-6 on threes. Booker was 0-for-2 from downtown. Jayson Tatum was 1-for-5.
So the French have something to be happy about, and Celtics fans can at least take some solace in the fact that Evan Fournier (28 points) is capable of greatness. This was France's second straight victory over the Americans -- they also defeated them at the 2019 World Cup of Basketball in China. But the French did not win that tournament, Spain did. The Spanish have not even played yet in Tokyo, nor has Slovenia (led by Luka Doncic) or Argentina or the host country, Japan.
This tournament is about playing your best at the end, not at the beginning. So dismiss Team USA at your own peril. They still have the most talent 1-through-12; it will be a matter of Coach Popovich and his assistants, Lloyd Pierce and Steve Kerr, figuring out what is the right rotation for any particular opponent.
"Don't get too high; don't get too low," Holiday said in relaying Popovich's postgame message. "We have to put teams away."
"This is the first time we've played together, and all of us have been through adversity," Holiday added, noting twice that the Molten ball used in FIBA competitions is quite different from the Spalding ball used in the NBA. "We'll accomplish this, too. We're smart players with good character. We'll figure it out."
The Americans' lack of size was exploited by French head coach Vincent Collet in the third quarter, as he played big men Rudy Gobert and Vincent Poirier together in a Twin Towers lineup that kept this thing close. It allowed France to stick around so that the game would be decided in the final minutes.
The biggest hustle play came from Guerschon Yabusele when he dove to the ground and saved a ball from going out of bounds in front of the American bench, tipping it to Fournier for a three-pointer that gave France a 76-74 lead. The Americans kept doing the same things wrong on offense – jacking up threes instead of driving and dishing and/or drawing fouls; Team USA did not have a single field goal after Zach LaVine made one with 4:21 left in the game.
So this was bad, but it was not a disaster.
Again, the goal is not to win every game. It is to win the final three games. Perhaps Team USA can do it, and perhaps NBC will show it.
But Sunday showed us that nothing in these Olympics is certain.