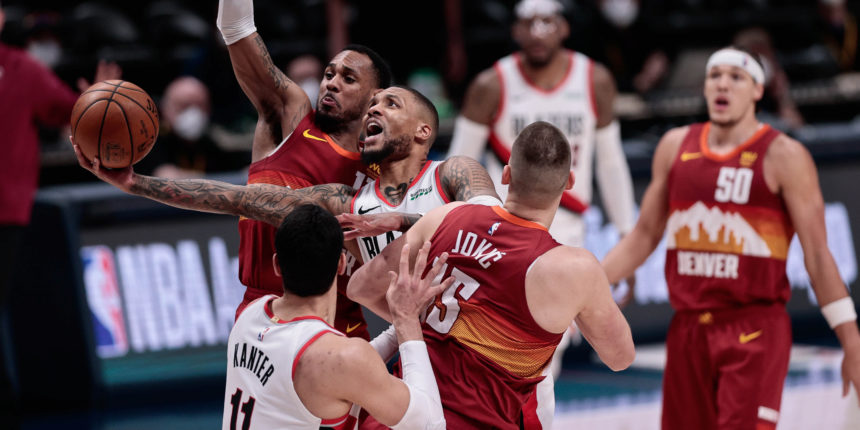 Nuggets vs. Trail Blazers is my 'must-watch' first-round series
We're midway through the first round of the 2021 NBA Playoffs and we've seen some great performances. Both from a team standpoint and on an individual level.
I love playoff time because it's a proving ground. Young players with promise get to show that they're the real deal, while the contenders get separated from the pretenders.
When it comes to the playoffs, there are always some interesting storylines and matchups to follow, but the one I'm most interested in is the 3-6 series out West: the Denver Nuggets vs. the Portland Trail Blazers.
The Nuggets took Game 3 and regained homecourt advantage, but I picked Portland to win the series. Obviously, after the loss, Game 4 is a must-win if I'm going to be right, so Damian Lillard and his guys definitely have their backs up against wall.
Personally, I'm hoping Portland finds a way to win and that we get an extended series, because I love everything about watching these teams match up — Lillard, Nikola Jokic, Michael Porter Jr. and Carmelo Anthony are all reasons why.
There are a lot of interesting things to watch for, with Lillard being top of mind for me.
We're living in this era of "super-teams" and guys joining forces to win, but it's admirable the way that Dame has remained loyal to Portland, both as an organization and a city.
In some ways, you could compare Dame to Paul Pierce. In those lean years, Pierce remained loyal to Boston and eventually got a title and a Finals MVP out of it. But he had a legendary franchise and a great city to help recruit talent. Dame doesn't really have that.
All due respect to Portland, but among NBA players, it's not one of those places you look forward to playing a road game.
Los Angeles? For sure. Miami? Hell yeah. New York and Boston. Definitely.
Portland? Not so much.
There's a reason why the team has had to build through the draft and trades; unless they grossly overpay for a talented free agent, guys aren't typically excited about moving out to the Pacific Northwest. 'Melo himself is an example of that.
Dame doesn't care about any of that, though.
Every year, he goes out and gets better and better. He has that old-school mindset of committing to an organization and doing all he can to bring it a championship, and I think he deserves a lot of respect for that. He doesn't cry about anything, doesn't make any excuses and just goes out there and lights up the competition to the best of his ability. He's confident, yet humble. All things considered, it's easy to root for him in his situation, and whether he's able to actually carry that team and that roster to the next level is something that purists should have a vested interest in.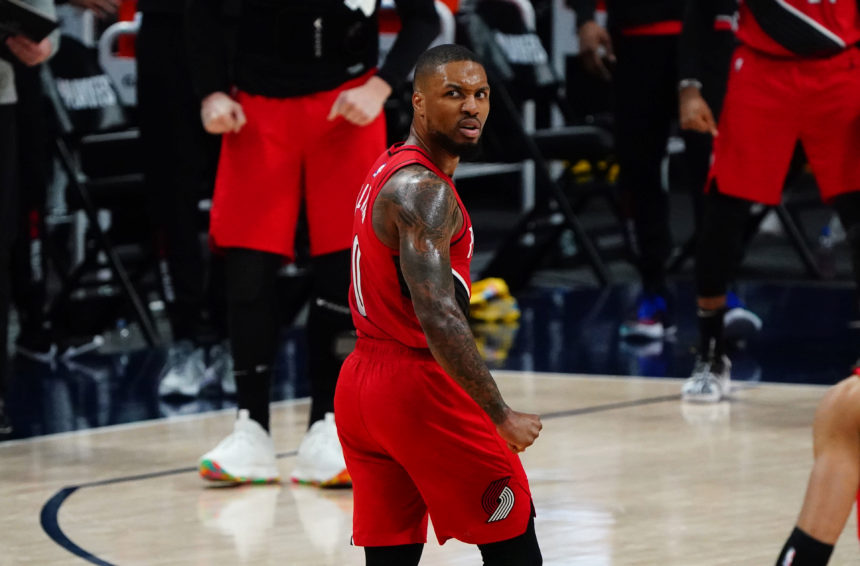 That's why I'll be watching, just like I'll be watching the Joker.
If I had an MVP vote, I would have voted for Chris Paul (as I explained here). I stand by that. It's unfortunate that he got hurt against the Los Angeles Lakers because he probably could've made more of a difference for Phoenix in Game 2 and Game 3. But it is what it is. Injuries are a part of the game.
Whether you're like me and believe CP deserved more credit for what he did for Phoenix, you really can't deny what Joker has become. He has become one of the top players in the league and has only gotten better since Jamal Murray went down. I think most of us predicted that Denver would be an early-out in the playoffs, but Joker's regular-season play has carried over into the postseason, at least so far. He has hit big shots, is closing games effectively and appears to be in better shape than he was in years past.
He's been able to put the Nuggets on his back and carry them, and so far, Portland hasn't had an answer. Whether he's hitting shots from the outside or posting inside, he's a super versatile big who is proving that he not only deserves consideration for the regular-season MVP award, but that he's one of the true superstars in the NBA. He's made me a believer. Now, let's see if he can finish the job.
'Melo is gonna try to help the Blazers make sure he doesn't.
As far as 'Melo is concerned, I think a lot of us appreciate what he's been able to do with his second chance. He was a guy who was basically discarded by Houston and a lot of people thought he was done and could no longer play the game. He got an opportunity with Portland and proved everybody wrong. Now, the team is somewhat relying on him to play a major role and be that third player who can make a big shot or two down the stretch of a tight game. They need that from him.
The fact that he's playing against the team that drafted him — and the fact that the fans booed him there in Game 1 and Game 2 — just adds a little bit of juice to what was already a very competitive series. Through three games, he's played about 22 minutes and scored 13 points per game. Those are respectable numbers, but if Portland wants to win this thing, they'll probably need more from him.
'Melo became a top-10 scorer in NBA history earlier this season and he can still get buckets. But he's going to turn 37 years old on May 29, the day the teams will play Game 4.
Can he dig deeper, find the fountain of youth on his birthday and elevate his game? He'll have to for Portland to have a shot, because Porter Jr. has proven that he is no slouch.
And that brings me to the youngin'.
Last year in the bubble, remember when Porter Jr. became the talk of the town because he publicly voiced his grievance about not getting enough touches and that the team was too predictable and too reliant on Jokic and Murray?
When a player makes comments like that, especially a young player, it basically paints a big target on their back. Not only does it make you a topic of discussion among fans and media, it puts pressure on you to perform well when your number gets called.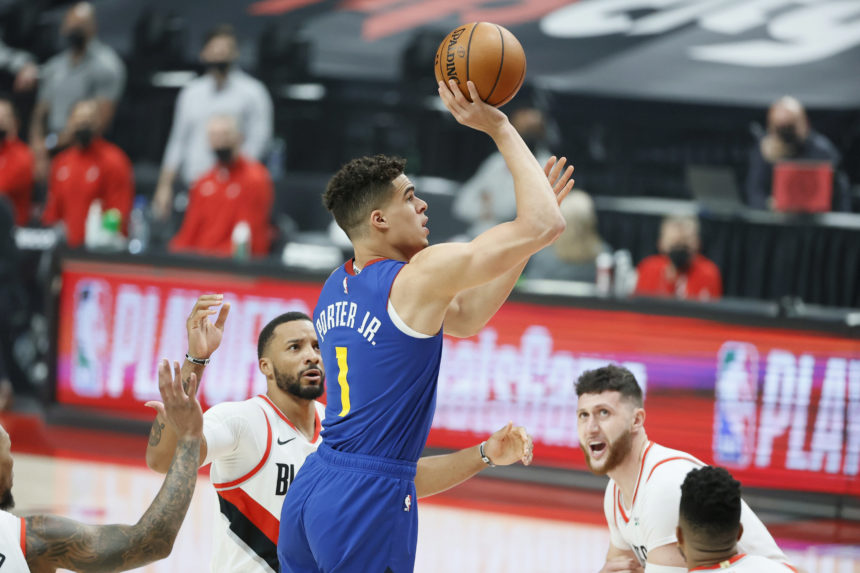 With Murray out, Denver came into the series knowing that they needed Porter Jr. to step his game up and be a difference-maker. Through the first three games of the series, he's done that. He's scored 19.3 points on 49% shooting from the field, and for a second-year player, that's impressive. But for Porter, it's even more impressive considering the pressure he was facing after his public complaint last season.
All around, respect is due.
By the time the playoffs roll around, every team has had issues: injuries, losing streaks, tough losses, whatever.
Most of the time, it's the mentally tough teams and those who have had better fortune who prevail in a playoff series.
It's still a bit too early to call Denver vs. Portland, but by the time it all ends, I'm pretty sure we will have heard from Joker, Lillard, 'Melo, Porter Jr. and scores of others.
I love the playoffs. And to imagine, we're just getting started.