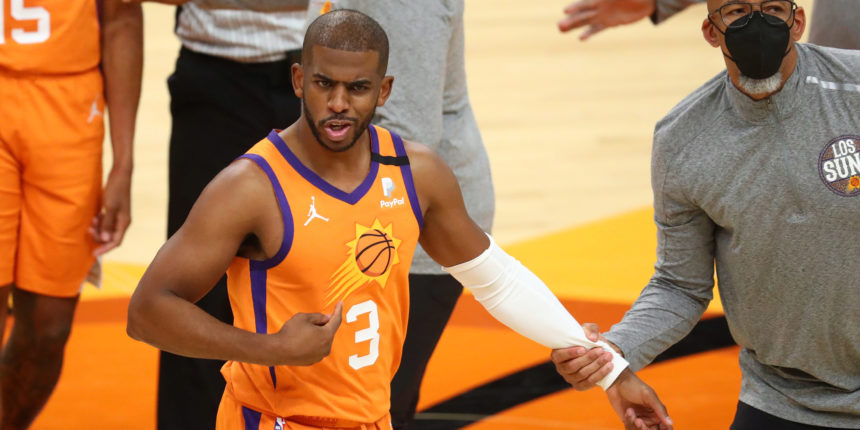 Here's why Chris Paul is my MVP for the 2020-21 NBA season
It had been a couple of weeks since the Houston Rockets lost to the Golden State Warriors in the Western Conference Finals, but CP still wasn't completely over it.
What I remember most about our trip to the golf course that July was how disappointed he was that his hamstring gave out on him. He and James Harden, unfortunately, just weren't able to finish the job.
Golden State obviously ended up going on to win the championship again in 2018, and it bugged him.
Shoot, it bugged me, too. By this point, I'd been rooting for him for a good 15 years.
"He's the real deal, I'm telling you!"
Back in 2003, that was Jeff Battle raving to me about this young kid who they were trying to recruit to Wake Forest.
Coach Battle was the top assistant to the late Skip Prosser, who was my head coach at Xavier. Shortly after I left Xavier, Coach Prosser and Coach Battle got hired at Wake Forest.
Like most young players, I leaned on my former coaches for guidance even after I got to the league. So naturally, we stayed in touch. I'd attend a game here or there and eventually was told by Coach Battle to look out for CP — the next great guard. So I did.
We had one or two brief phone conversations while he was in college, mostly just me offering words of encouragement, and by the time he decided to come out, it was pretty obvious that he was destined for greatness at the NBA level.
So yeah, full disclosure: CP is like a little brother to me. We've got history. I've been keeping tabs on him since he was in undergrad, and he was a major reason why I decided to sign with New Orleans once I left Boston after the 2007-08 season. At that time, New Orleans was coming off of a 56-win season and a Game 7 loss to San Antonio in the second round of the playoffs.
What made it even better was that David West was running with him. We had a nice little connection, the three of us. West went to Xavier as well, and I hosted him when he came on his recruiting visit. If I stayed for my senior year, we would've been teammates. I obviously left for the NBA Draft, but the opportunity to team up with both of them in New Orleans was too good to pass up.
I spent two seasons down there in New Orleans with CP, and am cool with him to this day. And I know when I decide to come out and let it be known that he's my MVP for the 2020-21 NBA season, the natural thing to say is that I'm biased.
And maybe I am. But that doesn't mean that I'm not right.
At the end of the day, I define value by a player's impact on winning, and while a bunch of players can claim to impact their team in that way, this season, I don't really think that there's anyone who can make a better argument for that than CP. For as long as he's been in the league, one of the common themes with him has been his teams overachieving. Now in his 16th year, that still hasn't changed.
When you talk about making your teammates better and maximizing the talent around you, there's nobody — perhaps with the exception of LeBron James — who has done that better and more consistently than CP. And what he has done for the Phoenix Suns this season is truly remarkable. After adding him, they went from not being in the playoffs to having a shot at the top seed in the Western Conference.
I don't know what could possibly be more valuable than that.
Some might say that Phoenix did their thing in the bubble last year and that they would have been better this season whether they added CP or not, but when you look at his track record of success over his career and even consider where he took the Thunder last year… it becomes pretty obvious that his contributions not only elevate younger players, they elevate entire franchises. Entire cities.
So yes, I would give a lot of credit to Devin Booker for pushing the Suns toward the top of the Western Conference this year, just like I would give Shai Gilgeous-Alexander a lot of credit for what the Thunder were able to accomplish last season. But CP was the common factor. That's no coincidence.
The Suns have come so far, so quickly, and that's why he's my pick, and I mean that with all due respect to Nikola Jokic.
The Joker has put together a season for the record books, and the fact that he's held the Denver Nuggets up since Jamal Murray went down is special. But Jokic has a lot of other talented players on his team, including Michael Porter Jr. and Aaron Gordon. He's their leader for sure, but Denver is coming off of a run to the Western Conference Finals and has quite a bit of experience under their belt. Does that diminish the impact of what he's done for his team on an individual level? Definitely not. But I think CP deserves a little more credit for leading a young team that's never been there before.
From a numbers standpoint, the Joker obviously has CP beat, and if someone decides that Jokic is their MVP, that's respectable; I can't really argue with it. What that would tell me, though, is that the voter probably values individual numbers more than they value an individual's impact on winning and elevating a franchise, and in my book, the impact should weigh more. Balancing numbers with impact is tough, though, because there's no way to truly measure impact… except for wins. In that respect, it's easier to fall back on numbers because they're easy to interpret. But that's okay, some things just gotta be done the hard way, I guess.
CP's value isn't something that can be fully quantified, and that's something I'm sure that players like Book, Shai, D-West, Blake Griffin and Tyson Chandler would all agree on.
Count me among them.
At the end of the day, the MVP debate is fun and there's a reason why we find ourselves having this discussion pretty much every year. Different people have different criteria. How do we define "value" or "valuable" from a basketball standpoint? It's a question we've been trying to answer for a really, really long time.
Me personally? I can't really quantify it. But I know it when I see it, and when I see a team go from the lottery to flirting with homecourt advantage throughout, it's difficult for me to not consider that player for MVP.
When CP and his brother left me at the course back in 2018, I had no idea that Chris would still be leading a team toward the top of the West three years later.
Honestly, the only thing that's been more surprising is been the lack of respect and attention he's been getting for it.