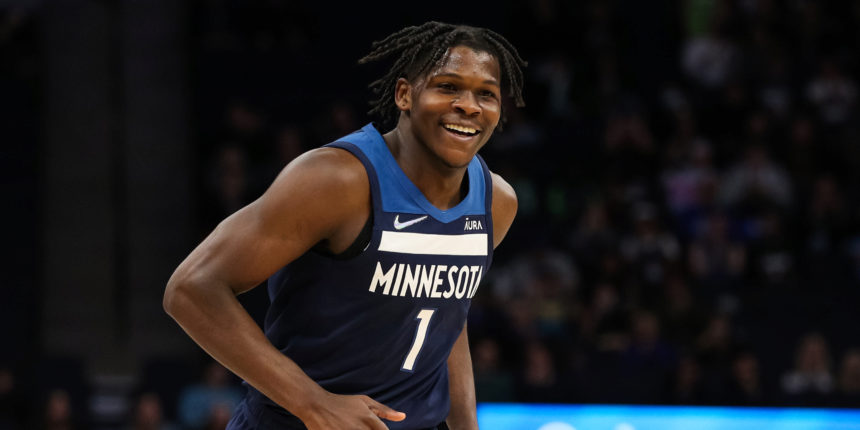 Nothing But Bets: NBA Projections for 11/20/21
"Nothing But Bets" is back to go over today's games on a fun-filled Saturday of NBA hoops. Every day, "Nothing But Bets" gives you the inside advantage before the games begin. So far this season, we are carrying a 124-99-2 record (55.6%).
As always, our odds are provided by TwinSpires Sportsbook and over/under power play prop bets are provided by PrizePicks. Did you know we hit two power-play bets yesterday totaling $2,000? If you haven't tailed our bets yet, your wallet is missing out!
It's hammering time!
New York Knicks (-11.5) vs. Houston Rockets
New York is in desperate need of a get-right game, and I think it happens for them today at Madison Square Garden. The Rockets are on pace to finish with the worst record in NBA history, so the fact that they're coming to town could help the Knicks solve a lot of their recent issues. Hammer New York to cover the big 11.5-point spread, plus the following over/under power-play on PrizePicks: Julius Randle over 19.5 points, Christian Wood over 15.5 points, R.J. Barrett over 14.5 points, Jalen Green over 13.5 points.
Washington Wizards vs. Miami Heat (-1)
When Miami is fully healthy, they have shown why we should treat them as a serious NBA Finals threat. Jimmy Butler is playing at an MVP level. Meanwhile, new additions in Kyle Lowry and P.J. Tucker are fitting into the Heat culture perfectly. On top of that, we're seeing real developmental jumps from Bam Adebayo and Tyler Herro. Even on the road against an improved Wizards squad, give me the Heat to win outright and cover the 1-point spread. This feels like another statement outing from Butler, which propels Miami to another big victory. On PrizePicks, tail me on this fun power-play prop: Bradley Beal over 24.5 points, Butler over 23.5 points, Spencer Dinwiddie over 5.5 assists, Duncan Robinson over 2.5 threes.
Indiana Pacers (-7.5) vs. New Orleans Pelicans
Both of these teams are just so confusing. Indiana continues to prove their core is stagnant and needs an extensive teardown. New Orleans continues to sink without Zion Williamson, although they pulled off an impressive victory last night against the Los Angeles Clippers. In Indiana tonight, I'm actually going to go with the underdog Pelicans to cover the 7.5-point spread. Last game, head coach Rick Carlisle benched the Pacers' starters for the final 20 minutes of regulation, which led to their second unit actually mounting a massive comeback attempt. I envision Indiana's struggles continuing as the Pelicans keep this one close throughout. On PrizePicks, this feels like a power-play winner: Brandon Ingram over 21.5 points, Malcolm Brogdon over 18.5 points, Jonas Valanciunas over 11.5 rebounds, Domantas Sabonis over 10.5 rebounds.
Atlanta Hawks (-6.5) vs. Charlotte Hornets
I can't wait to tune into this matchup. Trae Young versus LaMelo Ball. Two super high-paced offenses squaring off. The over/under for this game feels like a lock, but foley betting on the point spreads, I'm rolling with Atlanta to get the job done. Expect a huge outing from Young, plus the Hawks' frontcourt duo of John Collins and Clint Capela should impose their will on Charlotte's bigs. On PrizePicks, I'm locking in this power-play: Young over 23.5 points, Ball over 18.5 points, Miles Bridges over 18.5 points, Clint Capela over 12.5 rebounds.
Boston Celtics (-10) vs. Oklahoma City Thunder
Every time I bet on the Thunder, they pay off big-time. I'm going back to that well again here, even with them on the second night of a back-to-back. Expect both teams to be fatigued, which could help the Thunder stay in this one throughout. Oklahoma City is closer than many expect to taking a jump forward in their rebuild. Stay tuned to BasketballNews.com this weekend as I'm currently working on an in-depth Thunder piece. I'm rolling with the underdog Thunder to cover the 10-point spread in Boston, plus the following prop bets on PrizePicks: Jayson Tatum over 25.5 points, Dennis Schroder over 16.5 points, Josh Giddey over 6 rebounds, Shai Gilgeous-Alexander over 4 rebounds.
Minnesota Timberwolves (-2.5) vs. Memphis Grizzlies
Another matchup where you should expect plenty of points to be scored throughout. Ja Morant is a dark-horse MVP candidate right now. Meanwhile, Minnesota's trio of Karl-Anthony Towns, Anthony Edwards and D'Angelo Russell are beginning to finally figure each other out. Tonight, I'm riding with the Timberwolves to pull off the victory at home and cover the 2.5-point spread. This will be close throughout, but the star power on Minnesota outweighs Morant. On PrizePicks, tail me on this power-play: Morant over 26.5 points, Towns over 22.5 points, Edwards over 22.5 points, Steven Adams over 8.5 rebounds.
Milwaukee Bucks (-12.5) vs. Orlando Magic
I'm forecasting a dominant bounce-back victory for the defending champions after they allowed Oklahoma City to keep it close last night. Against another tanking team in the Magic, I like the Bucks to roll in this spot thanks to strong outings from their dynamic scoring duo. Giannis Antetokounmpo and Khris Middleton put their foot on the gas early and don't let off as Milwaukee dominates the Magic from start to finish. On PrizePicks, here's what I locked in: Giannis over 23.5 points, Middleton over 17.5 points, Franz Wagner over 12.5 points, Mo Bamba over 9 rebounds.
Portland Trail Blazers (-6.5) vs. Philadelphia 76ers
Until Joel Embiid returns for Philadelphia, it's hard to trust the Sixers from a betting perspective. In Portland, I love the Trail Blazers' backcourt combo of Damian Lillard and CJ McCollum to go off here. Also, don't be surprised if the Sixers' own backcourt in Tyrese Maxey and Seth Curry also pour in some points as well. Tonight, I'm locking in the Trail Blazers to cover the 6.5-point spread as one of my best bets for Saturday's slate. I don't know about you, but this feels like a perfect time for Lillard to snap out of his season-long cold stretch. On PrizePicks, here's a very realistic power-play that could cash: Lillard over 22.5 points, McCollum over 19.5 points, Maxey over 16.5 points, Curry over 14.5 points, Andre Drummond over 11.5 rebounds.
Utah Jazz (-8) vs. Sacramento Kings
This honestly feels like the last stand for Kings head coach Luke Walton. After getting embarrassed last night by the shorthanded Toronto Raptors at home, this could be Walton's swan song leading this team. Will the Kings put up an inspired effort or get demolished once again? I'm going with the latter here, especially against a well-oiled machine like Utah. The Jazz easily cover the 8-point spread in Sacramento as Walton could be fired at the end of this game. On PrizePicks, here's another fun power-play option: Donovan Mitchell over 23.5 points, Harrison Barnes over 14.5 points, Rudy Gobert over 13.5 rebounds, Tyrese Haliburton over 4 assists.
Recapping our picks against the spread for "Nothing But Bets," here's what is being lock in for Saturday's slate: Knicks -11.5, Heat -1, Pelicans +7.5, Hawks -6.5, Thunder +10, Timberwolves -2.5, Bucks -12.5, Trail Blazers -6.5, Jazz -8.
All users that deposit and use the promo code NEWS on Prize Picks will receive a 100% instant deposit match up to $100! Sign up here.