For the first time in history, we will have a Duke vs. North Carolina meeting in the NCAA Tournament. The Tar Heels defeated Saint Peter's in the Elite Eight behind a dominant performance from Armando Bacot, who posted 20 points and 22 rebounds.
The Tar Heels (No. 8 seed) were red hot the second half of the season, winning huge games including Coach K's final home game at Duke, and the team also defeated No. 1 seed Baylor in the round of 32. Armando Bacot leads them in scoring with 16.4 points per game, while Caleb Love has had a great tournament and continues to make a case for himself in the 2022 NBA draft.
The Peacocks (No. 15 Seed) are the first 15 seed to ever make it to the Elite Eight, as well as the first MAAC Conference team to do so. Shaheen Holloway and co. are 22-11 on the season and are led by Daryl Banks III, who averaged 11.5 points per game. KC Ndefo scored 10.5 points per game and is a three-time winner of MAAC Defensive Player of the Year Award.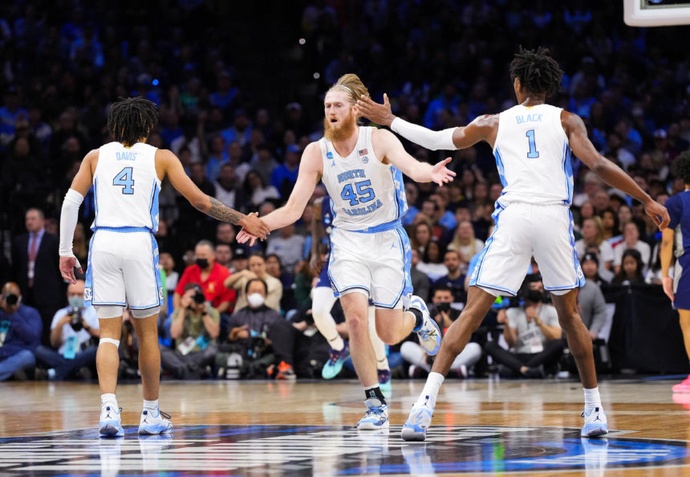 Carolina got started early in this one, jumping out to a 7-0 lead which was the largest deficit Saint Peter's had faced in the tournament. Hassane Drame connected on a corner three which got the Peacocks on the board at 9-3. The size of Bacot and Brady Manek proved to be a lot to handle in the first half, as the Tar Heels took a 38-19 lead into the break.
Caleb Love led all players with 12 points at the half, while Drame led the Peacocks in scoring with 5. Manek connected on two triples in the first period and scored 10 points, and Bacot posted 8 points and a whopping 15 rebounds.
By the 13:30 mark in the second half, North Carolina held a 51-26 lead thanks to another Manek triple. Love would add a huge transition dunk to make it 61-38, and that would all but do it. Manek ended with 19 points and 8 rebounds, while the Tar Heel starters scored all but 2 of the team's points on the night. Fousseyni Drame led Saint Peter's in scoring with 12 points off the bench.
Though the Tar Heels brought it to an end, this historic run by Shaheen Holloway and Saint Peter's will be remembered forever. What an incredible, incredible season.
The Final Four is set for New Orleans, Louisiana, where North Carolina will meet Duke on Friday night. Get your popcorn ready.