The stage is set for the 2022 NBA Finals.
The Golden State Warriors, who have been to the Finals in six of the last eight years, are matching up with the Boston Celtics, who have jelled at the right time and combined stifling defense, grit and perseverance to will themselves to an Eastern Conference title.
Steph Curry is closing in on his fourth NBA Championship. He has already been crowned as arguably the greatest shooter the game has ever seen — excluding nobody.
In fact, Steph changed the NBA as a whole and altered how the game was played in a way that has rarely been seen. One could only compare him to players such as Bill Russell, Wilt Chamberlain, Kareem Abdul-Jabbar, Magic Johnson, Larry Bird, Michael Jordan, Allen Iverson and maybe a short list of others who have literally single-handedly shifted the way the game was played. The game's current focus on three-point shooting, especially from the point guard position, is rooted foremost in Steph.
I caught up with three point-guard legends Nick Van Exel, Rod Strickland and Steve Francis to have them weigh in on Steph Curry and his level of greatness. Is he being overhyped, or is he underappreciated?
Nick Van Exel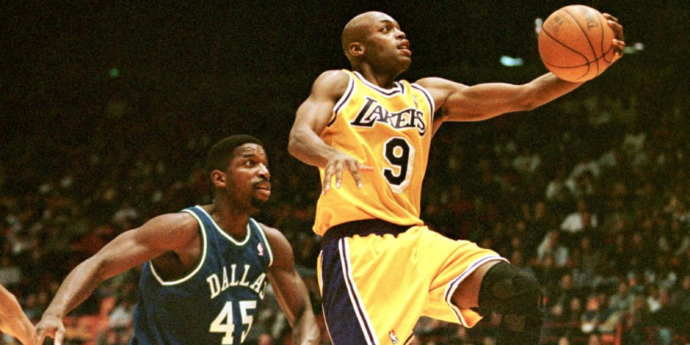 Etan Thomas: What do you think about Steph Curry as a player as a whole?
Nick Van Exel: "Steph has transcended the entire game. Now, it's an outside-in game where it used to be an inside-out game. And that's largely because of him in particular. Nobody played five-out before. It's kind of taken out big guys like you."
Etan: Oh yeah, I say it all the time, I'm like the dinosaur of the NBA. (laughing)
Van Exel: "(Laughing) It's true though. All big guys now shoot the three, and it's a spread-out offense. No more guys like you, Ben Wallace, Brian Grant, those rugged players that banged and rebounded and physical play and physical presence inside. It's totally different now. But now, everyone wants to shoot threes. But Steph's shooting is unbelievable. I've never seen anyone in my life shoot like he does off the dribble, as quick as he does. Every time he shoots the ball, you think it has a high probability of going in.
"And to add to that, his leadership on the court is really impressive. I played with Dirk [Nowitzki] and Tim Duncan, and they were both superstars. But also, their teammates really loved them and respected them and would rally behind them and elevate their games to fall in line with them, and that's what I see with Steph. And you know how it is E. That doesn't always happen on teams."
Etan: I heard a few commentators say that if Steph wins this championship, he would move ahead of Magic Johnson or LeBron James. Now, I usually don't like to make comparisons like that, but you hear the topics on First Things First or Shannon and Skip, and they're saying these things. What do you think?
Van Exel: "I'm like you, I don't like to compare. These are all different types of players. Magic was 6-8, 6-9 coming down the court full speed at you and throwing a no-look pass. We had never seen that before. LeBron is a combination of Magic and MJ blended into one, which we definitely haven't seen before. And Steph has also done things and changed the game in a way that we haven't seen as well. But all three in different ways. So I'm like you, I don't even go there with the comparisons.
"I was also hearing if he didn't get the Finals MVP, that he doesn't reach some level of plateau, and that's ridiculous. We're gonna remember Steph for a long time regardless of what happens in these Finals, and Steph is great, Magic is great and LeBron is great. I'll leave that for the sports talking heads to argue and debate about."
Etan: I agree 100%. Something else I admire about Steph is the way he uses his voice. I actually interviewed him for my new book: "Police Brutality And White Supremacy: The Fight Against American Traditions."
He spoke passionately about racism, why as a Christian he couldn't support Donald Trump, why he opted to not go to the White House after they won, why he called out the CEO of Under Armor when he voiced his support for Trump, and he didn't hold back at all. He broke down each particular point, and he was respected for it even from people who may have disagreed with him.
Van Exel: "I think with the way Steph was raised, he's the perfect person to take these public stances. He understands when situations are not right or fair or just, and he was raised to have the courage, freedom and audacity to call those things out. He's not afraid to speak his mind, obviously.
"There are a lot of things that have happened throughout this country, and have always been happening, and this generation of players aren't quiet like players were in the 80s and 90s or even early 2000s. Besides you and Mahmoud [Abdul-Rauf] and [Craig] Hodges and like two other people, through all those years, it was quiet. So Steph Curry and these young athletes feel the freedom to use their platforms, and they have their own social media, so they can say what they want. I definitely respect that."
Etan: I definitely respect that too. And at the same time, he is so respected on the court that he made other guards on all levels try to play like him in particular. Do you see that, or am I putting too much on it?

Van Exel: "He definitely transcended the game to where people feel, 'Now, I'm going to go in the gym and just shoot threes.' When you watch college, high school, the little cats in AAU — everyone wants to jack up threes like Steph. It wasn't like that before. But of course, at the end of the day, everybody can't do that. (Laughing)"