Two numbers supersede any statistics surrounding Klay Thompson's journey to the 2022 NBA Finals.
The first is 1,086 — the total days since Thompson last appeared in a Finals game. In that time, he tore an ACL and an Achilles tendon, missed two full seasons of professional basketball, returned to the Golden State Warriors and rejoined the starting lineup on another hunt for glory.
The second number is 6. Barring those two lost years, and despite a daunting road to recovery, Klay will appear in his sixth consecutive NBA Finals as a healthy player. We can debate the semantics of the streak, but I'd argue that Thompson's remarkable comeback makes his return as impressive as any of the 10 players in NBA history to make six or more straight title appearances.
Put bluntly: Klay is not supposed to be here. But the 32-year-old sharpshooter has overcome the odds and is once again the core of a potential Warriors championship. But it's been essentially three long years since Thompson shot that solemn free throw before hobbling off the court in Game 6 against the Toronto Raptors. Who is 2022 Klay, how is he similar or different from past years and how can he help assert the return of a Golden State dynasty?
Well, for those who haven't kept up with his performance all season — or for Boston Celtics fans — I suggest you prepare yourselves for the same Klay we've always known on offense.
Thompson struggled out of the gate in the regular season. He shot 38.5% from three-point range, which, while impressive on its own, is remarkably a career-low. He canned just 36.7% of his catch-and-shoot threes, the first time ever that he fell under 40%. But Thompson's slump was simply a slump, compounded by his ramping up from injuries and the absence of Stephen Curry due to his own ankle injury.
Since the playoffs began, the veteran is back up to a 39.9% clip from beyond the arc and 43.0% on catch-and-shoot treys. He's flying around screens in classic Klay fashion. According to Synergy, approximately 21.6% of Thompson's possessions this postseason have come off screens, more than any major rotation player in the playoffs. His mark of 1.17 points per possession ranks third behind Devin Booker and Davis Bertans.
One minor, interesting note: Thompson continues to struggle shooting from the corners. He made just 36% of his regular-season attempts, per Cleaning the Glass, and has fallen further to just 29% in the playoffs. Both are career lows. Obviously, this does not mean the Celtics should start sagging off Thompson or treating him any differently than they should treat an all-time great marksman. It's just a trend worth monitoring.
Thompson will keep on trucking from long range. However, there's one other notable change happening inside the arc that I wanted to explore. This is Thompson's shot chart from the 2021-22 playoffs to date, courtesy of Cleaning the Glass: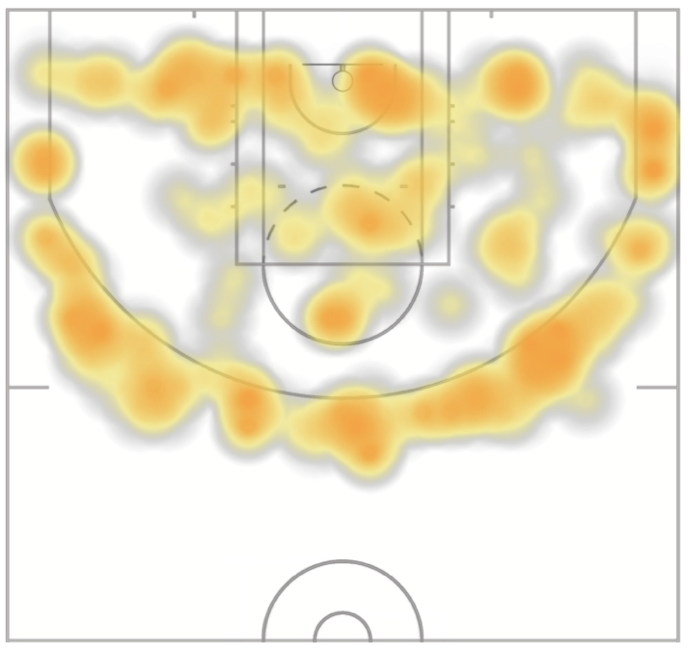 Now, let's compare this to a shot chart from the 2018-19 postseason: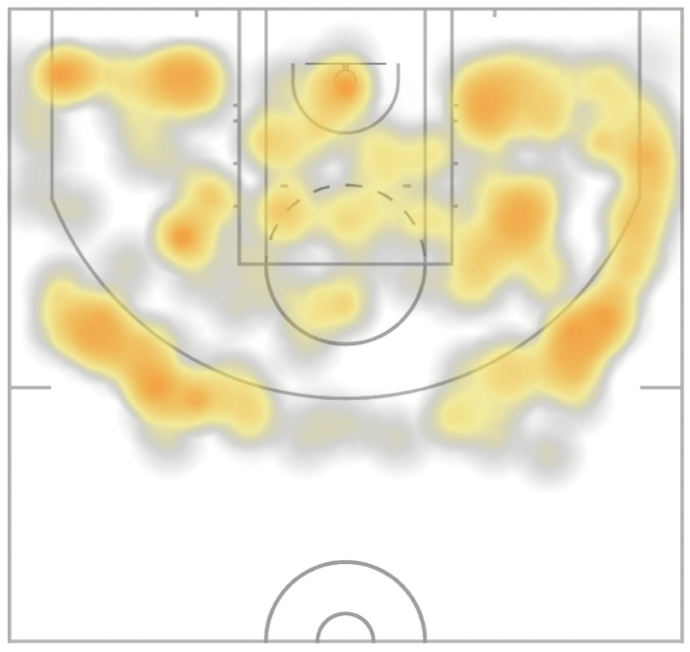 At first glance, these probably look pretty similar. It appears Thompson's threes are coming from all over this season, whereas three years ago, he largely shot from the wings. But more importantly, I'm focused on the change in frequency at the elbows. Thompson isn't shooting those nearly as much this year, and instead has an even stronger presence on the baseline. This will look more pronounced in a table (scroll right to view in full on mobile):
| | | | | |
| --- | --- | --- | --- | --- |
| Year | Short-MR Freq. (Reg. Season) | Short-MR Freq. (Playoffs) | Long-MR Freq. (Reg. Season) | Long-MR Freq. (Playoffs) |
| 2015-16 | 15% | 14% | 18% | 15% |
| 2016-17 | 12% | 13% | 24% | 26% |
| 2017-18 | 12% | 11% | 31% | 30% |
| 2018-19 | 15% | 17% | 27% | 27% |
| 2021-22 | 19% | 24% | 20% | 12% |
Thompson's frequencies of shot attempts in the short-mid-range area (which would include those baseline attempts) are the highest they've been since 2013-14. Meanwhile, we're seeing a meaningful decline in those elbow attempts and long mid-range looks. It's not a direct correlation; an astonishing 50% of Thompson's shots have been threes (and 52% in the playoffs), meaning he's stretch some of the twos out to the arc. But some have also crept in toward the basket and the baseline.
One plausible theory is that the elbow area has been soaked up by presence of Andrew Wiggins. It's probably partially true, but Wiggins has removed most of those long twos from his arsenal. Thompson has also simply been extremely comfortable attacking closeouts from the corner.
Thompson is a strong dude. He might not seek out contact like most scoring guards, but the 32-year-old can deal with opponents in his way. In several of these clips, he's actually using a bump to create a rhythm and generate some extra space. Thompson expertly darts off of the corner. He doesn't charge downhill, but instead takes a dribble or two to probe, position a defender and rise up.
Sometimes, though less frequently, Thompson digs into his bag of post footwork. When he finds a size mismatch, the shooting guard can quickly establish positioning and fade away. That second clip is particularly impressive given Dorian Finney-Smith's size and length.
So, we arrive at this Finals matchup against the Celtics. Obviously, Golden State will look to get Thompson firing away from long range and maximize what he can do away from the ball. However, I'll also be intrigued by what the veteran can do in these sorts of situations.
Our Nekias Duncan expects Jaylen Brown to be the primary defender on Thompson to start the series. (Please prepare yourself by reading his scouting report; it also touches on Thompson's defense that I didn't get into here.)
That's an interesting matchup in this context. Can Thompson create the necessary separation against Brown for these types of shots, and is Brown up to the task defending them? Thompson should also find extra chances to use his size as the teams mix and match their lineups. If Thompson finds Derrick White or Payton Pritchard on him, for example, I wouldn't be surprised to see him try to take advantage.
One last point to monitor: Joe Viray, writer for SB Nation's Golden State of Mind, also wrote a phenomenal series preview. Viray mentioned that the Celtics allowed the most long twos of any NBA team in the regular season, sacrificing that zone to keep teams out of the paint and inside the three-point line. Boston will assuredly try for a similar pattern in the Finals. Does this mean we see more of Thompson attacking and a subsequent rise in more short and long mid-range shots?
We'll find out in a few short hours.
The Klay Thompson we've always known is about to make a spectacular Finals comeback with some additional tweaks to his offensive game. I simply cannot wait to watch him back out there.
THE OUTLIERS (a.k.a. other random interesting numbers I found in the void):
Another significant note from Nekias' breakdown: No team switched more off-ball screens per 100 possessions than the Celtics at 15.2. That battle between Golden State's movers and Boston's defenders will be a series-defining storyline.
One of the most important NBA streaks stays alive. Someone who played for the New York Knicks at one point in his career has now appeared in every single NBA Finals. Thank you Luke Kornet!
Luke Kornet keeps one of the league's most amazing streaks alive by advancing to the NBA Finals with the Boston Celtics.

A former New York Knick has now appeared in 76 straight finals 🤯 pic.twitter.com/Zy3Rd50ozj

— BasketballNews.com (@basketbllnews) May 30, 2022
On a completely different note, someone please wear No. 29!
For the 4th straight year, nobody wore #29 in the NBA this season. pic.twitter.com/57kH9vyqC1

— Todd Whitehead (@CrumpledJumper) May 29, 2022
Looking to go to the hottest concerts, sports, theater & family shows near you? Get 100% guaranteed tickets to more than 125,000 live events from TicketSmarter, the official ticket marketplace of BasketballNews.com. Order online now!