I still remember the summer of 2007.
A year after winning the championship in Miami, we got swept by the Chicago Bulls and I found myself looking for a new home. I had a few options, but I thought joining the New Jersey Nets was my best one. I liked their style of play and knew I'd mesh with Jason Kidd.
Then, out of nowhere, on a Saturday afternoon, I got a call from Eddie House. I didn't really know Eddie that well, but we did share an agent. He told me that if I came to Boston with him, we'd win the championship.
Two days later, after I spoke with Doc Rivers and Danny Ainge, that was that. I decided to head to Boston to try and win with Paul, Ray and KG — the modern era's original Big Three.
It ended up being one of the best decisions I ever made.
I'd be lying if I said I didn't have some doubt that we would be able to win it all, but by the time we swept the Texas triangle in March, I knew we had a chance to win the championship. For the four months until that point, those guys showed everyone on that team what it meant to sacrifice in the name of winning.
At the end of the day, personal stats meant nothing to Paul, Ray and Ticket. They'd already made their money and gotten their awards. The only thing they were missing was a championship.
In Boston, our Big Three worked because that ring was the only thing everyone cared about.
If I had to pick one of Brooklyn's Big Three who might be the key to whether we end up saying the same thing about the Nets, I'd go with Kyrie Irving.
Seemingly overnight, Brooklyn got a Big Three of its own that's going to give the entire league a lot of problems. In terms of offensive talent, with Kevin Durant and James Harden, Kyrie suddenly has two other guys on the offensive end who might be better scoring options than him. That's not a position he's been in before.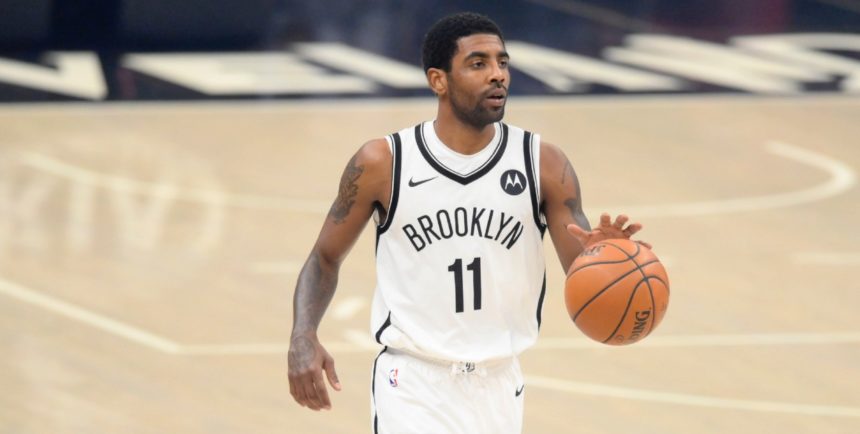 And at the end of the day, there's only one ball, and if there's one thing I learned playing for Boston or coaching LeBron, Kyrie and K-Love in Cleveland, it's that one of the three guys is going to end up with less offensive freedom. That's not something that every player takes kindly to. So whether it all works in Brooklyn will probably come down to what their Big Three really wants to get out of this.
Does everyone simply want to win? Or do some guys want to win, but on their own terms?
At this point, that's what remains to be seen.
In Cleveland, Kyrie won a championship and was our second-best player, but he wasn't totally happy with the situation — maybe he felt like he still had something to prove? For whatever reason, he asked out. It seems like he didn't just want to win, he wanted to win on his own terms. Things didn't work out for him in Boston, so he went to Brooklyn to form a dynamic duo with KD.
Now, he's in another Big Three, and we don't know if that's a situation he'll thrive in. Especially since he's probably the one who will be asked to sacrifice the most.
For a Big Three to succeed, at least one of them has to primarily create their shots on the offensive end by playing off the ball — screens, pin downs and pick-and-rolls most often. The person Steve Nash will ask to play that role more often than not will probably be Kyrie, because the ball should (obviously) mostly be in the hands of the team's best player and the team's best distributor. For my money, I'd say that's KD and James. If I'm Nash, I'd probably ask Kyrie to get used to playing off the ball more than he's used to.
Going from being the second option to potentially the third option in a Big Three will be a big adjustment, but if winning is the priority, it's a sacrifice he'll have to make.
In all fairness, both KD and Harden will have to make some adjustments, as well. But KD has already proven that he can succeed with two other great scorers, and Harden will probably still end up playing with the ball in his hands a lot. So far, he's shown a willingness to share the rock, perhaps because he's realized that depending on his one-on-one arsenal of moves isn't a recipe for championship success.
By the time 2007 came around, Paul came to realize that. That's why it was so easy for him to sacrifice shots and touches for Ray and Ticket. It might take a while, but eventually, almost all great one-on-one players who have had everything on their shoulders realize they need others to succeed. In forcing a trade to Brooklyn, James basically admitted that.
When all three players in a Big Three accept the fact that they need each other, it's a thing of beauty. The real question is whether, at this point in their careers, Brooklyn's Big Three have all gotten there. Especially Kyrie, because his adjustment may be the most dramatic.
We're only a few games in. There's bumps in the road during every season, so when the Nets lose a few games and face some adversity, their ability to stick to the program and trust their coaches — and each other — will be tested.
At that point, we'll get to see whether Kyrie, James and Kevin are able to channel the same energy that we had in Boston.
Back in 2007, I was a part of a team that made it all work.
In 2021, we'll see if these Nets can become the latest superstar trio to lift the Larry O'Brien trophy.