March Madness is always an exciting time, and this year has been no different with numerous teams with low seeds advancing to the Sweet 16. Not only has it been exhilarating from a college basketball fan's perspective, but also from a talent evaluator's as well, as there have been a handful of NBA Draft prospects that have played well and impacted their stock.
Here are a few of the players that caught my eye:
Miles "Deuce" McBride: 6-foot-2, 200 pounds | West Virginia | Guard | Sophomore
Game Stats
West Virginia vs. Morehead State: 30 PTS, 6 REB, 6 AST, 3 STL
West Virginia vs. Syracuse: 11 PTS, 4 REB, 7 AST, 3 STL
Known mostly for his defensive intensity and activity, McBride continues to flash his offensive abilities as a playmaker and scorer. He's intelligent, a solid athlete and instinctual on both ends. In the two tournament games, Deuce showed his willingness, and ability, to hit big shots from deep when his team needed them. Don't be surprised if he continues to rise on draft boards as we work through the NBA pre-draft process.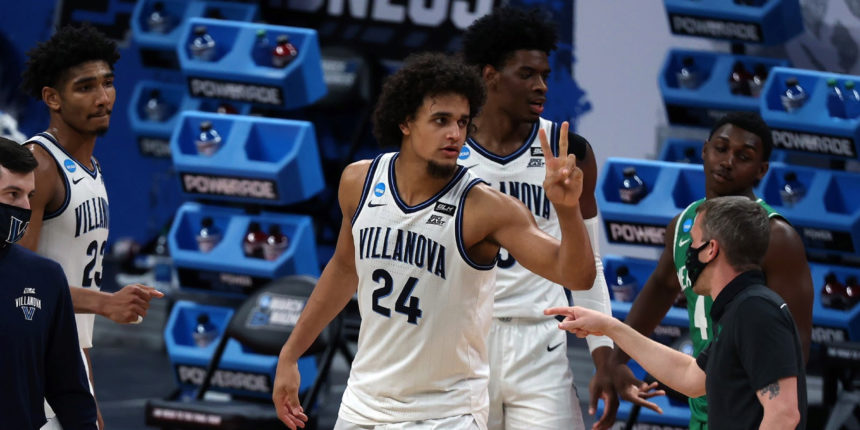 Jeremiah Robinson-Earl: 6-foot-9, 230 pounds | Villanova | Forward | Sophomore
Game Stats
Villanova vs. Winthrop: 22 PTS, 11 REB, 6 AST, 3 BLK
Villanova vs. North Texas: 18 PTS, 6 REB, 6 AST, 1 BLK
After averaging 16.0 points and 8.3 rebounds per game this season, Robinson-Earl, a 6-foot-9 sophomore from Villanova, is undoubtedly one of the best rebounders in the country. He constantly uses his physicality and motor to dominate the glass. He's also a strong screen setter, passer and high IQ defender, and has shown the ability to stretch the floor in spurts. Also known as "JRE," he isn't the flashiest player in the class, but does the little things well and can provide good value to an NBA team.
Neemias Queta: 7-foot, 245 pounds | Utah State | Center | Junior
Game Stats
Utah State vs. Texas Tech: 11 PTS, 13 REB, 7 BLK, 6 AST, 1 STL
Utah State fell to Texas Tech in the Round of 64, but Neemias Queta played well and received praise afterward from Texas Tech head coach Chris Beard. At 7-foot and weighing 245 pounds, Queta is a force to be reckoned with on the glass and as a rim protector. He registered seven blocks against the Red Raiders after averaging 3.3 per game on the season. He raised his free throw and assist percentages for the second year in a row, 70.7% and 18.6% respectively. He could provide value as a backup big at the next level.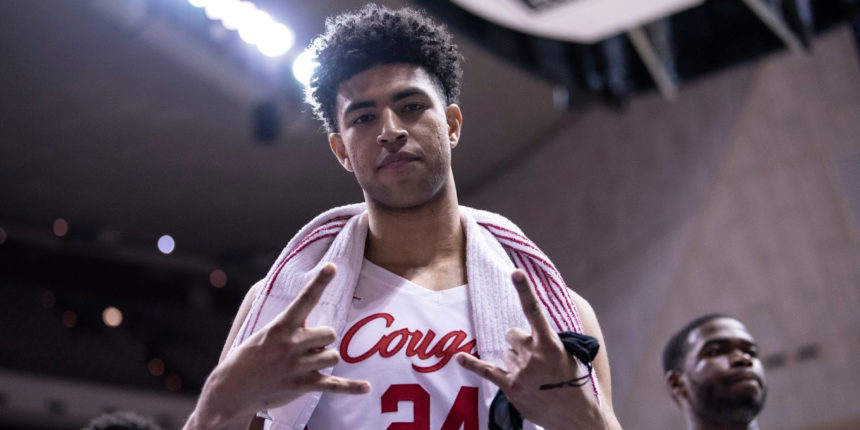 (Photo by Ben Solomon/NCAA Photos via Getty Images)
Quentin Grimes: 6-foot-5, 205 pounds | Houston | Guard | Junior
Game Stats
Houston vs. Cleveland State: 18 PTS, 4 REB, 4 AST
Houston vs. Rutgers: 22 PTS, 9 REB, 2 STL, 1 BLK, 1 AST
After transferring from Kansas, the former McDonald's All-American has finally had the breakout season we had been expecting. Grimes averaged 18 points and 6 rebounds this season, leading Houston to a No. 2 seed in the NCAA Tournament. He has good positional size at 6-foot-5, and through two tournament games has been able to highlight his greatest improvement: three-point shooting. He shot 41.7% on the year from deep and hit 9-of-17 in this latest pair of contests.
Johnny Juzang: 6-foot-6, 210 pounds | UCLA | Guard/Forward | Sophomore
Game Stats
UCLA vs. Michigan State: 23 PTS, 4 REB, 2 AST
UCLA vs. BYU: 27 PTS, 5 REB, 1 BLK
UCLA vs. Abilene Christian: 17 PTS, 3 REB, 1 AST, 1 STL, 1 BLK
Juzang transferred to UCLA after one season at Kentucky, and had a productive season averaging 15 points per game. During March Madness, he has really stepped up in big moments and displayed the level of shooter he can be, creating buzz among some NBA circles. The efficiency hasn't been outstanding, but at 6-foot-6 he showed that he can be a big-time shot-maker at the next level.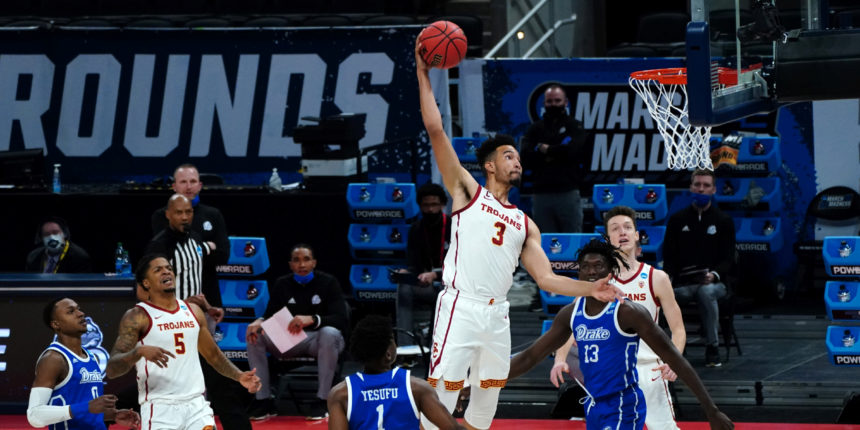 Isaiah Mobley: 6-foot-10, 235 pounds | Southern California | Forward | Sophomore
Game Stats
USC vs. Drake: 15 PTS, 5 REB, 2 AST
USC vs. Kansas: 17 PTS, 8 REB, 4 AST
Not to be outdone by his younger brother Evan, Isaiah Mobley shot the ball very well from deep in the Trojans' first two tournament games. He is a highly intelligent player with decent physical tools, and has flashed the ability to be a shot-maker; against Kansas, he hit 4-of-5 from deep. Whether or not he'll enter the 2021 NBA Draft is to be determined, but there is a lot to like about his game, making him one to watch during the pre-draft process.
Austin Reaves: 6-foot-5, 206 pounds | Oklahoma | Guard | Senior
Game Stats
Oklahoma vs. Missouri: 23 PTS, 6 AST, 4 REB
Oklahoma vs. Gonzaga: 27 PTS, 2 REB, 2 AST, 2 STL
After playing his first two seasons at Wichita State, Austin Reaves transferred to Oklahoma and has been a terrific scorer for the Sooners. He averaged 17.9 points per game as a senior, and in their two NCAA Tournament games, he was the offensive engine. In the second round, his team fell to Gonzaga, but Reaves' play gave them a fighting chance deep into the second half. The 6-foot-5 guard is effective as a pick-and-roll handler and spot-up shooter, and will look to get an opportunity at the next level.