NBA, you're on the clock. How many deals can you make in 48 hours or less?
The March 25 trade deadline is two days away, and the rumors in these front-office streets are zooming in overdrive. The Boston Celtics reportedly want to make moves to bolster their lineup. Orlando Magic forward Aaron Gordon requested a trade on Monday morning, making him a target for a handful of teams. The Toronto Raptors, Miami Heat, Golden State Warriors, Sacramento Kings, Atlanta Hawks, and New Orleans Pelicans are among the teams that are expected to be active and aggressive.
As for the players, let's get into who could be moved on Thursday before 3 p.m. ET.
Lonzo Ball, New Orleans Pelicans
Playmakers who can provide both defense and auxiliary scoring are a premium, which is why Ball is among those high in demand as the deadline looms. The Pelicans guard is averaging 14.2 points and 5.6 assists per game, and is shooting a solid 38.5% from three -- just enough to keep opposing defenses honest.
Ball's game would fit with teams that value perimeter defense and playmaking in systems that are predicated on ball movement. However, there's a caveat here: Ball will be a restricted free agent after the season, and he is reportedly looking for a $20-million-per-year payday. Considering his improvements, perhaps teams could believe that he's worth it. Whoever trades for him would have the chance to match any offer sheet that he receives next offseason. If Ball is traded, it will be interesting to see if he has a long-term future with that organization or if he was just acquired as a rental.
INTERESTED TEAMS: Bulls, Clippers, Hawks, Knicks
Marcus Smart, Boston Celtics

For about five years now, Danny Ainge has been the king of "almost" making trades. With the Celtics floundering this season, is this the moment that he finally pulls the trigger and completes a deal?
It's possible, according to recent reports. The Hawks have expressed interest in Marcus Smart, whom Atlanta believes would be a great defensive addition to coincide with the offense of Trae Young. Due to their cap situation, the Hawks would have to part with some players (likely Bogdan Bogdanovic) -- but for what Smart provides, the haul would be worth it.
Smart's offensive numbers don't jump off the page, but at 12.6 points per game on 40.1% shooting, they are at least productive. The draw here is defense. Smart is an excellent defender who is also capable as a playmaker. It remains to be seen if Boston is willing to part ways with him.
INTERESTED TEAMS: Hawks, Magic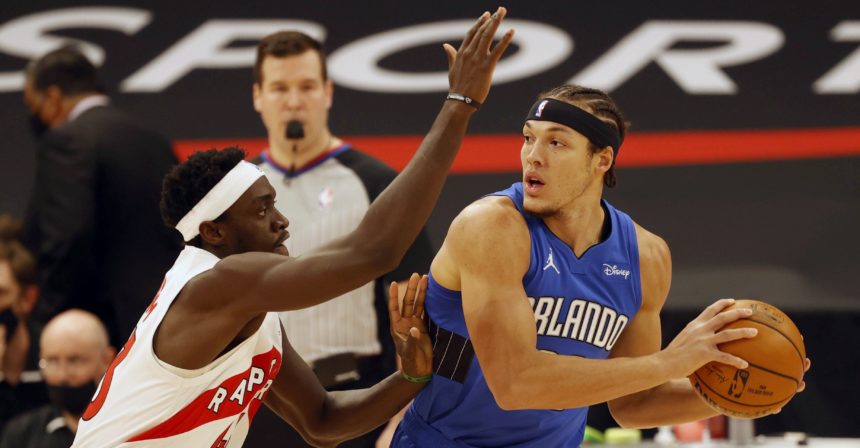 Aaron Gordon, Orlando Magic

Aaron Gordon has been one of the most popular names mentioned in the rumor mill in recent years. Since he made a formal request for a trade, Gordon's demand has skyrocketed, and rightfully so.
Gordon is averaging 14.7 points and 6.8 rebounds, and is shooting a career-best 40.2% from deep. Matt Moore of the Action Network reported that the Boston Celtics are the frontrunners in the Gordon sweepstakes. The two sides have discussed the framework of a deal where the Magic would send Gordon and Evan Fournier to Boston in exchange for a player, two first-round picks and the Celtics' $28.5 million Traded Player Exception. Moore reports that Orlando is asking for Marcus Smart to be the player included, but it's unclear if the Celtics are open to including him.
The Houston Rockets also reportedly offered two first-round picks for Gordon, but those talks concluded once it became clear that Gordon wasn't willing to sign an extension with Houston.
Gordon wants to be in a winning situation that will help him fulfill his potential; remember, he's still just 25 years old. The contending teams who are interested in the explosive, athletic forward should be able to help him grow.
INTERESTED TEAMS: Celtics, Nuggets, Blazers, Mavericks, Rockets

Bogdan Bogdanovic, Atlanta Hawks

Bogdanovic might be a casualty of whatever the Hawks decide to do leading up to the deadline. However, that doesn't mean that the Serbian guard doesn't have significant value. After coming back from an avulsion fracture in his right knee that kept him sidelined for two months, the 6-foot-6 guard is averaging 13 points on 51.2% shooting from the field and 43.5% from three.
The Golden State Warriors are reportedly interested in Bogdanovic, and the pairing makes sense. The Warriors need additional scoring and floor spacing for not only this season, but also next year when Klay Thompson returns. Any potential deal for Bogdanovic will center around Kelly Oubre, plus an additional player for salary-matching purposes (and probably a pick too). The question that the Warriors might want to ask themselves, however, is if this is their best option on the table.
The Boston Celtics have also shown interest in Bogdanovic (as well as Atlanta's John Collins). According to Kevin O'Connor of The Ringer, Boston has apparently been a fan of Bogdanovic for a while, as they tried to acquire him back when he was on the Sacramento Kings too.
Bogdanovic was highly coveted as a free agent last offseason, so don't be suprised if other teams call Atlanta about the 28-year-old between now and Thursday afternoon.
INTERESTED TEAMS: Warriors, Celtics
Kyle Lowry, Toronto Raptors

Since Lowry will be an unrestricted free agent after the season, the Toronto Raptors have a reason to trade him now rather than letting him walk for nothing. Finding a match for Lowry's $30.5 million salary will be tricky, but that won't deter contenders from trying to acquire the 34-year-old.
According to Shams Charania of The Athletic, the Philadelphia 76ers have shown interest in Lowry. This makes sense considering Philadelphia's need for another playmaker to pair with Ben Simmons.
The Miami Heat have also pursued Lowry. The Heat have kept tabs on a potential trade, but the question remains what they'd be willing to give up in a deal.
INTERESTED TEAMS: 76ers, Heat