On Wednesday afternoon, Ed Cooley was introduced as the new head coach for the Georgetown Hoyas.
This move follows 12 successful seasons at Providence, including seven NCAA tournament bids in the past nine years it has been held and a Big East regular-season championship in 2021-22.
"I am excited for the opportunity to lead the men's basketball program at Georgetown University," Cooley said in a statement. "I plan on hitting the ground running, getting to work on the court and cultivating relationships in and around the District. Accepting this opportunity with Georgetown is not a decision I took lightly."
In an exclusive interview with John Fanta of FOX Sports, Cooley described his reasons for leaving Providence.
"When I did a deep dive of what's important — I always said yes to everybody, and I always said no to Ed. Coach Cooley did everything, but Ed needed a change," Cooley said. "I thought Georgetown was the place for me to make that change. As hard as it was because it's in-conference, and because a lot of people look at that as villainous or betrayal, I hope people give me an opportunity to serve Ed. And it sounds selfish, it sounds real selfish, but sometimes change is need on both sides and I felt for me change was needed...
"The Big East has a lot to do with the change even though it's tough because it's in-conference. I love the Big East. I love basketball-centric places. They're the recruiting fertile ground of the DMV area that expands."
I caught up with two Georgetown Hoya legends in Jerome Williams (a.k.a. Junk Yard Dog) and Michael Sweetney to discuss their thoughts on the changing of the guard at their alma mater and the direction of the program.
Jerome Williams (JYD)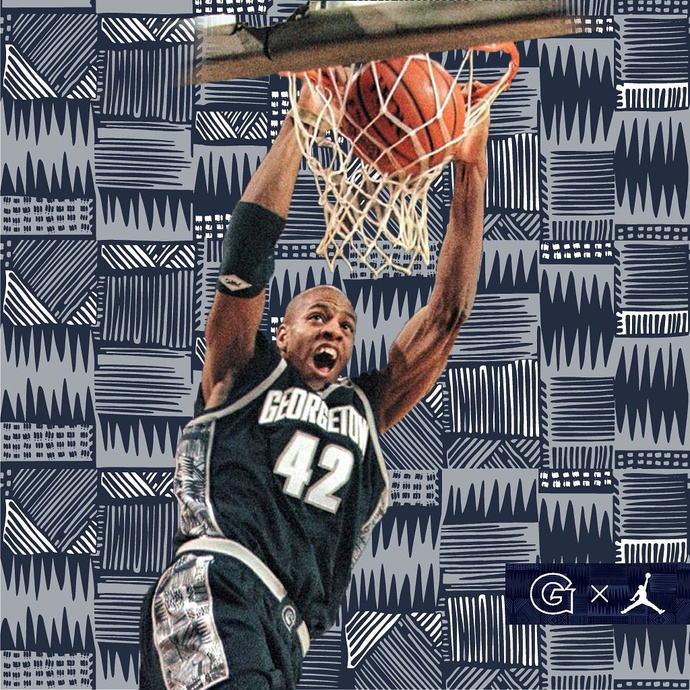 Etan: Talk to me about your first thoughts on the new hire Ed Cooley for Georgetown.
JYD: "From first impressions, he hit the ball out the park. He really ushered in the alumni. He even got people like Reggie Williams commenting positivity about him taking over the reins of Georgetown's basketball program, and that's a long-term Hoya alumni who helped bring a national championship to the hilltop. So right now, all of the alumni, myself included, we're very excited.
"We've always supported every regime that has been at Georgetown since I've been here, and that includes Coach Patrick (Ewing), Coach JT3 (John Thompson III), Coach (Craig) Esherick. And obviously, I was blessed to have Coach John Thompson. So Ed Cooley is no different in terms of the support that he will receive from me, and the Junk Yard Dog Dogg Pound. I'm here to support this alma mater through thick and thin. But like I said, Ed Cooley's first impression has really gone over well with everyone. And add to that — he has the resume of what he accomplished at Providence that has really energized this entire Georgetown community, with him being a Big East Champion and Coach of the Year, so that all helps. So yeah, we're all definitely excited."
Etan: Yeah, people are really buzzing here in the DMV. This seems like this was the coach that a lot of people wanted. You heard the chatter even during the tournament before Providence lost. But the electricity around the program seems to have been reignited. Would you say that's an accurate description?
JYD: "Definitely, the electricity is back. When he says he wants to sell out the arena which holds 20,000 [people], that's exactly what needs to happen. And that starts with the alumni, it starts with the students and it starts with the overall community. So that's the key."
Etan: Now, of course, programs don't turn around overnight and it's been a tough few years for Georgetown just as far as wins and losses. So what would your advice be to Hoya fans as far as patience?
JYD: "My advice would definitely be that everything is a process and Rome wasn't built in a day. But, with the world the way it is around college sports and the transfer portal, you look at teams like Missouri, who transformed very quickly into a winning program. And that was largely due to the transfer portal."
Etan: Yeah, the transfer portal is definitely a game changer, but it's like musical chairs; you lose four players and then you get four new players. It's an interesting dynamic right now that we're in with college basketball.
JYD: "That's absolutely correct. In some ways it's damaging, and in other ways, it can be transformative."
Etan: Very true. So let's talk about the history of Georgetown and why it's so historically special as a program and what it means to the DMV area and really all of college sports.