Duke freshman forward Jalen Johnson made headlines recently by opting out for the remainder of the 2020-21 NCAA season and declaring for the NBA Draft. He's currently projected to be a lottery pick (and some mock drafts have him going top-five).
"I appreciate everything about my time at Duke," Johnson said in a statement. "Coach K, my teammates and the program have been nothing but supportive throughout this season, especially during the rehab of my foot injury. My family, Coach and I have made the decision that I should not play the remainder of this season so I can be 100 percent healthy in preparation for the NBA Draft. This was not easy but we feel it's best for my future. I have nothing but love for the Brotherhood and thank my teammates and everyone associated with the program. Duke will always have a special place in my heart and will always be a part of me."
Coach Mike Krzyzewski also released a statement to show his support.
"While we are encouraged by what we are seeing medically, for Jalen's future, we believe this decision is in his best interest," Coach K said. "We are ultimately careful with every one of our players and will continue to support Jalen as he progresses toward his goal of playing professional basketball. He deserves to be fully healthy for the upcoming NBA Draft."
As expected, this decision has come under heavy scrutiny. Pundits around the country are taking turns criticizing the young man's decision.
For example, CBS Sports Network's Jon Rothstein tweeted: "'Opting Out' with three weeks left in the regular season isn't opting out. It's quitting."
"Opting Out" with three weeks left in the regular season isn't opting out.

It's quitting. https://t.co/XFU2E1avNR

— Jon Rothstein (@JonRothstein) February 15, 2021
First of all, Johnson doesn't get paid for his services, so he isn't an "employee" of Duke. This season is a wash and he's moving on to the next phase of his life. He owes Duke nothing, nor does Duke own him. He's doing what's best for him.
I asked former Duke standout Shelden Williams to share his thoughts on this topic.
"I'm from the old school where if I gave a commitment, then I need to honor that," Williams told BasketballNews.com. "That is how I was raised. Fast forward a number of years to where protecting yourself and your future is the main focal point, but scrutiny is more prevalent now [too]. I understand that people of the Duke community are going to feel a certain way about this, but if Coach K okayed this, then it is obviously for the best for both parties. Coach wants his players to be able to achieve [their goals] and have the opportunity to succeed. Although I, personally, would like to see the kid finish what he started, I will say that at the end of the day, it is his future that he has to look out for. He is the one living it and no one else. Hopefully he can get 100% healthy and grow into a great player at the next level."
I also spoke with Duke professor Mark Anthony, who is Chair of the Department of African & African American Studies and the co-director of the Duke Council on Race and Ethnicity.
"While I understand the disappointment that some college basketball fans feel about Jalen Johnson's decision to opt-out, the bottom line is that in the general context of injury and COVID, scholar athletes have to do what's best for them and their families," Anthony told me. "The NBA provides the opportunity for generational wealth for many families, and it is prudent for scholar athletes to not put that at risk, especially in this moment."
I don't understand why this concept is so difficult for many to grasp. Let me discuss my own alma mater, Syracuse University, so people don't think I'm trying to pick on Duke fans.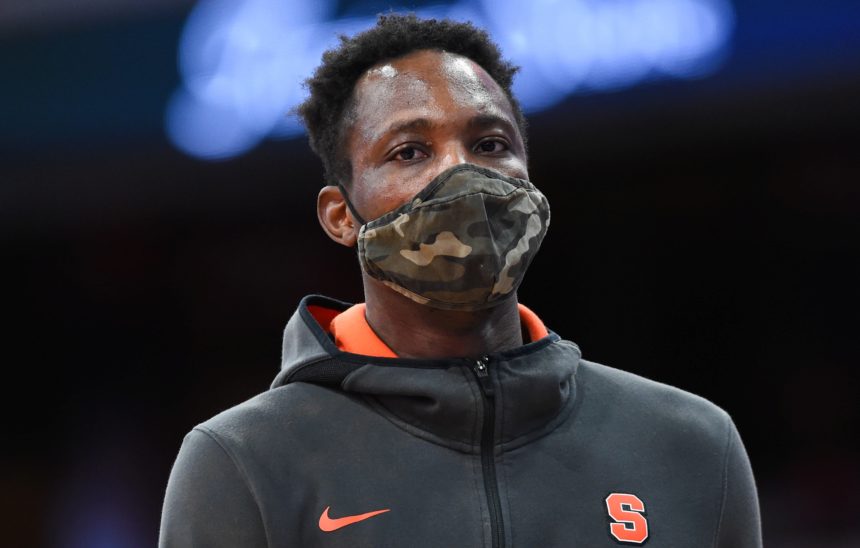 Syracuse center Bourama Sidibe tore his meniscus in the early moments of the season opener, a game that many (including head coach Jim Boeheim) said was a mistake to play due to the fact that the entire team had just been quarantined for two weeks following Coach Boeheim's positive COVID-19 test. They hadn't been able to practice, work out or do any conditioning beyond riding a stationary bike in their apartment. They came out of quarantine, had one quick practice and played their opening game, and Sidibe injured his knee early in the contest.
He had surgery to repair his torn meniscus on Dec. 1 and was initially given a four-week timetable to return. Instead, he was sidelined through early February and there was mounting pressure on him to return. Before every game, the media would ask Coach Boeheim about his progress, to which he would reply that he was "very hopeful" that Sidibe would return soon. Or he might say that Sidibe "had good practices," so hopefully he could play soon. This only put more pressure on Sidibe to play -- not because it is what's best for him, but because the team has a hole in the middle and has been playing guys out of position in Sidibe's absence.
Well, Sidibe tried to return for Syracuse's game against Clemson on Feb. 9. After playing just 11 minutes, he experienced swelling in his knee. Now, Boeheim said he can't play and he can't even practice. He may miss the remainder of the season; his status is up in the air.
Many people (including myself) have said that Sidibe should take the rest of this year off, let his knee heal, take a medical redshirt (or take advantage of the extra year the NCAA has decided to give players) and come back next year 100% healthy. He has the highest GPA on the team, and could get his master's. Instead of limping through these late-season games and sitting out afterwards because his knee obviously isn't healed yet, it would be advantageous to him in every way to make the business decision to shut it down for the rest of the season.
However, had he opted for that back when he first got hurt, I guarantee he would've received the same criticism from some Syracuse fans and commentators that Johnson is receiving from some Duke fans and the media right now.
Here is the bottom line: the school doesn't own the players. As much as they may think they do, they don't. The fans don't own the players. The players have to do what's best for them personally. The harsh reality is that the school is not concerned with their health long-term. That's evident by the borderline-reckless COVID-19 protocol that the NCAA has enacted. Rather than having a universal COVID protocol that every university must follow, they are leaving it up to the individual schools and conferences to come up with their own health-and-safety protocols, which is absolutely insane. Meanwhile, we still have no idea about the long-term effects of COVID-19 on the lungs and heart, but I digress...
The point is that the NCAA and its colleges will chew these players up and spit them out. These coaches won't think twice about moving on to the next phenom. They'll have these guys risk life and limb (and their entire future) for their university under the guise of some type of school loyalty. And once they're done with them or they can't play anymore, they'll put them out to pasture. Hell, they may not even return the player's phone calls.
Players have to do what's best for them. Period.
"Even before this tumultuous season, the trend started in football years ago and now basketball players are smart enough to understand their value," tweeted former NCAA standout Loren Woods. "It will continue until NCAA athletes begin getting compensated handsomely for their services."
I couldn't agree more.