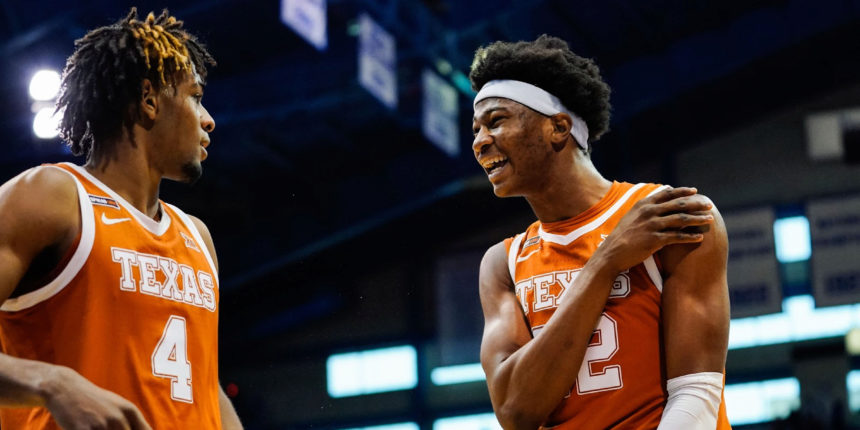 The unique rise of Kai Jones
A 6-foot-11, athletic and versatile big, Kai Jones of the Texas Longhorns has created quite a buzz and is widely being considered as a probable first-round pick in the 2021 NBA Draft. Most people would probably assume that a player rated that high would have been a hot commodity and courted by blue blood schools since he first stepped into high school. However, Jones' story is not a typical one.
Let me tell you about what I've learned about his story.
In 2017, Jones, then standing at 6-foot-9 and only weighing around 170 pounds, walked into Kendal G.L. Isaacs National Gymnasium in his hometown of Nassau, Bahamas to compete at the Basketball Without Borders (BWB) camp. This was the first time that Jones had played organized basketball, as he had only played pickup at playgrounds up to that point.
He more than held his own in a field loaded with high major talent. Jones contributed to his Hawks team that won the camp, a squad that featured Kofi Cockburn (Illinois), Addison Patterson (Oregon) and Francisco Farabello (TCU). Jones' play earned him a spot in the camp's All-Star game, where he was coached by former NBA players, Sasha Vujacic and Anderson Varejao.
Jones grew up as a track athlete in the Bahamas, where he focused primarily on long jumping. As he constantly grew, his body ultimately made a future in track and field untenable. Subsequently, Jones picked up a basketball for the first time at the age 15 years old.
"I was a track athlete. I wanted to be a long jumper, then I had a growth spurt and grew to be about 6-6, then 6-7, then 6-9, 6-10, and now I'm 6-11. So that major growth spurt was enough to say that I could do something major with this sport," recalled Jones in an interview with 24/7 Sports. "I always had a passion for it and was a big fan of it and I just started working on my craft every day."
Having played basketball for less than a year -- and in the midst of a three inch growth spurt -- Jones found his calling during that BWB camp. With the advice from fellow Bahamian and No. 1 pick in the 2018 NBA Draft, Deandre Ayton, Jones decided to turn all of his efforts to the hardwood.
He came back to the United States, where he was for a period in his childhood, and settled in Orlando, Fla. to attend Orlando Christian Prep. There, he served in the role as the third man behind 5-star prospects Nassir Little (North Carolina) and C.J. Walker (Oregon/UCF) on the way to an FHSAA Class 3A state title. The following summer, Jones' recruitment took off.
At the 2018 NBA Global Camp in Treviso, Italy, he only averaged a pedestrian 6 points and 3 rebounds per game, but his physical tools and budding skill level was evident. College coaches agreed, as within two weeks of that camp, he received offers from the likes of Arizona, Louisville, Baylor, Oregon, Kansas, FSU -- and most importantly, Texas rolled in.
Jones had now grown to be 6-foot-10 and 185 pounds; he also added seven inches onto his vertical leap. Jones, now reclassified to the class of 2019, spent his post-graduate season in New Hampshire at Brewster Academy, playing alongside Terrence Clarke (Kentucky) and Jamal Mashburn Jr. (Minnesota). His recruitment wrapped up early into the season spanning only a month.
Jones took official visits to Florida State, Syracuse, Texas, and Baylor, eventually narrowing it down to FSU and the pair of Big 12 schools. Kai Jones committed to the Longhorns in October and subsequently signed in November.
The rest, is history.