Ahead of next week's NBA Draft, BasketballNews.com spoke over the phone with Chris Ebersole, the NBA's Senior Director of International Basketball Operations. He oversees the development of youth players in the NBA's elite basketball programs: Basketball Without Borders and the NBA Academy. He also works closely with international scouts around the NBA.

Ebersole's goal is to be proactive and intentional in terms of the on- and off-court development of these young international players overseas, getting them identified by NBA teams and making sure that every team in the league has the chance to evaluate these prospects. Here are some stats to understand the international impact on the NBA:
There were 108 international players from 38 countries and territories on 2019-20 opening-night rosters, marking the sixth-straight season that opening-night rosters featured at least 100 international players.
A record six international players were named to a 2019-20 All-NBA Team: Giannis Antetokounmpo (Milwaukee Bucks; Greece; All-NBA First Team); Luka Doncic (Dallas Mavericks; Slovenia; All-NBA First Team); Nikola Jokić (Denver Nuggets; Serbia; All-NBA Second Team); Pascal Siakam (Toronto Raptors; Cameroon; All-NBA Second Team); Rudy Gobert (Utah Jazz; France; All-NBA Third Team) and Ben Simmons (Philadelphia 76ers; Australia; All-NBA Third Team).
Over the last 10 years (since 2010), there have been 27 international players drafted in the top 10, including 16 in the top five. At least two international players have been drafted in the top 10 in each of the last seven NBA Drafts.
We spoke with Ebersole about the international takeover in the NBA and why it's only just beginning.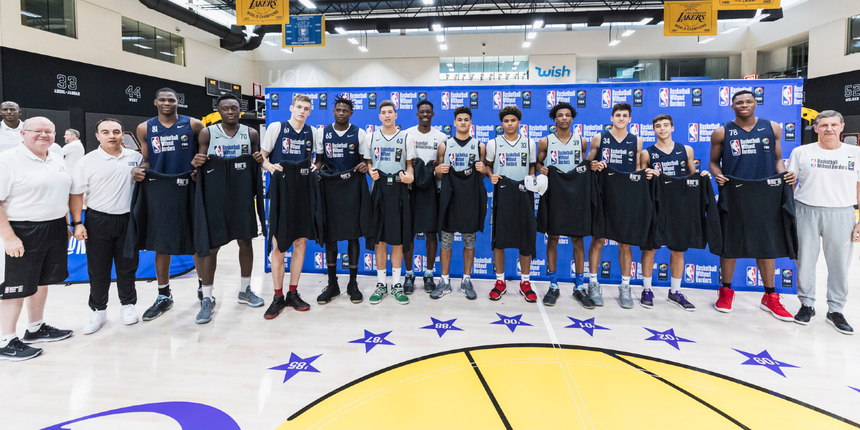 What is the structure of Basketball Without Borders?
Ebersole: "Each summer, we do four Basketball Without Borders camps (and I'll leave this year aside with COVID since our summer camps were cancelled this summer). At those four camps, we cover our larger regions. We have our Basketball Without Borders Europe camp, BWB Africa camp, BWB Asia (which is players from Asia and Oceania) and BWB Americas (which is Latin America and Canada). Each summer, we do one camp in each of those regions. Then the following All-Star weekend is when we typically do Basketball Without Borders Global camp, and that brings together the best of the best from each of those four regions. It's a really neat system; it allows us to see the top players on each continent, and then at the end of it, we also get a chance to bring them all together and see them compete against each other and mix them all up at the Basketball Without Borders Global camp."
What's the age range of the players?
Ebersole: "It's U-18, so typically it's done by year of birth. So this year would've been our 2003 class, and the year before that would've been our 2002 class. There's no bottom level in terms of age. Generally, we try to keep it to that one birth year out of fairness, making sure we're fair across generations. But we will have exceptions to that where a player might come in a year ahead of schedule, and there have been examples of that; Killian Hayes from France is one example of that who participated. He's actually participated in two Basketball Without Borders Global camps because he was one of the youngest players at the 2018 camp and then was sort of (grouped) with the rest of his generation at the 2019 camp."
How long have you been in this position and how long have you been around international hoops?
Ebersole: "I've been doing this since 2013 when I joined the NBA league office. My background before that was working in finance. But I was a walk-on player in college at Stanford and I actually lived overseas during part of my high-school time and had a chance to play a little bit in an overseas system. But really once I got to the league in 2013 and joined the international-basketball-operations group, that's when I'd say I really started working on this. And that started with Basketball Without Borders as really the main focus, and then our NBA Academy program, which we launched in 2016, to really get even more in-depth and try to create something that was year-round and sustainable in terms of helping find and develop players no matter where they're from -- all over the globe."
When was the first year that you grasped that you'd done a good job in terms of helping prepare these players for the pros?
Ebersole: "That's a great question. I would say when I arrived at the NBA in 2013, we already had a strong track record on the Basketball Without Borders side in terms of players who had participated in the camp and made it to the NBA. Guys like Marc Gasol and Danilo Gallinari and Luc Mbah a Moute were some of the early success stories. I think seeing some of the later successes, the more-recent successes, were guys like Pascal Siakam, Joel Embiid and Jamal Murray. And then in our most recent years, RJ Barrett, Sekou Doumbouya and Rui Hachimura. Each time we see those players walk across the stage representing their home country, that makes us proud, just having a small part of their development. So each of those moments is always a nice feeling."
How helpful is it when the players promote these programs and come back to participate once they've made it?
Ebersole: "That's one of the coolest parts about the program itself, when it comes to Basketball Without Borders in particular. You probably know the league has gotten just more international over the last couple of decades really. The last six seasons, we've had over 100 international players each of those last six years, so basically a quarter of the league is international now.
"And it's not just that quantity, but also the quality in terms of level of play, in terms of how big the brands and presence of these players [are]. We had six international players on the All-NBA teams last season, so 40 percent of the All-NBA teams come from overseas. All of those players really serve as ambassadors for our game overseas, and many of them have also participated in our events as they've made their way to the NBA. So they're really our best ambassadors; the fact that so many of them will come back and give back to the game in that way by attending Basketball Without Borders, by speaking to the next wave and the next generation of players coming in behind them, it's a really neat thing -- and I think it's really what really makes the program so unique and so special."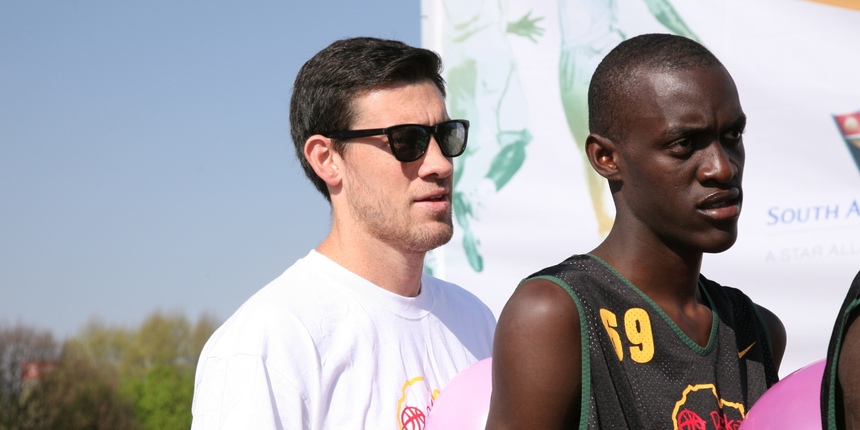 What goes into you developing a young international player?
Ebersole: "Our strategy on the elite basketball side, we call it a 3-D strategy -- it's discovery, it's development and then direction. We look a little bit at all of our youth programs as sort of a pyramid. So it starts with our grassroots programs -- our Junior NBA programs -- getting out there, getting basketballs in the hands of tens of millions of kids all over the world so that we have really a large pool of players playing the game at a young age; that's really the foundation of that pyramid and is the basis for sort of how we discover talent and how we identify who might be elite talent to bring into our programs and to invest more in their development.
"I would say the development piece of it, the second D in that 3-D strategy, there's obviously all the on-court pieces that are critical, but also, we put just as much emphasis on the off-court development and really making sure that we take a holistic view of player development; that includes players' academics and their schooling, it includes their mental training and mental performance, it includes the life skills and all the things that go along with being a high-level basketball player off the court, it includes how they take care of their bodies, learning English. All those different things, all those different pieces to the puzzle really need to be addressed and thought of carefully in order to develop a player who's going to have a chance to succeed at the highest level."
For as large as the Basketball Without Borders program is, how difficult is it to narrow down who you think will be successful at the next level and who might not make it?
Ebersole: "Well, already with Basketball Without Borders, those camps bring together the top roughly 50 players per camp from each region for that age group. So it's already a pretty selective group, so the players we're getting at Basketball Without Borders, they can all play and they can all succeed at a pretty high level. Many of them, particularly in Europe, are already playing for pro clubs, so we're starting with a pretty strong group of players. I think the guys who really separate themselves -- there's the on-court piece when we do five-on-five, so we're able to see some of that jumping off the page, but we're with them the entire week. They travel, they stay with us, so we have a chance to see how they carry themselves, how are they as teammates, how are they as people. I think that's something that we've seen -- the players who have really had a lot of success a lot of times are our best leaders, they're our best communicators, they're our best teammates as well.
"So those Basketball Without Borders opportunities from an evaluation perspective are critical, and it's why I think it's become such a crucial part of NBA teams' scouting plans. I think each of our Basketball Without Borders Global camps -- which we typically do at All-Star Weekend -- we have 30 NBA teams. Every team is there watching the players because it's a chance to see, of course, how they play and how they compete, but also how they carry themselves and who they are as people."
Do you have any specific success stories that you're especially proud of?
Ebersole: "Quite a few! It's hard to narrow it down, to single out anyone. We've had 69 campers who have made it [to the NBA] from Basketball Without Borders and have been drafted or signed as free agents, so it's a large number. I'm actually really proud of the group that's in this draft class, and these guys are top of mind with the draft being just a week away. Deni Avdija from Israel and Killian Hayes (from France) have both participated in multiple Basketball Without Borders [camps]. They were competing against each other at Basketball Without Borders Global in Charlotte in 2019 at All-Star Weekend and were both All-Stars in that camp; I think Deni was the MVP of that camp. So I'm excited for both of them at the moment, but there are tons of these success stories. I think our Basketball Without Borders 2018 [camp] the year before, there are five players from that camp alone who have a chance to be drafted this year, which would be a record and speaks to the level of talent at these camps. But I'm excited for all those guys -- Killian and Deni and Josh Green and Leandro Bolmaro and just going down the whole list. It's hard to narrow it down, but we're proud of all those guys for sure."
Is it because there's been more of a spotlight with social media that these players are able to be seen, or do you think the evolution of the game has played a role in why the NBA has continually become more international over the years?
Ebersole: "I think there's some snowball effect to it with the kind of sustained success that international players have had and how that's grown over the last two decades. But then also in recent years, having not just the total number [of players], but also players at the very top of the game with guys like Giannis [Antetokounmpo], Luka Doncic, Nikola Jokic. I think that has led probably not just NBA teams, but NBA fans to all sort of cast their eyes overseas to start to figure out who might be the next version of these guys. Obviously, that's a lot of burden to place on any player before they're drafted, but I think that's sort of the natural next step is that people are gonna start looking overseas to figure out who is the next diamond-in-the-rough prospect -- like a Giannis or like a Jokic or like a Pascal Siakam -- to come over to the NBA. So I think that intrigue is definitely due to some of the successes that those players have had at the very highest level."
What do you feel are the most common misconceptions about the international style translating over into the NBA? There will be people that play devil's advocate and point out a Darko Milicic or a Jan Vesely -- guys who didn't pan out for where they were selected.
Ebersole: "I think a lot of the old stereotypes -- maybe players being softer or less physical coming from overseas -- have sort of been dispelled by guys like Giannis, who's our back-to-back MVP and one of the tougher guys out there, and Rudy Gobert, who's one of the tougher big men out there. I think those stereotypes have certainly been dispelled. I think also the new challenge around that is that the players are coming from so many different places. I think those initial waves of international players, there were a lot from particular regions; we had a lot of Eastern European players, and so players started to get pigeonholed or started to get lumped together. I think now it's so much harder because of the diversity you're seeing, and those numbers are so big with 100-plus players each year -- as diverse as Giannis, Luka, Ben Simmons -- there's so many different sort of styles and guys are coming from all different places in the world,
"I think it's hard to lump guys into an international bucket and say that these guys play a certain way. I think that makes it challenging, to sort of lump guys in. And the other part is I think the NBA game has evolved to be, in a lot of ways, more similar to the international game -- shooting more threes and the spacing and sharing the ball -- a lot of those things have been influenced by the international style of play. I think there's sort of a convergence with how the game is played overseas and the NBA, so those differences and some of those misconceptions, people are starting to understand that there's not a ton of validity to 'em."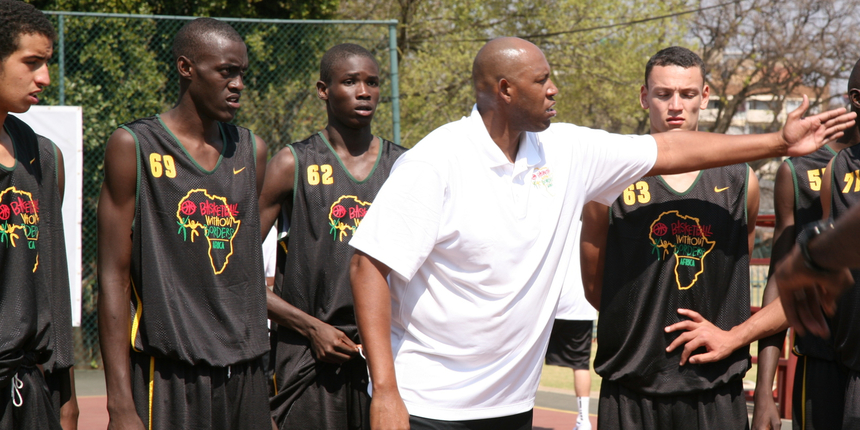 When it comes to working with international scouts around the NBA, are you sort of a liason or middleman that gives teams information? What role do you play in that and what's that process like?
Ebersole: "The Basketball Without Borders Global camp is probably the best example of this because every team will have a representative there, if not multiple people. One of the main goals of the camp is really to provide that exposure for these players to NBA scouts. And so, we do put a major focus on making sure that everything from our physical measurements and combine measurements to the roster to the film from each of these camps is all shared widely with the teams because in some ways, these camps are a service that we can provide to the teams and give them access to some of these players that they might not be able to see in the same type of environment. That's always one of the challenges with scouting international players (or some international players), that the level of competition is sometimes hard to evaluate or to make sort of 'apples-to-apples' comparisons with NCAA basketball, for example.
"So one of the values that our camps with Basketball Without Borders [provides] is that we're putting all these players into one group and on one court so you have a chance to see how they play, how they compete against one another, and you don't have to necessarily question the competition level. As far as how we look at these camps, how our NBA teams draw value from them is something we talk about constantly; we're in constant communication with our 30 teams to make sure that they're getting the most out of it, and if there are things that they want to see at the camps, we're working in collaboration with them to make sure that's done."
What are the most common questions you get from these teams?
Ebersole: "Our NBA teams, they get to scout these camps on the court; they don't get quite as much face time with the players as we do on the staff side. So a lot of times, they'll follow up with, 'How was the player as a person? How is he as a leader? How is he as a teammate?' -- some of those things I mentioned earlier that we have a chance to evaluate in that close setting. So that's probably the most common question -- teams really digging and trying to figure out what these players are all about. Are they going to fit into a particular team culture? That's something that our camps really help uncover, for sure."
What is the most rewarding part of your job?
Ebersole: "At each Basketball Without Borders, the players are on the court for a few hours every day, but we have them doing much more than just playing, doing drills and five-on-five. The fact that we bring back NBA players, WNBA players, NBA coaches to those camps, it gives us an opportunity to have them share wisdom, and so every camp involves life skill sessions that we do -- it goes back to that holistic development point that I mentioned earlier. But in general, one of the most rewarding things [is] to see the players' eyes open up when they're looking at a Pascal Siakam or one of these players who are telling them, 'I was in your shoes four years ago,' or maybe sometimes even less than that.
"To see that tangible piece come into play and come into focus for the campers is always pretty cool -- and I think one of the most rewarding parts of putting these events together. But the life-skills piece is a really critical part of what we do; that can be anything from how to manage your finances off the court, how to select an agent, taking care of your body and having a strength coach or an athletic trainer speak to the players about some of the things that they should be thinking about when it comes to nutrition or recovery. All of those educational pieces that come into it is one of the biggest values of the camp and always one of the most rewarding parts."
The 2020 NBA Draft is on Nov. 18 at 8 p.m. EST on ESPN.