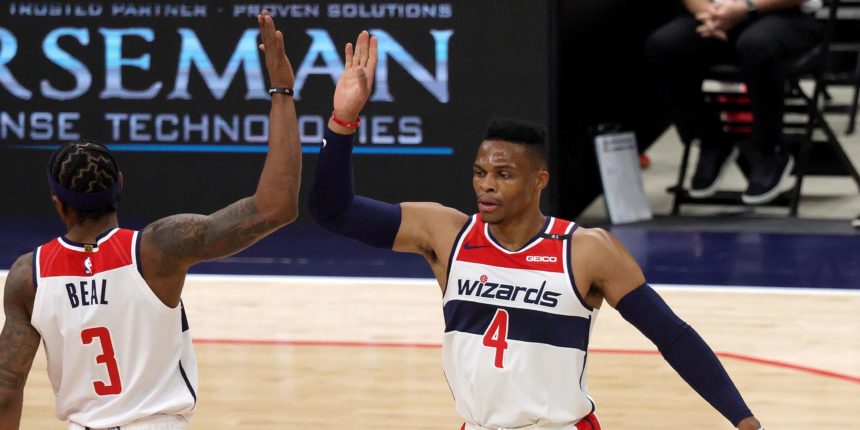 Sheridan: Why not the Wizards? Someone must be East's dark horse
They have the NBA's leading scorer, Bradley Beal, a guy who has dropped 30 or more points in 20 of 29 games. They Russell Westbrook, who has posted a league-leading 10 triple-doubles in just 24 games.
Not only that, but being a quarantined league laughingstock not so long ago, the Washington Wizards have won six of their last seven games, including two victories over the Nuggets, one against the Lakers and another over the Celtics prior to a 16-point victory vs. the Timberwolves last night. They play Boston again on Sunday, followed by the Grizzlies and Clippers on the final night of a five-game, nine-night road trip. Sweep those three, and they go into the break 16-18.
In that case, we would be talking about a team that is just two games under .500 with only three teams sporting winning records in the East.
That's right, three: The Nets, Sixers and Bucks. Everyone else, more or less, is not at that level.
The Raptors and Knicks are tied for fourth at .500, the Heat and Celtics are a game under .500 and the Bulls, Heat and Pacers are two games under .500 as play begins Sunday. This is not imbalance; this is the conference normal right now -- three good teams.
So there is room for a fourth, which means we have to start looking at unlikely candidates. We shall today, toward one team with two very good players.
The Wizards got hit hard by COVID and had six consecutive games postponed, which means their schedule is going to be extra tough from a wear-and-tear standard the rest of the way. They have eight remaining back-to-backs, but they will play six games in nine nights coming out off the All-Star break, including two with the Sixers, one with the Bucks and one with the Jazz. After that, they get a matchup with the Nets, then play three games in four nights four times over the remainder of the season.
This makes the strength and conditioning team 10-times more important than anyone in D.C. not named Biden. The franchise will not have Thomas Bryant this season, nor is the organization getting what it expected from five-year, $80 million man Davis Bertans. Still, Sheppard has gone blue in the face telling anyone who will listen that Bradley Beal is not being traded anywhere.
What Sheppard and Brooks need to try to do is find a third key player on the trade market before the March 25 deadline. They have a few decent role players in Rui Hachimura, Robin Lopez, Raul Neto and Deni Avdija, but this roster would be hard-pressed to win a single playoff series, much less two, as presently constructed. But if you assume that recently-starting center Moritz Wagner, Jerome Robinson and Isaac Bonga are expendable and their expiring salaries can be packaged, their salaries add up to roughly $7.5 million. If Troy Brown Jr. were to get added to the mix, that is roughly $11 million, which can get you something. And they have Detroit's second-rounder (likely No. 31 or 32) as a trade sweetener.
A big man would have to be prioritized, because you will need one to defend Joel Embiid if you face the Sixers, and to be used offensively in the low post if you play the Nets or Celtics. If you face the Bucks, you wish "good luck" to Hachimura and have Alex Len use all six of his fouls if Giannis gets anywhere near the rim.
So what can $7.5 or $11 million get you? (And remember, the salaries will have to match because Washington has a $132 million salary, the league's ninth-highest, and is only $813,000 below the luxury tax.) Only a bad team would give up on a big, and among those who could be presumably acquired and fit into these two salary spaces include JaVale McGee of Cleveland, Mason Plumlee of Detroit, Jabari Parker, Hassan Whiteside or Richaun Holmes of Sacramento and Dwight Powell or Willie Cauley-Stein of Dallas (not on a bad team, but superfluous). DeMarcus Cousins is also a free agent.
Washington ranks 29th in defense in terms of points allowed per game (119.3), so a rim defender such as Whiteside could help, in the abstract. He was having a career season with Portland last year before Jusuf Nurkic returned in Florida and was All-Bubble material.
It has been three years since the Wizards won a playoff series, and Beal is the only holdover from then. Andrew Nicholson was on the team at that time, and he is putting up numbers in China (24.4 ppg on 66.9 percent shooting for Fujian, whose season ends April 13. Maybe a reunion could be in order afterward?
Scott Brooks did not acquire Russell Westbrook in order for the Wizards to be a middle-of-the-road team, and the season-ending torn ACL injury to Bryant was devastating.
But the East is three deep right now, and therefore somebody has the opportunity to rise up and be a conference semifinal team. There are more likely candidates, but it has to be somebody.
Of the Wizards' 41 remaining games, 11 are against the Pistons, Cavs, Hornets and Kings. They've got three more until the All-Star break; if they come out on top in those, the noise will start to get louder.
Why not Washington? They could be one deal away from being that team.