In today's NBA, there's a ton of player movement and the rumor mill is always churning. Last July, we saw Kawhi Leonard, Kevin Durant, Anthony Davis, Paul George, Russell Westbrook, Kyrie Irving, Kemba Walker, Jimmy Butler, Chris Paul, D'Angelo Russell, Mike Conley and Al Horford (among others) change teams over the course of 23 days.
Which NBA star will be traded next? We asked a number of NBA writers/analysts to weigh in:
Victor Oladipo: "This is a tough one. My first thought was to go with either Joel Embiid or Ben Simmons, but I think the Sixers will see if they can find a coach who can make it work before they split that pair. So, in that case, I'll go with Victor Oladipo. The Pacers kind of got used to life without him for a few months and it wasn't all that bad. With the sides unable to reach an agreement on an extension before this season, and his free agency approaching in 2021, Oladipo looks like the most getable star who's available for teams (cough, Miami) seeking another piece to push them forward."
Victor Oladipo: "The Indiana Pacers are in a difficult position, not dissimilar to where the San Antonio Spurs and New Orleans Pelicans found themselves with Kawhi Leonard and Anthony Davis, respectively. They have an All-Star who can opt out of his deal after the coming season, potentially leaving as a free agent. The Pacers are heavily invested in players like Malcolm Brogdon, Domantas Sabonis and Myles Turner. They're not likely to spend into the luxury tax and since Oladipo is a significant flight risk, they need to look to get the best value they can in return before he leaves them high and dry. That Oladipo can scare off other suitors with the threat of free agency is a potential problem the Pacers may need to navigate through."

- Eric Pincus, Bleacher Report
Victor Oladipo: "There's been way too much smoke with Victor Oladipo to think he'll finish his tenure in Indiana. The will-he-won't-he element of his bubble involvement was odd to say the least. Once you add in all of his connections to Miami -- he's a part-owner of a gym there, he rehabbed there and he is pretty close with Heat legend Dwyane Wade -- it's not hard to put two and two together and get four."
- Nekias Duncan, BasketballNews.com
Jrue Holiday: "This is a tough call, as no one star seems likely to be traded this offseason. Jrue Holiday seems the most likely to me if he and New Orleans can't agree on an extension, since he can be a free agent in the summer of 2021 and he's older than New Orleans' core players."
- Nate Duncan, Dunc'd On Podcast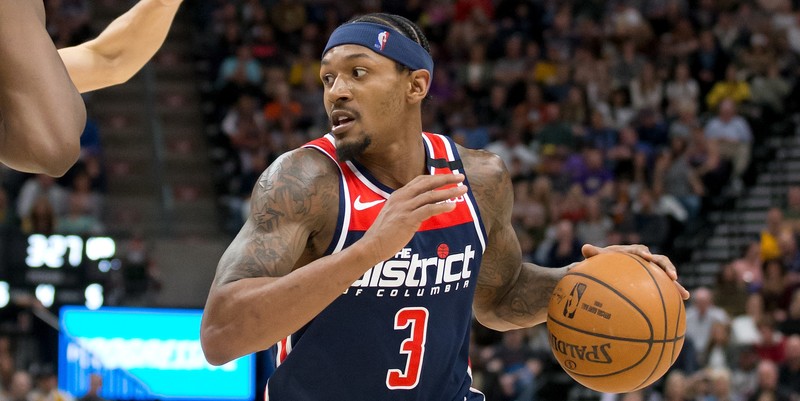 Bradley Beal: "Beal's name has been surfacing in trade rumors for quite some time, although the reports died down a bit since he signed a two-year, $72 million extension with Washington in October of 2019. However, coming off of a monster year in which he averaged career-highs in points (30.5), assists (6.1) and threes (3.0), Beal's trade value has increased. At 27 years old, Beal is several years older than the Wizards' young core, which consists of Troy Brown Jr. (21 years old), Rui Hachimura (22), Thomas Bryant (23) and Moritz Wagner (23) among others. It's possible that Washington will keep Beal and hope that John Wall's return could lead to a playoff berth next year. However, many teams will be calling about Beal and Washington may decide to deal him for more young players and draft picks (especially if they get off to a slow start in 2020-21)."
- Alex Kennedy, BasketballNews.com
Bradley Beal: "Of course, everyone seems to think that Bradley Beal will be the next star player who gets traded. For his sake, I hope so. He's too good to waste his career losing big in Washington."
Chris Paul: "Devin Booker and Bradley Beal would both be attractive choices here for obvious reasons, but neither has been reported to be anything but committed to their team. Plus, in the case of Booker, there's excitement about continuing to build in Phoenix with the obvious culture change that's transpired. I'll caveat this by saying that the trades that usually happen are the ones we don't see coming. We were all floored by Russell Westbrook being traded to Houston, just as nobody foresaw Kawhi Leonard landing in Toronto, Kyrie Irving heading to Boston or Jimmy Butler ending up in Philadelphia. Call me crazy, but I think Chris Paul is a good trade candidate, despite the Thunder far surpassing all preseason expectations. Despite overachieving, the Thunder are a team fixated on their future, and Sam Presti has always been proactive with respect to moving out players if there are doubts about their long-term future with the team. Kevin Durant is the obvious exception, and I think he's too smart to let something like that happen again. Truth is, the Thunder probably would've dealt Paul this past season if he wasn't regarded by the rest of the league as damaged goods. He's proven everyone wrong and his value probably won't get any higher. Dennis Schroder is just 26 years old and the progression of Shai Gilgeous-Alexander could make moving Paul the right choice if OKC can get some value (see: draft capital) in return."
C.J. McCollum: "Star player movements can be hard to predict, but I'm going to go with C.J. McCollum. The Blazers' bubble run has been impressive and if they are all healthy, they are clearly a better team than their eighth-place finish suggests. However, an exit in round one might still necessitate a change. Damian Lillard is a bonafide star who has stuck it out in Portland and, at 30 years old, the clock may already be ticking. If the Blazers are going to give him a chance to win a championship, it has to happen right now, which means shipping off McCollum for someone who's a better fit alongside Lillard has to be on the table."
LaMarcus Aldridge: "I think the next star player who will be traded is LaMarcus Aldridge. San Antonio missed the playoffs for the first time since 1997. Aldridge, 35, could be a missing frontcourt piece for a contender. DeMar DeRozan will likely exercise his $27.7 million player option for next season. If he doesn't, it will hasten a full rebuild in San Antonio. With Aldridge going into the final year of his contract at $24 million, trading him for assets now is the prudent decision if he won't be a part of San Antonio's long-term future. The Spurs can compete for one of the final playoff spots in the West if they keep Aldridge, but the upside is limited beyond that."