Looking ahead to the 2020-21 NBA season, which team is prepared to make the biggest leap in the standings? BasketballNews.com asked a handful of veteran NBA writers/analysts to predict which franchise is poised to turn things around next year. Here's what they had to say:
Phoenix Suns: "I think the Phoenix Suns are poised for a jump. Sure, there's probably a degree of recency bias at play – an 8-0 run in the Bubble will do that – but it's hard not to be excited about their core. Devin Booker is a bonafide star. Deandre Ayton looks like a two-way force. Mikal Bridges is one of the NBA's best wing defenders, while also providing plus-value as a spot-up shooter and cutter. Cam Johnson is quietly coming off a good rookie campaign. Those four, plus solid veterans (hello, Ricky Rubio and Dario Saric) and more-than-solid coaching from Monty Williams should put the Suns in the thick of next year's playoff race."
- Nekias Duncan, BasketballNews.com
Golden State Warriors: "The Warriors trudged to a 15-50 mark, but they've got Stephen Curry and Klay Thompson coming back, a top-five pick and a $17.2 million trade exception to add salary should ownership choose. While there are reasonable questions surrounding the ability of Thompson and Draymond Green to play at peak levels, how much the organization can get out of Andrew Wiggins and ownership's willingness to increase salary in the midst of a pandemic, the bar was set so low last year that this team should manage at least a 35-win increase over last season."
- Nate Duncan, Dunc'd On Podcast
Golden State Warriors: "The Golden State Warriors will make the biggest jump by virtue of being healthy. They'll go from horrible to elite again. The Brooklyn Nets will go from a playoff also-ran to a legit contender too."
Golden State Warriors: "Everyone knows that the Warriors will be drastically better next season. They had an NBA-worst 15 wins this year, but they were missing their focal points: Stephen Curry played just five games due to a broken hand and Klay Thompson missed the entire season after tearing his ACL in the 2019 Finals. The Warriors' leading scorers were Eric Paschall (837 points), D'Angelo Russell (779), Alec Burks (773), Damion Lee (621) and Glenn Robinson III (619). This team will look completely different next year – not only because Curry and Thompson will be back, but also because Russell, Burks and Robinson III were traded in February. Golden State swapped Russell for a protected 2021 first-rounder and Andrew Wiggins, who should fit in well with the Warriors' core and benefit from their strong culture. Also, Golden State have the No. 2 pick in the 2020 NBA Draft. They'll either be able to draft a stud or trade the pick for a key piece. This reminds me of when the San Antonio Spurs lucked their way into drafting Tim Duncan in 1997. They went from being a 59-win team in 1995-96 to a 20-win team in 1996-97 due to a ton of injuries. After landing Duncan with the No. 1 pick, they bounced back with 56 wins in 1997-98 and then won their first title in 1998-99. With Curry, Thompson, Draymond Green, Wiggins and a top prospect, the Warriors should emerge as a contender once again."
- Alex Kennedy, BasketballNews.com
Golden State Warriors: "Given what we just saw in the bubble, the Phoenix Suns should be a popular answer, but I don't think anyone will take as big of a leap as the Golden State Warriors, health permitting. Maybe that's cheating because they spent this season dealing with so many injuries, but no other team has a legitimate chance to go from worst to first next season. A healthy Stephen Curry, Klay Thompson and Draymond Green puts them into contention, but what should scare the rest of the West is the possibility that the Warriors turn the second overall pick into another star player via trade."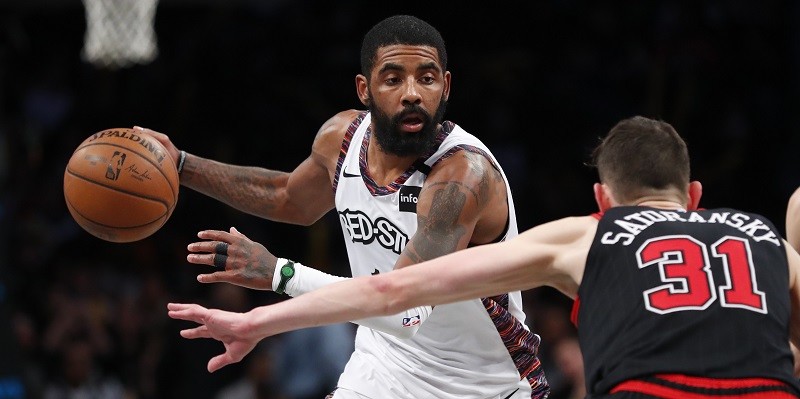 Brooklyn Nets: "That's easy: the Brooklyn Nets. Y'all know who Kevin Durant is. Y'all know what happened the last two seasons that his body allowed him to finish. The two-time Finals MVP will be recovering from a ruptured Achilles that sidelined him all of this season. And there are a ton of questions about what he'll look like when he returns to action. But if Durant is anything close to what he was – and Kyrie Irving is also able to return to form – what the Nets become is a favorite to win the Eastern Conference and possibly the Larry O'Brien trophy. They'll have two established champions, a new coach ready to push them toward greatness, and a budding star in Caris LeVert, who will either blossom alongside Durant and Irving or get flipped for that difference-maker to elevate Brooklyn to super-team status. To take liberty with a classic Jay Z line, it'll be 'where the banner's hung and news cameras always come.'"
Brooklyn Nets: "The team that will make the biggest jump next season is the Brooklyn Nets. Superstars Kevin Durant and Kyrie Irving should be fully healthy for the start of next season. Caris LeVert emerged as a third star, averaging 25 points per game on 48 percent shooting from the field, 6.7 assists, 5.0 rebounds and 1.5 steals per game. LeVert has shown the versatility to be a go-to scorer and facilitator in pick-and-roll action as the focal point of the offense since the NBA restart in Orlando. Brooklyn also has Spencer Dinwiddie, who played at an All-Star-caliber level in place of Kyrie Irving, averaging 21.3 points and 7.3 assists as a starter. Jarrett Allen and DeAndre Jordan should be a formidable center tandem, as Allen continues to improve as a rim roller and gain added strength. Brooklyn also has shooters along the perimeter in Joe Harris (assuming he re-signs), Taurean Prince and Garrett Temple. With a healthy roster, Brooklyn will have expectations of a top-four seed in the East going into next season."
Brooklyn Nets: "It seems obvious which team will make a big leap next season. The Brooklyn Nets are a feisty, short-handed squad making the best of the NBA bubble. Next season, not only will they get Kyrie Irving back, but they'll have another pretty decent player in Kevin Durant. With Caris LeVert, Spencer Dinwiddie and, if they are able to bring him back, Joe Harris, the Nets are going to be an offensive powerhouse through the 2020-21 season."
- Eric Pincus, Bleacher Report
New Orleans Pelicans: "While the Golden State Warriors are the obvious pick when discussing which team will improve their record the most, I'd probably have to go with the New Orleans Pelicans if we're talking about which franchise will go from struggling to respectable. I do have to give the Memphis Grizzlies and Phoenix Suns their just due here; the Grizzlies essentially ended up sitting at home because they picked the worst possible time to lose seven of nine games, and it's impossible to ignore the 8-0 record the Suns put up in the bubble. Ja Morant is the real deal and Phoenix truly appeared to have turned a corner. Assuming New Orleans does the wise thing and re-signs Brandon Ingram this summer, it's easy to see a scenario where they make the most appreciable rise. This also assumes that the training wheels come off for Zion Williamson. Heading into next season, Williamson has to prove that his body can withstand the punishment of an NBA season, but along with Ingram and Lonzo Ball, New Orleans has a trio of players that has only begun to scratch the surface of their potential. That, plus the fact that Memphis and Phoenix finished the season with just one fewer win than Portland, means New Orleans could make the biggest climb in the standings."