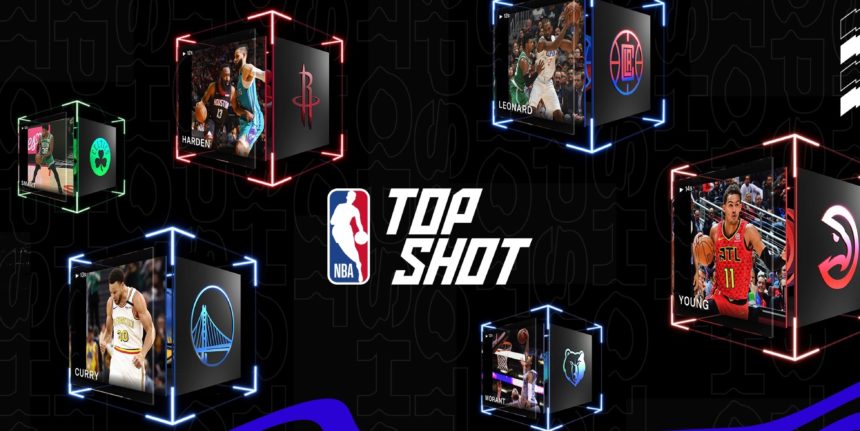 NBA Top Shot Weekly: Market trends, risers/fallers, biggest sales
In the past seven days, there was over $142 million spent in transactions on NBA Top Shot. Yes, $142 million (and it's probably more by the time you read this).
What is NBA Top Shot? It's a blockchain-based platform where you can buy or sell "moments" instantly. Think of it as a digital trading card that shows an NBA highlight. Each moment carries a different value, as they have a specific serial number attached to them. The lower serial numbers are more valuable, and a moment with a serial number that matches the player's jersey number is the jackpot. A lot of this replicates the card and collectibles market, but without the headache of grading or determining the condition of a card and the variables that come with that.
This week, Top Shot burst onto the scene as NBA players were seen tweeting, talking about and live-streaming their experiences on the platform. From Josh Hart to Terrence Ross, many players seem excited about the platform. This led to many collectors and fans signing up for an account to see what all the hype is about. Top Shot is sort of like an NBA stock market, with the price of moments rising or falling depending on a player's production and potential (among other factors).
Every Friday, I'll be breaking down some NBA Top Shot trends and recapping the week that was. It's important to note: these aren't opinions, these are facts. This is market data straight from the source to help you understand the trends and sets that are coming out.
General Market Trends
Whose Price is Rising the Most?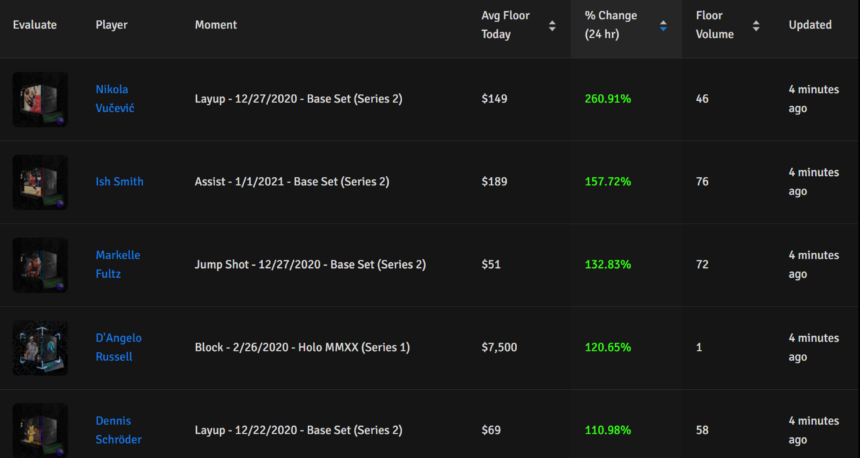 (Courtesy of evaluate.market as of Feb. 26 at noon ET)
Whose Price is Dropping the Most?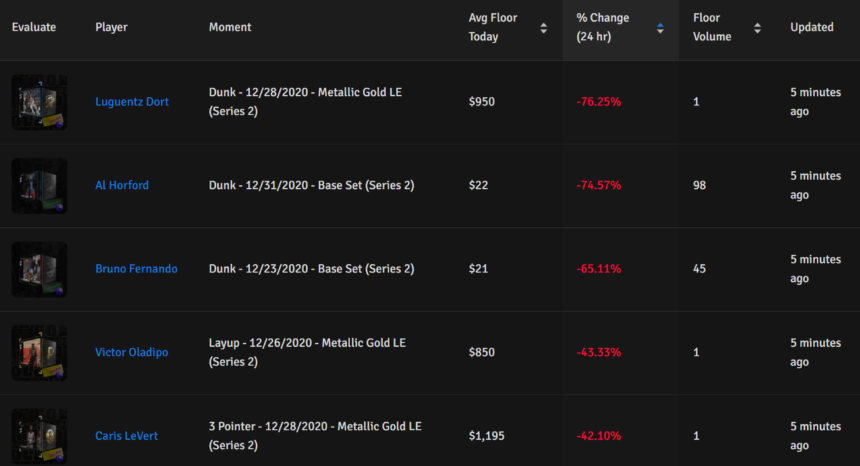 (Courtesy of evaluate.market as of Feb. 26 at noon ET)
Metallic Gold LE - Across the board, it seems like Series 1 MGLE for most veteran players and Series 2 MGLE for 2019-20 rookies are performing extremely well. Even when the market was down about 25%, most MGLE were moving 13-20% higher than previous values. These are all extremely rare moments and in comparison to the Cosmic and Legendary moments, they are a fraction of the cost. As you see, some of the top movers in the market were MGLE moments.

(Courtesy of evaluate.market)
2021 Rookies - Most rookies saw a massive jump in price after the formal announcement that rookie moments and first moments would get badges. On top of this, as the user base grows, more and more individuals will likely correlate this market to the card market. As we've seen in the card market, rookies tend to be the hottest commodity. For example, Deni Avdija was going for somewhere between $190 and $250 a while back; now, even when the market was down, his prices never dropped below $404. This same thing goes for all rookies. The top picks - Anthony Edwards, James Wiseman and LaMelo Ball - are worth a ton. At one point, Ball's moment was selling for around $1,000, but it's now hovering around $5,000. I think this rookie craze continues, as they typically only have one or two moments at extremely low print counts of 3999 or under.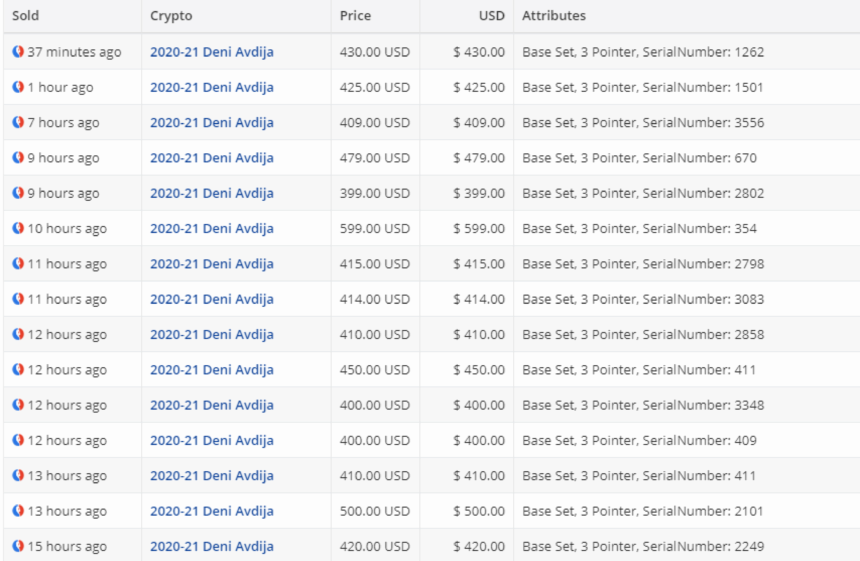 Series 2 vs. Series 1 - The debate around these moments isn't whether Series 1 is better to own than Series 2. Quite frankly, we know Series 1 is more valuable. However, Series 2 could play out similar to Series 1 as values continue to rise. Do we think a common non-rookie Series 2 with a serial to 15,000 should be worth $1000s? Maybe not, with the current number of users. But perhaps that changes in the near future or long-term. Also, Series 2 could fit into the price point of people who can't afford a $50,000 Legendary Series 1 moment, but have $10,000 to drop on a rare Series 2.
Series 2 Rare Packs - Series 2 rare packs are dropping today around 12 p.m. EST. With an Anthony Edwards serialed to 299, it's certain to be one of the biggest pulls in the packs. Keep an eye out for people selling off quickly, as smart buyers will certainly be looking to take advantage of the short sellers turning their $99 pack profits instead of thinking long-term. For updates on the packs and when they drop, join the Top Shot discord here.
Biggest Sale Of The Week
LeBron James - $208,000
This week, the biggest sale in NBA Top Shot history was recorded. It was a LeBron James Cosmic Series 1, which sold to @YoDough on Twitter. The LeBron James train just keeps chugging on Top Shot. On Thursday night, two different LeBron moments went for over $50,000 and there is no sign of his market slowing down anytime soon.
👑ALL HAIL THE KING👑@YoDough scooped up this Legendary LeBron James Moment from our Cosmic Series 1 set for $208,000‼️ This Moment is from our first Legendary set ever minted 💯

The top acquisition for any NBA Top Shot Moment ... so far.

Congrats on the nice pickup! 👑 pic.twitter.com/rFLMzbwXN7

— NBA Top Shot (@nba_topshot) February 22, 2021
Market-Moving Sales
Zion Williamson - $77,700
Zion played really well against the Bucks and Giannis Antetokounmpo on Thursday night. Shortly after the game, this $77,700 purchase of his Series 1 rookie debut block continued the trend of Williamson being one of the most sought after players in Top Shot, right behind LeBron James. As long as Williamson continues to play at this level, expect his prices to continue going up.
Nikola Jokic - $55,000
We all know that Jokic is a potential MVP candidate, but this Holo MMX purchase certainly validates all our thoughts on Jokic as a player and in the Top Shot market. We should continue to see him rise in value as he continues to fill the stat sheet and the Nuggets try to make it back to the Western Conference playoffs.