Over the last month, many people have asked me, "What's it like in the NBA bubble?" The best way to describe this experience is that it feels like I'm on a grown-up AAU team. Our Lakers team has been really close all season, but we've reached a different level of chemistry recently.
For the most part, we are together all day, every day. We go to practice together. Then, we all go eat lunch together as a team. After that, we hang out at the hotel. Then, we go to dinner together. We've been having Madden tournaments, watching other NBA games and checking out the Verzuz battles to pass the time. Sometimes, we'll all just sit around and share stories. I love hearing stories from my vets. Guys don't usually stop to appreciate their journey and what they've accomplished in this league, but we've got nothing but time in here. We've also been discussing how we can help our communities and doing a lot of brainstorming.
Every NBA organization talks about developing chemistry and building a strong culture, but that's easier said than done. But with this Lakers team, it's a real brotherhood. There's a genuine family feel. This group has been through so much throughout this season, and there's no question that it has brought us even closer together. Usually, a team builds chemistry through big wins, tough losses, road trips and things like that. We've experienced all of those things, but we've also dealt with a pandemic, the tragic death of Kobe Bryant and, now, the strangest postseason in NBA history.
Strong leadership is always important, but it's even more crucial during a season like this. Our leaders, LeBron James and Anthony Davis, set the tone from day one. In September, Bron and AD organized a minicamp in Las Vegas where we all got together for the first time to work out and get to know each other. Not only are Bron and AD two of the best players in the world, they are also so unselfish and they always put the team first. They want to build everyone up and help their teammates. That's rare.
When you spend time around Bron, it's obvious why he's a legend. It's not a coincidence! He and AD are always the first ones in the gym. Bron shows up 2.5 hours before practice to work on his body and get shots up, and he gets to the arena 3-4 hours before each game. Both guys work so hard and they've completely dedicated themselves to the game.
When I was with the Warriors, I played against Bron during the 2018 NBA Finals and he was calling out many of our sets before they even happened. He's able to do that because he watches a ton of film and his attention to detail is incredible.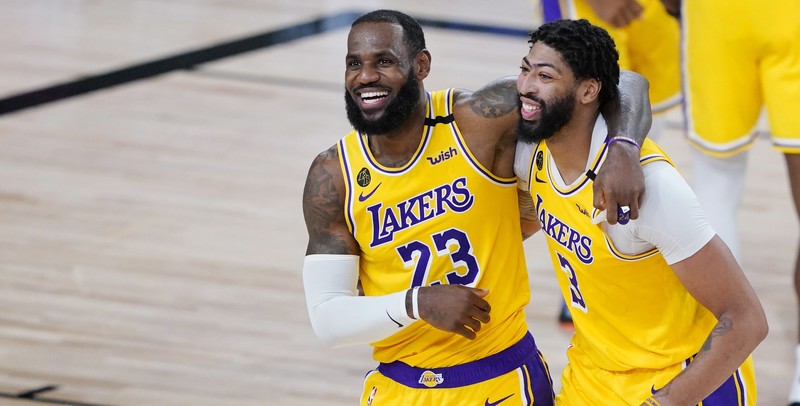 When your best players are showing up early, watching film non-stop and constantly going above and beyond, everyone else is going to follow suit. Bron and AD are willing to do whatever it takes to win and that attitude is contagious.
We have other great leaders too. During every film session, I sit next to Rajon Rondo just to pick his brain. His attention to detail is incredible as well. Jared Dudley doesn't get enough credit for being an amazing teammate and leader. Danny Green is a great glue guy. Honestly, everyone sacrifices for the greater good of the team. It really feels like an AAU team with how close we are as a team and how together we are. It's a very unique group of guys.
One special thing about this team is that we have a lot of championship experience. We have six players who have won a championship (including three who have multiple rings). Four of our coaches have won a title either as a player or as a coach: Jason Kidd, Lionel Hollins, Phil Handy and Mike Penberthy. Having that championship experience can only help us in the playoffs. Because we have so many past champions on the roster, everyone understands exactly what it's going to take to win it all this year.
We're banking on our pedigree and our chemistry this year. This team has a lot of guys who have done great things in this league. I think we're as talented as any team in the NBA, but we just have to keep building great habits and doing the little things.
It's frustrating that we don't have home-court advantage in these playoffs. We all wish we were playing in STAPLES Center because Laker Nation gives us a huge advantage. But this is a weird year, so we're making the best of our situation in the bubble. I know Laker Nation will be rooting for us every step of the way from home.
I've been a Lakers fan for my entire life, so I know firsthand how passionate and supportive Laker Nation is. It's been a dream come true for me to play in front of these fans. They just did a mural of the whole team in L.A. and it's amazing. Laker Nation is the best; there's nothing else to say.
We want to bring the Larry O'Brien trophy back to Los Angeles for Laker Nation.