In the NBA bubble, most teams haven't had any trouble putting the ball in the basket.
In fact, there are shocking point totals and incredible individual performances seemingly every day. On Sunday, the Toronto Raptors scored a franchise-record 150 points in their Game 4 win over the Brooklyn Nets (and their bench combined for a playoff-record 100 points). Hours later, Utah's Donovan Mitchell (51 points) and Denver's Jamal Murray (50 points) had a shootout, marking the first time in NBA history that opposing players have each scored 50+ points in the same playoff game.
Across the board, offensive numbers in the bubble are up from the rest of the 2019-20 regular season - including combined points, made field goals, field-goal percentage, made free throws, free-throw percentage, made three-pointers and three-point percentage.
The NBA's average offensive efficiency was 110.7 points per 100 possessions, per Cleaning the Glass. That average increased to 113.2 points per 100 possessions during the seeding games. Now, scoring is up even more in the NBA playoffs, as teams are averaging 114.2 points per 100 possessions through Aug. 29.
Prior to the bubble, it had been more than 32 years since every team in a slate of five or more NBA games scored at least 110 points. In Orlando, it happened twice in the span of eight days.
Why are offenses thriving in the bubble? Will this trend continue as the playoffs continue? There are a number of theories as to why teams are having an easier time scoring in Orlando:
TEAMS ARE PLAYING ON THE SAME RIMS AND COURTS EVERY DAY
During a normal season, players are in a different arena on most nights and they have to get acclimated to each building. Every arena is different in terms of the depth perception, lighting, how the ball bounces off the floor, how soft the rims are and so on. In the bubble, all of the courts and rims are the same, so players can get comfortable and find their rhythm easier.
Some players shoot better at home games because they're used to the rims and in a familiar setting. This is similar. Players who adjusted to their surroundings during the early seeding games can just focus on scoring now. They can even build momentum from game to game, picking up right where they previously left off.
THE DARK ARENA IMPROVES SHOOTERS' DEPTH PERCEPTION
Certain aspects of the game environment in Orlando may actually benefit shooters. Since the virtual stands are darker than the on-court lighting and there are black curtains surrounding each court, several players have said that it's easier to shoot in the bubble because their depth perception is better and the rims are more visible.
"I feel like it's a hooper's gym," Phoenix Suns guard Devin Booker told The Ringer. "It's easier to shoot in here with [better] depth perception. I love the setup that they have for us. There's not much more that comes with it beyond the game of basketball."
"The depth perception on the basket is a lot better, just because you can't see through the backboard, shooting-wise, since it's blacked out," Dallas Mavericks guard Tim Hardaway Jr. told The Ringer.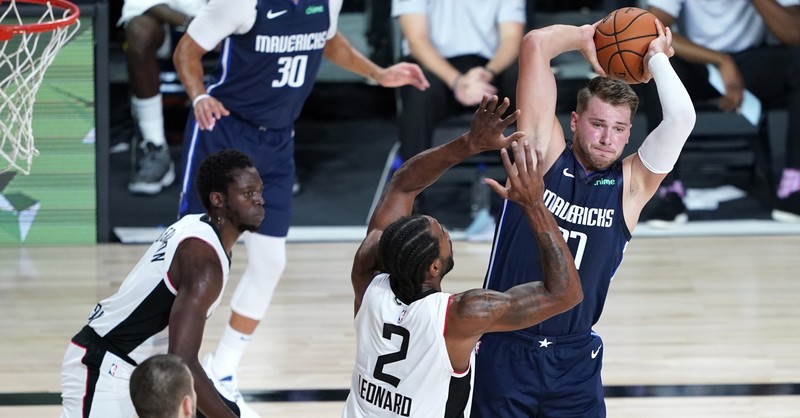 SCORERS ARE GETTING TO THE FREE-THROW LINE MORE
As FiveThirtyEight's Mike Prada has noted, every type of foul is being called more in the bubble - shooting fouls, loose-ball fouls, other personal fouls, charges, technicals, etc.
"Teams spent nearly 30 percent of their bubble possessions in the penalty, compared with 26 percent before the break," wrote Prada. "The average free-throw rate - free throws made per 100 field goal attempts - jumped from 20 before the shutdown to 22.8 in the bubble seeding games, a mark unmatched over a full season since 2010-11."
It's possible that the lack of fans at games allows refs to hear more (from contact on drives to certain interactions between players) and call more fouls. Regardless of the reason, offenses are getting more easy points from the foul line than usual.
DEFENDERS USUALLY FEED OFF OF THE FANS' ENERGY
With no fans in attendance, the intensity of the moment changes. Usually, players are energized by the fans' emotions. A player may be exhausted, but they still step up on defense down the stretch because they are feeding off of the crowd. NBA fans are incredible and they create a really unique atmosphere at playoff games.
In the bubble, the game atmosphere is completely different; it almost feels more like a pick-up game. It seems like this environment has led to less physicality too. As the playoffs continue, I expect these games and these series to get more intense and physical. Also, without fans, it's possible that scorers are feeling less pressure than usual. While this atmosphere isn't ideal for an NBA postseason, it's what each team has been dealt and whoever adjusts to it best will have a big advantage.
THE LACK OF PRACTICE TIME IMPACTS DEFENSES MORE
Coaches always feel like they don't get enough practice time with their players, but that's a legitimate concern this season. After the NBA suspended the season in March, players had to go home and work out on their own for several months. Teams couldn't do much during that four-month break. Then, once the NBA decided to resume the season, coaches didn't have much time to work with their team and get them prepared before things started ramping up.
This time apart could explain why some teams have taken a step back defensively. Also, there's limited practice time during the playoffs, which makes it tough for teams to bring back players from injuries and reintegrate them into the lineup too. It seems that pausing the season affected teams' cohesiveness, particularly on defense.
WITH NO TRAVEL, STAR PLAYERS ARE WELL-RESTED
We've seen some extraordinary performances from superstar players in the bubble. In a typical postseason, they'd be putting their teams on their back while flying back and forth across the country. However, in the bubble, they simply bus back to their hotel after each game.
That means these star players have plenty of time to rest, get treatment and so on. They don't have to worry about taking red-eye flights and changing time zones (all of which wears you down as a player). These are some of the best scorers in the world and they're a threat to torch the defense any time they step onto the court, especially when they're well-rested.
Now, being in the bubble isn't easy (by any means) because they are away from their family and friends. But if you asked each player how their body feels, I bet a lot of guys would tell you that they're feeling better and more energized than usual.