This year's Eastern Conference Finals is a basketball nerd's dream. It features two elite head coaches in Erik Spoelstra and Brad Stevens, two wing-led rosters (Jimmy Butler, Jayson Tatum), shifty guards (Kemba Walker, Goran Dragic), positionless game-changers (Bam Adebayo, Marcus Smart), and enough moxie from The Others to turn this series on its head from either direction.
I'm not a coach -- I'm just a pun-loving basketball fan with a hankering for film breakdowns. But instead of a traditional series preview, I decided to go into the basketball trenches and devise gameplans for both teams. The tone of this two-part series will be a little more informal, but it will still be informative (at least I hope).
Without further ado, here is how the Miami Heat will try to stop the Boston Celtics.
Defensive Matchups
Jimmy Butler --> Kemba Walker
Goran Dragic --> Marcus Smart
Duncan Robinson --> Jaylen Brown
Jae Crowder --> Jayson Tatum
Bam Adebayo --> Daniel Theis
There's room to get extra funky, swapping Crowder and Adebayo's assignments. Ultimately, having those two play it straight allows for the Heat to switch the Walker-Theis pick-and-roll, one that's produced 1.2 points per possession on direct hookups, according to a source with access to Second Spectrum tracking data. That's the mark the duo has had against the Heat this season.

Top Priority on Defense: Limit Dribble-Penetration
Miami's defensive style has fluctuated throughout the year. They've been a "drop" team. They switched at a top-five rate after the trade deadline, according to the Second Spectrum source. No team in the NBA used more zone possessions (802) than the Heat, via Synergy.
Their principles, however, have remained the same: don't let teams get to the rim.
That's mostly been accomplished, with only the Milwaukee Bucks allowing fewer shots at the rim per game (24.2) than the Heat (25.6) during the regular season. The issue is that when teams have gotten to the rim, they've faced next to no resistance. Opponents converted 65.8 percent of their rim attempts against the Heat, and that mark has only been marginally better during the postseason (64.5).
The Celtics were a middling team in terms of rim attempts and efficiency, but they have the guards necessary to collapse Miami's defense to set up juicy spot-up looks.
Keeping the guards in front is going to be step one to winning this series.
Celtics' Team Stats (and Boston's stats vs. Miami in parentheses)
Offensive Rating: 112.8 (113.5)
True Shooting Percentage: 57.0 (57.7)
Assist Percentage: 55.7 (54.1)
Turnover Rate: 13.7 (14.2)
Pace: 99.92 (96.0)
Free-Throw Attempts: 23.2 (27.7)
Free-Throw Percentage: 80.1 (79.5)
Three-Point Attempts: 34.5 (36.7)
Three-Point Percentage: 36.4 (35.5)
Offensive Rebounds: 10.7 (11.7)
Celtics' Play Type Breakdown

Defending Jayson Tatum
Tatum is on a superstar trajectory right now, averaging 25-10-4 (45/42/77 shooting split) during this postseason. He missed one of the regular-season meetings, and Miami was able to hold him in check during the games he did play (21.0 points with a 40/24/93 split). Continuing that trend will go a long way towards controlling this series.
Major Keys
1. Force him downhill
Tatum is currently one of the league's most lethal pull-up shooters from three. Being able to step into threes against drop defenses has made the coverage almost unplayable against him.
This, for example, just can't happen.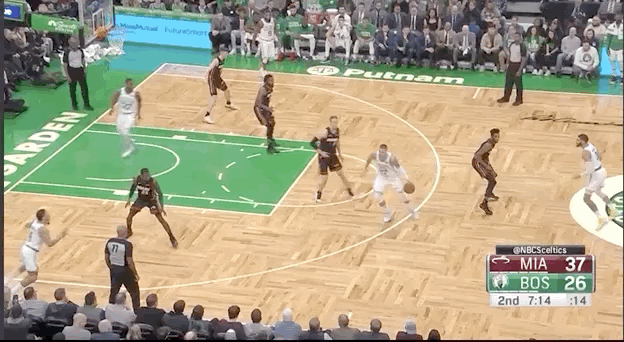 That's a freaking mile of space given by Kelly Olynyk. Play up on those. If Daniel Theis can make short-roll reads to beat you, then tip your cap and call it a day.
Get Tatum 18 feet or below, and you'll make him uncomfortable. The high release point will still make his shot difficult to bother, but he still hasn't developed a reliable floater (30.2 percent on runners, via Synergy), nor is he a dangerous finisher at the rim (51.5 percent in the half court, via Synergy). Make him make floaters, or make him absorb contact at the rim.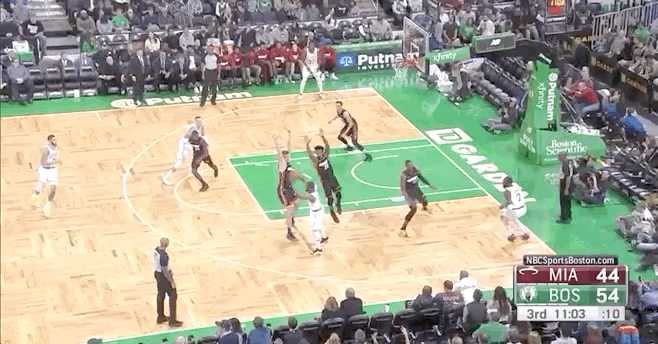 That's what you want right there. Tatum hasn't shown he's consistently willing to take those kinds of drives all the way, and you see the awkward shot he flips up.
2. Shade him to his right
For most right-handed shooters, especially movement shooters, it's easier to gather going left than going right. The same applies for Tatum, who seems much more comfortable getting set to his left.
Here's a jumper after going left. Two dribbles, load, fire: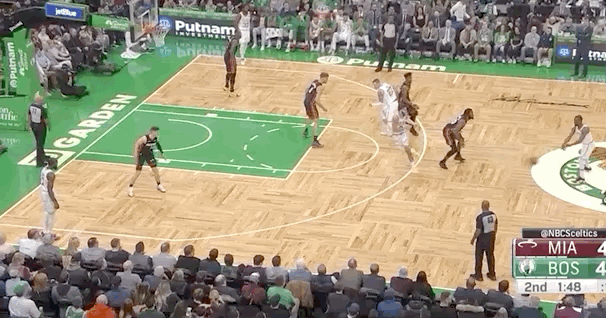 Here's an off-ball rep going to his right. He drifts a bit and doesn't seem to load up with the same fluidity.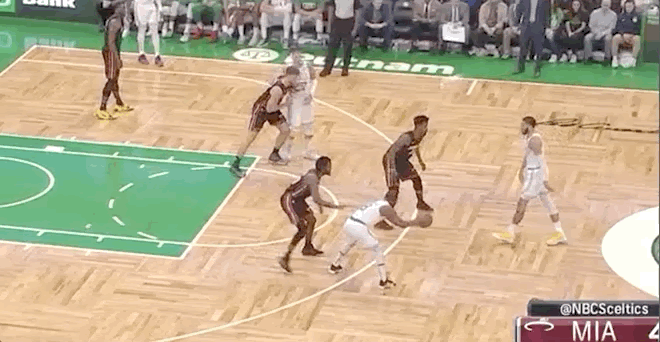 Those principles should also apply when he's going one-on-one:

You'll quickly notice the stark difference in efficiency depending on which way he drives. He wants to set everything up with the jumper. Shading him to his strong hand can lead to more rim attempts, but with some timely dig-downs on drives, him becoming hesitant and settling for some intermediate pull-ups is a reasonable bet to make.
3) Mix in traps/hard hedges
Tatum is growing as a passer, as my guy Jackson Frank wrote about here. But he's still no LeBron, no Luka or even a Kawhi as a quick decision maker or cross-court passer. You can still dictate terms against him if you send two to the ball.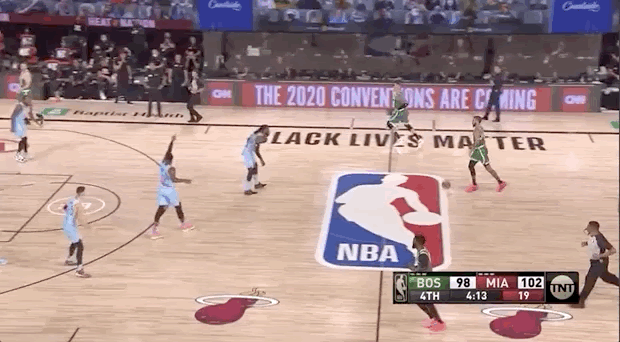 This is tremendous all-around defense, starting with the Tyler Herro hedge and capped off by the rotations from Andre Iguodala and Jae Crowder. There's a slight window for Tatum to swing this to the opposite corner once he sees Crowder step back up. With Theis rolling, Tatum has to know that Duncan Robinson is dropping down to tag. That's just an advanced look that he doesn't quite have in his bag yet. There's room to force the ball out of his hands and rotate behind him.
Defending Kemba Walker
Not many guards can get busy in pick-and-roll quite like Kemba Walker. Quick first step, yo-yo dribble, lightning-fast trigger. He may not be Boston's best player, but he's the guy that can break the defense down in a way nobody else on the roster can. He's given Miami the blues this season, averaging a shade under 20 points while draining 41.9 percent of his 10.3 attempts from three.
Yeesh.
Major Key
1) Contain double-pick situations
"Double Drag" may be a Trae Young-Atlanta Hawks staple, but Boston pulls it out pretty often in semi transition. They love to involve Theis as the roller, and one of their wings -- Tatum, Jaylen Brown or Gordon Hayward when healthy -- as the guy that pops.
It's hard to switch both screens in a way that keeps the ball in front, and the rotations have to be tight if you send two to the ball. If not, you'll get something like this: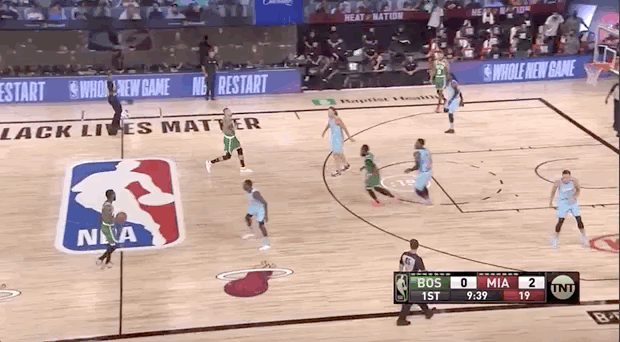 You can see Kendrick Nunn try to duck under both of those screens, but he gets caught on Adebayo. Olynyk is supposed to show until Nunn gets back, but he couldn't have expected Nunn to take that long. There's no tag from Robinson, and Theis gets an easy one because of it.
Miami can't have that happen.
Of course, Olynyk is in that clip because Butler missed this game, which forced Crowder to slide up to the 3. Replacing Olynyk with Butler makes it easier to switch all phases of that action. But again, sending two on those can work if the rotation behind it is crisp.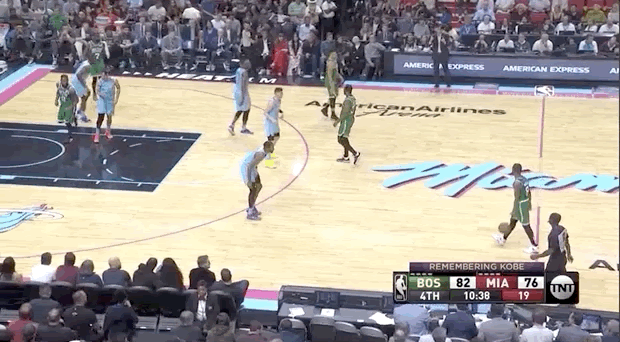 The Celtics scored over 1.3 points per possession on trips featuring a Walker-led double-screen action against the Heat this season, per the Second Spectrum source. With just a regular ball-screen, that mark dropped to 1.04 points per possession.
I don't think I need to tell you why it's important to whittle that first number down.
Defending the Shooters (Perimeter)
Jaylen Brown: Hard, but controlled close-out.
Brown's a fantastic catch-and-shooter, ranking in the 74th percentile on those looks via Synergy. He's prone to prolonged cold streaks, so pressuring his shot while not letting him get to the basket for easy looks should be key.
Marcus Smart: Soft close-out
Smart has improved his stroke to the point where he can be treated as a reliable threat. Like Brown, you'd rather let him fire against a contest vs. beating a close-out and playing the advantage game. He differs from Brown because he's more likely to beat you with the pass in advantage situations.
Gordon Hayward: Hard close-out
It's unclear when Hayward will return to the series, but you want to bother his airspace when he does. He shot 30.5 percent on what Synergy dubbed as "guarded" catch-and-shoots, but converted nearly 46 percent of his open looks. Force him off the line and trust the rotation behind the close-out.
Brad Wanamaker: Hard close-out
Make him beat you. Only converted 32.6 percent of his looks when forced to drive out of a spot-up situation, per Synergy.
Defending the Shooters (Bigs)
Daniel Theis: Let him fire
He only attempted three triples during the regular-season matchup, and made one of them. He has a slow load-up. He can knock them down, but is hesitant to fire. He's more likely to flow into a hand-off rather than fling off of pick-and-pops
Grant Williams: Let him fire
He only attempted one three against Miami, and shot 25 percent on the season with low volume (1.4 attempts). He can knock down corner threes if given time, but he's not a threat.
X-Factor: Gordon Hayward
Hayward is arguably the most overqualified fourth option in the league. There's no real weakness in his game offensively. He isn't as threatening as a driver as he was in Utah, but he can still attack close-outs and flow into those 12-to-14-foot pull-ups he likes so much.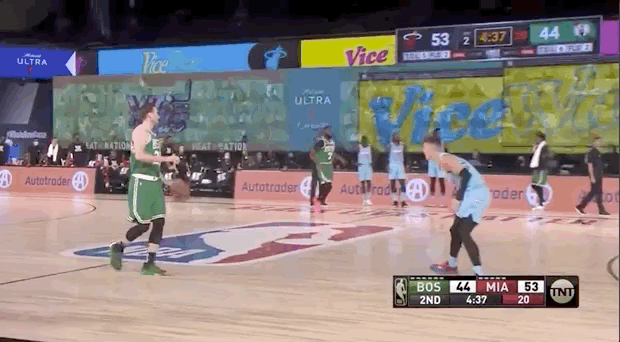 Boston doesn't mind letting him run pick-and-rolls, especially when Tatum or Walker are off the floor. He's good at it, it's just up to him to demand touches instead of fading into the background.
If Hayward is good to go, don't be shocked to see Boston close games with the Walker-Brown-Hayward-Tatum quartet. Those four have a plus-9.6 net rating together on the season. That's a lot of offensive talent to account for, and that's before you toggle between dealing with the screen-setting of Theis, or having another playmaker on the floor in Smart.
Check back for part two of this series breakdown.