Everything is different in 2020… until it isn't. Is it fair to say, as we all awake, that some things just never change? The sun always rises in the East, political news always riles people up and LeBron James wins big basketball games with phenomenal flair.
A year that began Jan. 1 with the death of former NBA commissioner David Stern and then brought the tragic end to Kobe Bryant's life on Jan. 26 is going to include a trip to the NBA Finals for the Los Angeles Lakers and the superstar we have watched in awe and bewilderment all the way to the championship round for the 10th time in his career.
We are all sitting home every night wondering when normalcy will return, and on Saturday night it did.
James was brilliant. Again. The Denver Nuggets were resilient. Again. And when clutch shots were needed to stave off a team that cheated basketball death so many times in the bubble, we all watched the old man with the gray-flecked pandemic beard knock down shot after shot after shot after shot.
The guy has been mesmerizing since he was a rookie. And he was the same way on Saturday night, especially in the fourth quarter - when he scored 16 points and made his final six buckets unassisted to finish off a virtuoso 27th career postseason triple-double, this one featuring 38 points, 16 rebounds and 10 assists. When it ended, it was both amusing and surreal to see purple and gold confetti falling from the rafters of the bubble just like what would have happened if this game was played at the Staples Center.
LeBron sat on the court, taking in the moment in front of a crowd of dozens instead of thousands.
"I was thinking about some of my teammates who this is their first appearance to the Finals. Obviously, AD (Anthony Davis) had a lot on my thought process," James said. "This is the reason why I wanted to be a teammate of his and why I brought him here. I wanted him to see things that he had not seen before in this league. To be able to come through for him meant a lot for me personally.
"Then I started thinking about the next opponent. Boston had a few moments in my head. Miami had a few moments in my head as well. How challenging that's going to be, whoever wins that series. Then, I just started thinking about my journey as well. All that was just going through my mind as the confetti was on the floor, was coming down, landing on my shoulder and things of that nature."
The Finals will begin Wednesday night if the Miami Heat finish off the Boston Celtics tonight or Friday night if the Celtics force a Game 7. So, LeBron will have downtime. He will be fresh. He will be motivated. In the meantime, he will probably be political. There's sort of an important presidential debate on Tuesday night that is going to change the tone of civility in the United States one way or another.
No matter who comes out of the East, the Lakers are going to be prohibitive favorites to win the franchise's 17th championship. We would all be talking about it around the water cooler if we were living normal lives, which we are not. The new normal is not always normal, as the saying goes.
But there is another saying that is fitting today, too. The more things change, the more things stay the same.
LeBron James is a player I have covered in several American cities and several major metropolitan cities around the world. I first met him at Chelsea Piers in Manhattan when he was getting ready to be the first overall pick of the 2003 NBA Draft, and I watched with his first agent, Aaron Goodwin, as James posed for the cameras at a photoshoot and appeared uncommonly comfortable in front of a camera for an 18-year-old.
"See that watch he's wearing? That's a $100,000 watch," Goodwin told me as we waited. I got to spend some alone time with him thanks to the efforts of former NBA PR executive Teri Washington, and I asked him why he seemed so comfortable in front of a camera. He told me he had only been frightened by cameras once, in his sophomore year of high school when one of his games for St. Vincent-St. Mary's High School in Akron, OH was being televised for the first time.
His maturity was already off the charts. I subsequently watched him up close as he endured the growing pains of being harshly introduced to the alternate basketball universe known as FIBA basketball when he first represented Team USA at the 2004 Olympics in Athens, Greece. He was playing under Larry Brown, who refused to start him, and the Americans' first game of that Olympic tournament was a 19-point loss to Puerto Rico. Every time Brown would put James into the game, good things happened. And then LB would yank him.
Brown was stubborn. He refused to play James more than a few minutes here and there. Losses to Lithuania and Argentina followed. LeBron left Greece with a bronze medal, and it is safe to assume it is not in his trophy case at home. More likely it's in his sock drawer.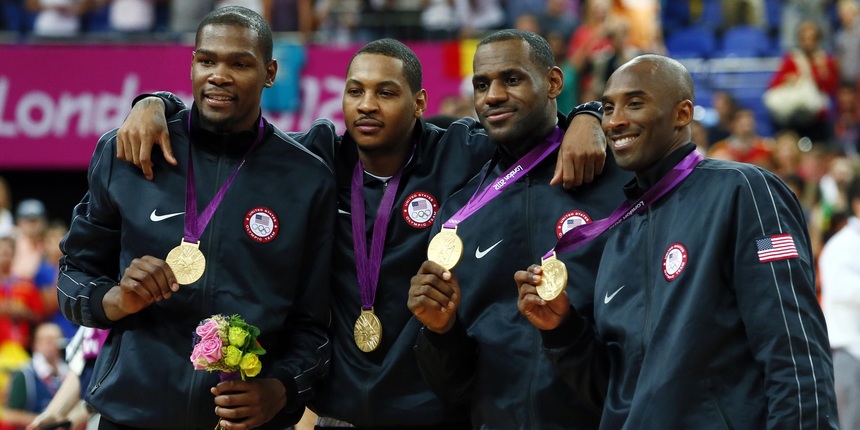 More of the same came two years later in Japan at the World Championship when the Americans lost to Greece in the semifinals. But then came the 2008 Beijing Olympics two years later, and James teamed up with Kobe for the first time on what came to be known as the Redeem Team. A very, very close gold-medal game against Spain ended with Team USA winning the gold medal. Another gold came four years later in London, and another may be forthcoming next August if the Tokyo Olympics actually happen. As reported on this site a couple days ago, James wants to play.
But first things first. Another trip to the NBA Finals is upcoming, the ninth time in 10 years we will all watch this freak of nature cement his status as one of the greatest athletes of our time. The obstinate among us will turn their heads away, upset that the intersection of politics and sports has made athletes spokespeople for the folks in America who do not get a fair shake and must live every day in fear.
Some people will wallow in their misery and hatred and fear, and there is nothing the rest of us can do about it. Those folks live empty lives, as far as I am concerned. But they are our neighbors and our fellow citizens, and we have no choice but to tolerate their ignorance and loathing. It comes with the territory in this crazy year of 2020; and it will endure the years ahead.
But we can all take solace in the fact that James is not going anywhere anytime soon. His brilliance will be on display for at least four more games, hopefully for seven more games. He has not won the championship yet, and you can bet your bottom dollar that he will not see from Erik Spoelstra or Brad Stevens the amount of single coverage that he saw in Game 5 against Denver.
Spoelstra, in particular, has some insight into what works and what doesn't work when it comes to all things LeBron. Spoelstra and Pat Riley played a major part in making James what he is today, a three-time NBA champion. They probably know a thing or two about how to get into his head, and we will find those things out if the Heat are the team coming out of the East.
In the meantime, we wait.
And we wonder what type of craziness awaits us next.
And we're trying to get though life one day at a time, hopefully staying safe and healthy and smart and sane. We are living in a year in which fear and anger surrounds us. Incompetence and idiocy have become normalized. Nobody is quite sure what any day will bring, but not many people expect it to be anything good.
But you know what? As we all get a day older, James remains somewhat of an ageless wonder. What he did on Saturday night is what is has been doing for 16 seasons… and there will be more to come. Kobe played for 20 seasons. LeBron is not hanging up his sneakers until he fulfills what he has described as the goal of his life: To play in an NBA game alongside his son, Bronny.
So life has its blessings. LeBron isn't going away. He isn't going to shut up and dribble. He is stubborn and stunning and stupefying. He brings joy to those of us who are not too pigheaded to turn away. He is mesmerizing. He makes you run out of superlatives.
He has seen his jersey burned by the fans in Cleveland whom he spurned… before he returned. He was embraced in Miami much the same way LakersNation is caressing him now. He clearly has a ton of basketball left in him, and today we celebrate the joy and wonder and rapture he can bring into all of our lives, even in the toughest of times.
"I've never said, 'OK, I want to cast myself as a superstar or whatever the case may be.' I just want to travel my own journey, because it is my journey," James said. "I've appreciated everything that's happened along the way. I mean, throughout -- the ups, the downs, the ups on the court, the downs on the court, the wins and losses… But I've been able to, I guess as Frank Sinatra would say, 'I did it my way.' At the end of the day and at the end of my career, I just hope that I inspire enough people. At the end of the day, all you have is your respect."
He has earned everyone's. Again. Thanks, LBJ.