LeBron James has made it known to top officials at USA Basketball that he wants to play in the 2021 Tokyo Olympics, but the uncertainty surrounding the 2020-21 NBA season has made planning next to impossible.
"I was told he wants to plan on being able to play, but no one can totally commit under these circumstances," USA Basketball managing director Jerry Colangelo told BasketballNews.com on Thursday.
The uncertainty extends to Team USA coach Gregg Popovich, who may be coaching the San Antonio Spurs next July when the Olympics get underway – if they get underway. As of now, the Tokyo Olympic Organizing Committee and the International Olympic Committee are planning to hold the Games July 23 through Aug. 8, 2021, after they were postponed this past summer because of the coronavirus pandemic.
A monkey wrench was thrown into the basketball equation when NBA commissioner Adam Silver told CNN that is now seems most likely that the start of the next NBA season will be pushed back to January of 2021. And since the Commissioner wants to play a regular 82-game season, it is creating a potential scheduling conflict. Silver acknowledged that this might impact Team USA (as well as other national teams).
"There are a lot of great US players, and we may be up against a scenario where the top-15 NBA players aren't competing in the Olympics, but other great American players are competing," Silver said. "And, obviously, there are many NBA players who participate in the Olympics for other countries. That's something we're going to have to work through... These are highly unique and unusual circumstances. And I think just as it is for the Olympic movement, it is for us as well. And we're just going to have to sort of find a way to meld and mesh those two competing considerations."
Nonetheless, Colangelo is doing his best to prepare Team USA for as many possible scenarios as he can envision.
"I've been on the phone with (NBA deputy commissioner) Mark Tatum about this, and he said all sorts of possibilities are on the table, but things change every day," Colangelo said. "I wish I could plan. I just can't.
"I was told the NBA season would start in December, and then it was Christmas, and then after Jan. 1, and that keeps pushing the schedule for me. The NBA season typically takes 170 or 171 days to complete, so that creates a conflict on paper," said Colangelo, adding that a suspension of the NBA season in order to clear time for the Olympics also has been discussed.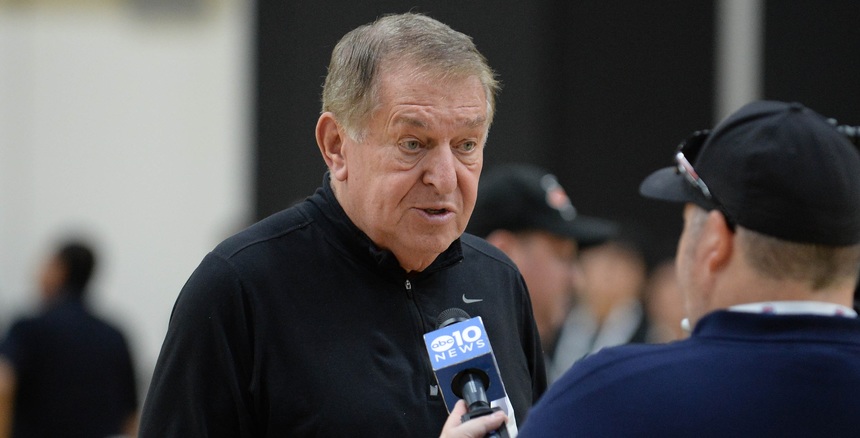 The most recent version of Team USA did not fare well in the 2019 World Championship in China, finishing seventh following a loss to France in the quarterfinals and a loss to Serbia in the classification semifinals.
"Argentina won that tournament without a single NBA player on their roster, and the Euroleague is starting up Oct. 1, so those other teams will be ready," Colangelo said. "But at the same time, other federations are relying on NBA players, too, so nobody is sure what will happen."
There are 44 finalists for the next Olympic team, but USA Basketball's roster is typically extraordinarily fluid, with last-minute changes to the roster commonplace. James has not competed for Team USA since the 2012 Olympics; he was also on the 2008 and 2004 Olympic teams, along with the 2006 World Championship team.
The United States is one of eight nations that has already qualified, along with host Japan, Argentina, Australia, Spain, France, Iran and Nigeria. The other four spots will go to the winners of four qualifying tournaments that are scheduled to be held in Canada, Lithuania, Croatia and Serbia from June 29-July 4.
"If the [NBA] season conflicts with the Olympics, I might have 14 non-playoff teams to choose from, but then other players will become available as the NBA playoffs progress," Colangelo said. "The problem is that the ICO has a rule mandating an early submission of a 12-man roster. But with a pandemic, the hope would be that you've got to set aside outdated rules. I assume people will be reasonable and come up with some kind of a program that works."
The problem is, the IOC is not always reasonable and the history of USA Basketball is lettered with instances of the Americans getting a raw deal, including but not exclusive to the 1972 Olympic gold-medal game debacle that ended with the Americans refusing to accept their silver medals, which to this day reside in a vault in Switzerland.
So Colangelo is not necessarily counting on reason to prevail, especially in these current turbulent times when reason and calm are both in short supply.
"Nobody can totally commit to anything under these circumstances. Take our coaching staff, for instance. Pop, Steve Kerr and Lloyd Pierce are all NBA coaches. Will they be available?" Colangelo asked. "All we know for sure is that Jay Wright (of Villanova) will definitely have his season over by then. But it extends to our medical staff and our training staff as well. And we still have to determine how we will getting around over there. Will there or won't there be fans?
"Emotionally, a lot of people are committed. But, in reality, we have to wait until we're a lot further down the road. There are a lot of moving parts, and we want the absolute best team that we can have, but I've got to deal with the hand I've been dealt," Colangelo said. "Until the NBA locks in on a start date for the season and a start date for the playoffs, only then will we know. There's just a whole lot of questions and not a lot of answers."