Carmelo Anthony, a future Hall Of Famer who currently ranks 15th on the NBA's all-time scorers list, was out of the league for a full year. It seemed as though the entire basketball world was convinced that he could no longer contribute to an NBA roster. Some wondered if Anthony had played in his final NBA game, bringing an end to an outstanding career.
Then, opportunity presented itself. A series of injuries plagued the Portland Trail Blazers and 'Melo got his chance to prove all of the naysayers wrong. He could silence the multitudes campaigning for him to retire, the commentators who suggested he was done and should bow out gracefully. He was given a chance at redemption and he has taken full advantage of it.
This season, Anthony has continually knocked down game-clinching shots in the final minutes of one-possession, must-win games. He's shooting 42.6 percent from three-point range in the bubble (including the postseason). He's been a vital piece of the puzzle for the Blazers, averaging 15.1 points per game in Orlando. Anthony has received high praise from everyone in the Portland organization, including Damian Lilard.
"He should have been here three years ago," Lillard said after the Blazers' play-in victory over the Memphis Grizzlies. "I feel like we could have been in the Finals last year if we had him."
In Game 3 against the Los Angeles Lakers, Anthony exploded for 13 points in the third quarter, showing an array of offensive moves (including post-ups against LeBron James, short jumpers, three-pointers, fast-break dunks and pick-and-pops). He finished the night with 20 points, six rebounds and four steals. Even his defense received praise, as ABC and ESPN announcer Mark Jackson stated live on air, "People who killed Carmelo Anthony for his defense were wrong."
"Carmelo not having a job never made any sense to me," former head coach Stan Van Gundy told me on my show The Rematch. "People are dying for scoring in this league and he is one of the best scorers in our game, and he couldn't get a job? And he couldn't at least be that bench scorer that all the contending teams need?"
So, how did everyone get it so wrong about Carmelo? What exactly happened?
Were people too quick to accept a series of misconceptions about his attitude and willingness to take on a lesser role? Were Anthony's failed stints with the Oklahoma City Thunder and Houston Rockets misinterpreted? Were teams scared off because his former coaches slandered him? Was there too much of a reliance on analytics?
The answer may very well be all of the above.
Let's start with the widely accepted notion that 'Melo was stuck in the netherworld of a once-dominant superstar – past his prime, unable (or unwilling) to adjust his role for the good of the team and against the unfamiliar idea of coming off the bench. Although this was the prevailing narrative, his public statements and actions didn't support this theory. Remember, he came off the bench during his time with the Rockets.
While 'Melo did voice his disapproval about being a sixth man with the Oklahoma City Thunder and stated that he was still capable of being a starter, he accepted the role that was given to him. I don't know a player who ever existed that didn't believe he was capable of a bigger role than the one given to them by their coach. What did the media expect Carmelo to say? "Yeah, I'm washed up. I simply don't have it anymore. I'm not the player that I once was."
When discussing his season in OKC, Anthony told ESPN: "I was willing to accept that challenge in that role (coming off the bench), but I think I bring a little bit more to the game as far as being more knowledgeable and what I still can do as a basketball player."
Nowhere in there did 'Melo express that he wasn't willing to accept a reserve role if that's what was given to him. But of course he is going to feel that he still can contribute as a starter. He's Carmelo Anthony! A future Hall of Famer. A top-15 scorer in NBA history.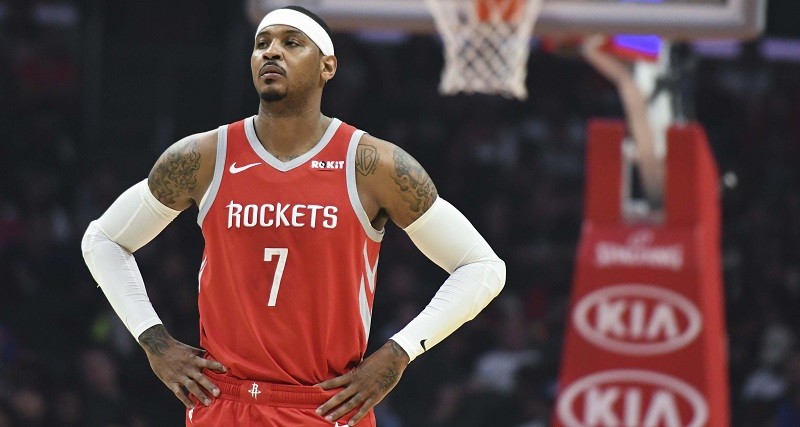 This brings us to the disastrous Houston stint that resulted in the Rockets waiving Anthony after 10 games. Make no mistake, the Rockets were struggling as a team. But, for some reason, the majority of the blame was directed at Anthony – someone who was coming off of the bench and playing a reduced amount of minutes.
This really shouldn't have been surprising after what happened in New York, when head coach Mike D'Antoni blamed the Knicks' struggles on Carmelo. In fact, many people around the Knicks organization have confirmed that D'Antoni was the one who gave the ultimatum: "Either 'Melo goes or I go." The Knicks chose 'Melo. Now, did Anthony happily accept D'Antoni's plan to move him to power forward? No. But it was D'Antoni who quit on the team, not Anthony. (How D'Antoni got another job after that, I will never know, but I digress).
Another damaging factor for Anthony was George Karl's tell-all book, which supported the notion that Carmelo was a selfish teammate and introduced a new caveat as he questioned his overall character.
"Carmelo was a true conundrum for me in the six years I had him," Karl wrote in his book. "He was the best offensive player I ever coached. He was also a user of people, addicted to the spotlight and very unhappy when he had to share it.
"He really lit my fuse with his low demand of himself on defense. He had no commitment to the hard, dirty work of stopping the other guy. My ideal — probably every coach's ideal — is when your best player is also your leader. But since Carmelo only played hard on one side of the ball, he made it plain he couldn't lead the Nuggets, even though he said he wanted to. Coaching him meant working around his defense and compensating for his attitude."
Karl basically described Anthony as lazy and a bad teammate, which are some of the worst accusations that you can make against an NBA player. And once those accusations are floated around the league, especially from a head coach, they begin to spread like wildfire. There's no question that this was damaging to Carmelo's overall reputation.
Why would Karl stoop to such a low level, criticizing his former player just to sell a book? Very good question.
It's also important to note that Karl has had major issues with just about every star player he has coached, including Kenyon Martin, J.R. Smith, the late Robert "Tractor" Traylor, Todd Day, DeMarcus Cousins, Andre Iguodala and Ray Allen (just to name a few). Whoever heard of a coach actually having issues with Ray Allen? It seems as though once Karl's coaching days ended, he resorted to slandering his former players for profit. Unfortunately, this character assassination further contributed to Anthony's tarnished reputation among NBA circles.
Anthony's reputation took yet another hit after the overall condemnation from the Zen Master himself, Phil Jackson, who won 11 rings as an NBA head coach and led two of the greatest dynasties the sport has ever seen. Jackson repeatedly showered Anthony with criticism after he took the reins in the Knicks' front office. Jackson, one of the most successful coaches in NBA history, lambasted Melo in private and in public.
Jackson told the press, "We've not been able to win with him on the court at this time. I think the direction with our team is that he is a player that would be better off somewhere else and using his talents somewhere where he can win or chase that championship."
The reality was, Jackson simply wanted to blow up the Knicks and create his own roster, so he could say that he rebuilt the entire organization himself. He wanted to unload Carmelo's contract and started leaking things to the media, while 'Melo stayed above it all and remained professional. For a long time, Jackson's apparent strategy was to antagonize 'Melo into lashing out through the media and losing his cool, which would then cast 'Melo as a "problem" - thus justifying his desire to trade him. But 'Melo never took the bait. While Jackson's stint in New York resulted in nothing but more frustration for an already disgusted Knicks fan base, the situation was also damaging to 'Melo's reputation.
But with all of this behind him, the entire basketball world is now praising and appreciating 'Melo. Here's what fellow Syracuse royalty Lawrence Moten and John Wallace had to say about Carmelo's comeback story:
"I always had faith in him, it was just about him getting on the right team," Moten told me. "The other teams tried to change his game instead of letting him do what he does best. Portland is allowing 'Melo to be 'Melo, and that's why it's working."
"So happy for our 'Cuse brother," Wallace added. "He's always been clutch, just look at his career. He always wants the big shot, and he has the best shooting percentage in NBA history with at least 10 made FGs [in clutch time]. [It's] good to see him block out the haters and focus on himself. Now, he's better because of it."
Sure, Moten and Wallace possess a bit of Syracuse bias, but everyone knows what 'Melo has been through, which makes his success even sweeter. This is his redemption story, and it's been a joy to watch him knock down big shot after big shot for the eighth-seeded Blazers.
As Chiney Ogwumike tweeted after Anthony's game-sealing shot in the play-in game versus Memphis: "We can learn a LOT from Carmelo Anthony… Stay ready. Keep grinding. Know your value. Find your tribe. Understand your role. Never give up."