A few conspiracies have emerged within the last few days regarding point guard Kyrie Irving's recent absence from the Brooklyn Nets' roster.
The most viral of which have been the corkboard-and-yarn posts stating that the way his short hiatus coincidentally lined up with the Nets' blockbuster acquisition of James Harden was no coincidence at all. According to the most conspiratorial minds of NBA Twitter, this was basketball collusion in the highest order -- with Kyrie purposefully missing games in order to preserve himself from any of Brooklyn's trade negotiations with the Houston Rockets. The tongue-in-cheek notions of a scheme do a great job to illuminate the mental gymnastics we complete in order to make sense of Irving's seemingly confusing actions, with many, including The Ringer contributor and ESPN analyst Jackie MacMullan sharing stories to provide crude insight into his mind.
"I was thinking of all the conversations I've had with Kyrie over the years," MacMullan said on The Ryen Russillo Podcast. "One of them I had, I don't know, two years ago, we got into this argument about, you know, something, and he's like, 'Well, there shouldn't be an NBA Draft -- players should be able to go wherever they want to go. We're not someone's property.' And I'm like, 'Yeah you are dude, that's the way it works -- that's why you get paid all these millions.'"
But, does it really need to all read like a British tabloid or an NBA Reddit post?
According to an offseason's worth of reporting by various outlets, Irving signed off on the hiring of coach Steve Nash, and the All-Star now has the opportunity he's been awaiting to compete at the highest level alongside his close friend in Kevin Durant. In the games he has played in, he's looked in absolute pristine form, so conclusions of professional dissatisfaction are currently unfounded.
We may be attempting to deconstruct some sort of backstage instability with the Nets organization and with Irving's mental state because, as it stands, covert league drama and "Kyrie being Kyrie" makes far more sense than the fear-inducing instability of the world around us.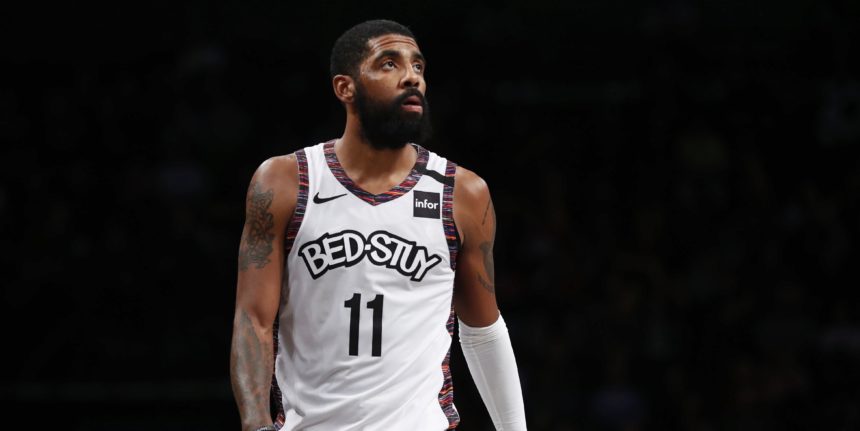 Noted for his consistent interest in social reform, is it really shocking that Irving missed the Nets' matchup versus the Denver Nuggets? Instead, he opted to attend a Zoom launch event for Tahanie Aboushi's Manhattan DA office campaign (humorously nested below Cynthia Nixon in his digitized frame, leading to a dizzying NBA meets "Sex in the City" meme format). What we do know is that he preferred to endorse the progressive candidate to office rather than spend his evening dribbling for the creation of an increasingly compromised product -- riddled with frequent injuries, multiple positive coronavirus tests and quite a few game postponements.
It's not complicated, but rather deceptively simple. Right now, basketball doesn't seem to be the most important thing in the world to many players.
Zach Lowe disclosed on "The Lowe Post" recently, "As life on the road and at home comes closer and closer to resembling the bubble -- except the fact, in most cases, you're with your family when you're home -- there's this same sort of mental strain and anguish and challenges…"
It's suggested that the millions of dollars allocated to players should remedy the isolation and feelings of helplessness brought on by our exposure to the despair that surrounds many of us, but that doesn't erase Irving's prerogative. Too frequently we treat the honor of being drafted into the NBA as a tremendous gift by the Association rather than an achievement of excellence by the draftees that soon create the product.
Dissent, or the refusal to play, becomes unfathomable because many consumers see players as property rather than employed performers. In reality, Irving's impromptu sabbatical challenges our understanding of the league's ownership and player dynamic in the midst of unrest -- and it will continue to do so.
This must be one of the reasons behind the discourse, spirited discussions and vitriol stoked within the last several days, which has only further been highlighted by an increase in rescheduled matchups. It challenges our perception of the packaged normalcy within empty arenas, echoing pumped in crowd noises, and briefly -- we realize everything isn't okay.