A piece of intel came in last night: a Western Conference executive says he expects the Houston Rockets to trade James Harden to a team in the Eastern Conference.

The last thing the Rockets need, the thinking went, is to see the bearded one four times each season, and perhaps again in the playoffs.
If that line of thinking holds, there are 15 candidates for Harden's services instead of 29. And though it is not incumbent upon Rockets general manager Rafael Stone to grant Harden's wish and trade him to a contending team (he updated his list to include the Miami Heat and Milwaukee Bucks in addition to the Brooklyn Nets and Philadelphia 76ers, according to reports this morning), no Eastern Conference general manager with his head on straight will want to acquire Harden knowing that he will be disgruntled if the team isn't competing for a title.
So, that knocks out about half of the East.
Nobody can say with any certainty how long it will be before Harden is dealt, and as Harden goes through the NBA's COVID-19 protocol and continues to miss practice (he needs to pass six consecutive COVID tests), there's no way he will be in uniform tomorrow night when the Rockets play the Chicago Bulls in their preseason opener – or on Sunday, when the Rockets are again in Chicago to play them in their second exhibition game.
The Rockets have two exhibition games next week – Tuesday and Thursday at home against the San Antonio Spurs – and by then, Harden may be wearing another uniform. It depends whether a bidding war heats up among the teams trying to acquire him.
So until something breaks – and what we are hearing lately is that talks between Brooklyn and Houston have ceased – the most prudent thing to do is look at all of the Eastern Conference contenders (and a couple prominent non-contenders) and see which deals might work. And even though the discussions with the Nets are said to be on hold, let's start with them because they are said to be Harden's top preferred destination.
Harden makes $42 million, so putting together enough matching salary is tricky without gutting your team. In the case of the Nets, the most popular rumored trade would send Spencer Dinwiddie, Caris LeVert and Jarrett Allen to Houston. Those salaries only total $31.5 million, which means the trade would not work under salary-matching rules unless a fourth player – Taurean Prince or Nicolas Claxton – was added to the deal. And that seems like too much for the Nets to surrender, even for the player who has led the NBA in scoring each of the last two seasons.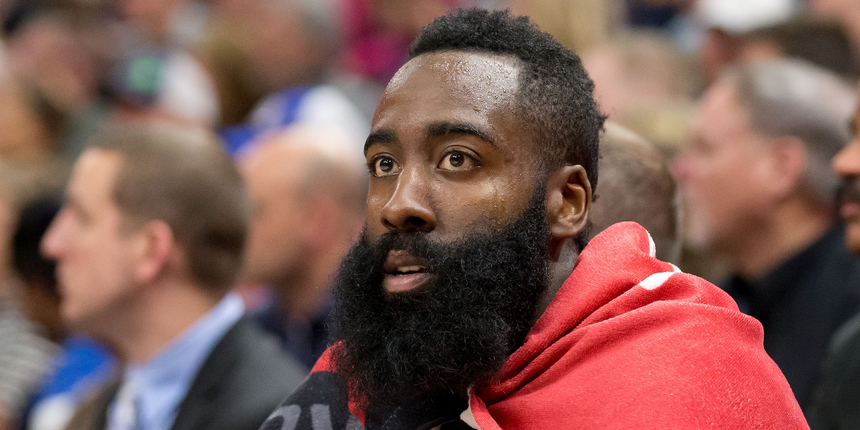 But what about Boston, who lost Gordon Hayward in free agency? Danny Ainge is overdue for a signature deal, and acquiring Harden would make the Celtics instant co-favorites along with Milwaukee and Brooklyn to come out of the East. Jayson Tatum cannot be traded because of the poison-pill provision, so in order to get the money to match, Ainge would have to package Jaylen Brown ($23.7 million) and Marcus Smart ($13.4 million), along with one or maybe two first-round draft picks. That would cost the Celtics their best perimeter defender, Smart, unless Ainge deleted Smart and instead lumped together Semi Ojeleye, Robert Williams, Daniel Theis, Romeo Langford and Grant Williams, which would put 25 players on Houston's roster. So that one won't fly.
We can assume the Milwaukee Bucks are all set, although there is the matter of that supermax contract extension that Giannis Antetokounmpo has still not signed despite his teammates gifting him a set of pens when camp opened. But remember that the supermax will still be available to The Greek Freak following the 2020-21 season, so swapping him for Harden makes no sense. It'd be better to play out the season, make whatever adjustments are needed around the trade deadline and see how the playoffs go.
Philadelphia is the most intriguing possible destination, but that may come down to a test of wills between Daryl Morey and his former deputy, Rafael Stone, over what constitutes fair value in a swap. Stone would likely insist on getting back Ben Simmons, but Sixers ownership is sensitive to the fact that Simmons and Joel Embiid are extraordinarily popular in Philly and deserve at least another year to prove themselves, this time under the leadership of Doc Rivers.
Morey was able to rid himself of Al Horford and Josh Richardson and brought in Danny Green and Seth Curry to play at the 2-guard spot. Bringing in Harden would make those two players superfluous, but that is not a bad problem to have. Morey owes a 2025 first-rounder to Oklahoma City, but has all of his own first-round picks until then, along with the New York Knicks' 2021 second-round pick, which figures to be No. 31 or 32.
Miami, coming off an appearance in the NBA Finals in which its lack of experience was a factor, cannot lump together first-round picks because of obligations from previous deals. They do not have an All-Star who can be traded (Bam Adebayo has a poison-pill restriction after signing his extension), which means the best the Heat could offer is a package headlined by Tyler Herro and Duncan Robinson, with Andre Iguodala and Kelly Olynyk added for salary-matching purposes. Stone could do better elsewhere.
Chicago is a possibility because of the expiring contract of Otto Porter Jr., but the Bulls are in a rebuild and would have to surrender at least two of their best young players (Lauri Markkanen, Zach LaVine, Coby White), and that would leave little chance for Harden to play alongside the best they have to offer in his quest to win a title. Still, he is not driving the bus here. Stone is.
New York is rebuilding under new general manager Leon Rose and head coach Tom Thibodeau, and sacrificing multiple future first-round picks would seem risky for a franchise that plans to build around youngsters Obi Toppin, Immanuel Quickley and RJ Barrett. But Rose owns the rights to two future Dallas first-rounders, and in theory, a swap of Julius Randle, Barrett, Frank Ntilikina and Kevin Knox along with three first-round picks would give the franchise a superstar to build around. Harden might average 50 on the Knicks. Then again, Harden did not attend the University of Kentucky.
The bottom line is that if Stone and owner Tilman Fertitta want to deal Harden to a team in the East, their best chance might be with the Celtics or Sixers unless Rose loads up the wheelbarrow with future first-rounders.
We shall see. The start of the season is only a dozen days away, and the clock is ticking.