Was last season a success for the Indiana Pacers? It depends on your perspective, really.
On one hand, they were able to reel off 45 wins despite getting very little from Victor Oladipo, at least by his All-Star caliber standards. Newcomer Malcolm Brogdon started off the season red-hot before injuries (and some natural regression) took the wind out of his sails. Domantas Sabonis made his first All-Star team, but had his season derailed by a foot injury. So many things went wrong, and yet the Pacers were still able to land home court advantage in the playoffs.
On the other hand, this was yet another postseason where the Pacers didn't make the first round. You can write off some of this season's run due to the nature of the injuries they faced, but this remains a results-based league. Then-head coach Nate McMillan, who did a fantastic job navigating the Pacers' injury-bitten roster, still found himself out of a job due in part to their early exit.
Now, the fun part begins.
The Pacers are entering the offseason with most of their team intact. This offseason is an important one due to the drama surrounding Oladipo. He obviously wants to get paid; there's also enough smoke to believe he's a real risk to take his talents elsewhere in 2021. Navigating the trade waters in this environment, if the Pacers even choose to go that route, will be one of the most important storylines of the offseason.
As far as free agency goes, there's no real avenue to cap space regardless of what they decide in terms of renouncements. The Pacers will operate as an over the cap team and have a non-taxpayer mid-level exception (worth over $9 million) at their disposal. The always-informative Keith Smith has a more thorough breakdown of their cap situation, which you can find here.
Let's take a look at some guys they'll look to bring back as well as some targets that could help them come back stronger than ever.
Key In-House Decisions
Justin Holiday: Bring Him Back
Holiday may end up being the most popular role player wing in this year's market. He's a 3-and-D-ish wing with a little added juice offensively because of his off-ball activity. He's a heady cutter, which fits well with Sabonis as the high post hub. He also snuffs out opportunities around the perimeter, using defenders' blind spots to slip into catch-and-shoot opportunities. Retaining him should be priority number one.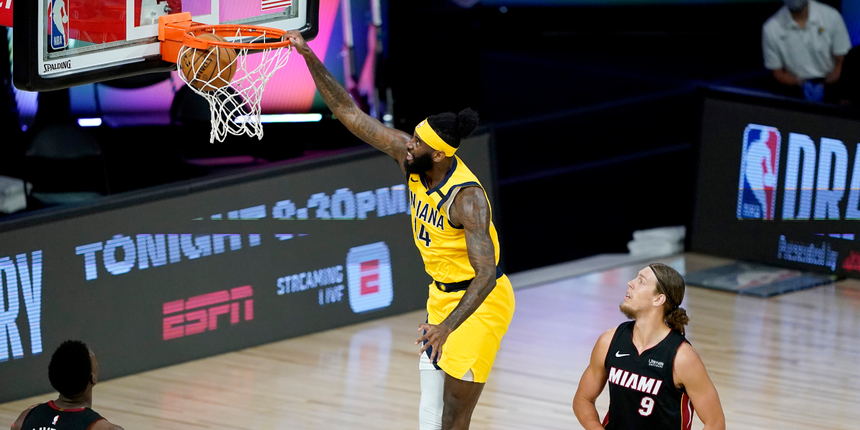 JaKarr Sampson: Circle Back Later
Sampson is mostly a tools guy, but generates intrigue because of his defensive versatility. He entered the league as a 3, but surprisingly gave Indy some spot value as a 4, and even a super-small-ball 5 in the team's first-round series against the Miami Heat. There's only so much value he can have with his limited tool kit offensively; still, he's an energy piece that has a role if other options fall through.
Free Agent Guards
Mid-Tier Option: Jordan Clarkson
Clarkson is coming off of, by far, the most efficient season of his career. He gave the Utah Jazz a much-needed scoring punch once he arrived, averaging 15.6 points with a 56.9 True Shooting percentage during the regular season. Both of those marks increased (16.7, 57.7) during Utah's first-round showdown with the Denver Nuggets.
Him trading out some of his frustrating long-twos for threes made him a more efficient option. In a world where Oladipo may be dealt, adding Clarkson as a secondary creator could make sense.
Bargains: Tyler Johnson
Johnson had a pretty quiet regular season campaign, kicking things off in Phoenix before finding his way to the Brooklyn Nets mid-season. Johnson performed well in the postseason, averaging a shade under 14 points while unloading the clip from deep (39.3 percent on 7.0 attempts). He's a fearless driver and underrated rebounder; he isn't afraid of mixing it up with bigger players.
Free Agent Wings

Mid-Tier Option: Wesley Matthews
There's a case to be made that Matthews could accept another minimum deal from a contender, either remaining in Milwaukee or going elsewhere. There's an even stronger case to be made that he's earned himself a pay day.
Matthews routinely took on the most demanding perimeter defensive assignments throughout the regular season, while knocking down over 36 percent of his threes on decent volume. He then upped the ante in the postseason, something that the Miami Heat -- and Jimmy Butler -- got a firsthand look at.
Bargains: Kent Bazemore
The idea of Bazemore -- an athletic, 3-and-D wing that can defend 1-through-3 -- is probably a little better than the reality. Still, he can knock down open shots, is an active mover off the ball and competes defensively against both wing positions.
Free Agent Forwards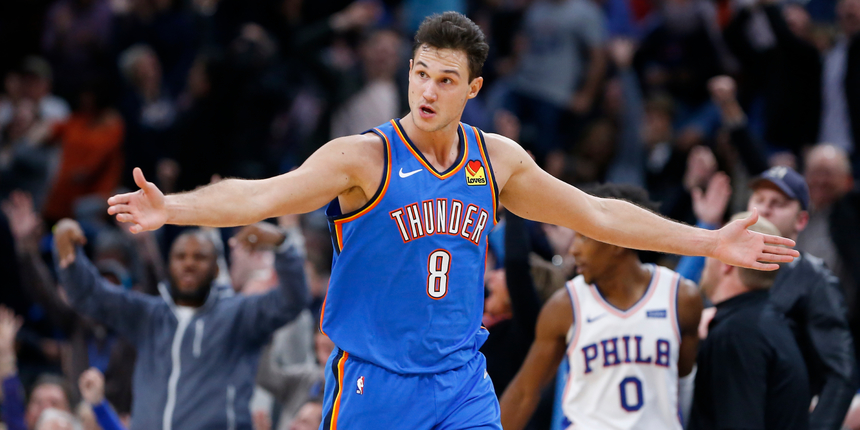 Sign-and-Trade Option: Danilo Gallinari
As mentioned in the intro, the Pacers probably need to consolidate talent more than they need to add free agents. Gallinari would immediately boost their shooting and half-court shot creation. He can get to the rack -- and the free throw line -- on his own, a big deal for a team that ranked dead last in free throw attempts per 100 possessions (19.1).
Bargains: Lance Thomas
Thomas has flown under the radar for years as a sneaky-solid forward defender that can knock down open threes. He's converted 38.5 percent of his triples over the past five seasons, though that comes on limited volume. He'd be a solid get as a ninth man to get you through the regular season.
Free Agent Bigs

Bargains: Meyers Leonard, Harry Giles, JaVale McGee
Leonard's free agency value will come down to which version from last year teams feel they'll be getting. If it's the regular season version, where Leonard helped anchor one of the best starting lineups in the NBA with his shooting (41.4 percent from three), screening and vocal quarterbacking defensively, then you could argue he should command a portion of the MLE. If it's the postseason version, where Leonard looked out of place defensively and his lack of three-point volume really stood out, the vet minimum could be all he musters.
Giles has a bit of an injury history dating back to his high-school days. Multiple lower-body injuries have sapped some of his athleticism, and he's still a fluid, jumpy big who can feast in transition. The intrigue lies in his on-ball skill; he's quietly one of the better passing big men in the league already. There's some serious "throw-it-to-him-in-the-high-post-and-let-him-do-stuff" potential waiting to be untapped.
McGee remains one of the NBA's top lob threats, equipped with solid leaping ability and a silly catch radius. He uses those limbs to put back misses and swat shots on the other end. Fouls and an inability to navigate space limit his ceiling, though he'd only be needed for 12-15 minutes with the second unit. His vertical spacing could be huge for a team that needs a little extra juice on the bench.