The Houston Rockets swung for the fences last summer, flipping Chris Paul and six afros-worth of picks to the Oklahoma City Thunder for Russell Westbrook. That wouldn't even be the largest stylistic shift the Rockets would go through. They'd eventually punt on the idea of centers in favor of maximizing their ability to play small, highlighted by the mega-trade that sent Clint Capela to the Atlanta Hawks, with then-Minnesota Timberwolves wing Robert Covington coming to Houston.
At their best, the Rockets bombed away from three with even more boldness, switched everything on defense, then blitzed teams in transition. At their worst, a.k.a. the back end of their second-round matchup with the Los Angeles Lakers, the lack of size hurt them at the rim and on the glass. The lack of an interior presence also made them more limited offensively; pick-and-rolls were used almost exclusively as a means to generate a switch instead of creating downhill advantages.
Now, with new general manager Rafael Stone and new head coach Stephen Silas, the fun will really begin.
The Rockets have no real avenue to cap space regardless of what they decide in terms of renouncements. They'll operate as an over-the-cap team and have a non-taxpayer mid-level exception (worth over $9 million) at their disposal. The question is how much owner Tilman Fertitta is willing to spend. The always-informative Keith Smith has a more thorough breakdown of their cap situation, which you can find here.
Let's take a look at some guys they'll look to bring back, as well as some targets that could help them come back stronger than ever.
Key In-House Decisions
Austin Rivers*: Bring Him Back
Rivers is one of the NBA's underrated drivers, utilizing a quick first step and channeled aggression to generate looks at the rim. He isn't much more than a rudimentary playmaker, but his north-south style has helped juice the Rockets' second unit over the past couple of seasons. That's been especially important within the context of Eric Gordon's injuries and the general hot-and-cold nature of his game. Rivers is also one of the notable voices in that locker room, something that shouldn't be dismissed when discussing his value. Even if Rivers declines his $2.4 million player option, I wouldn't expect him to command more than a portion of a team's MLE -- and that's on the high end. He should be back.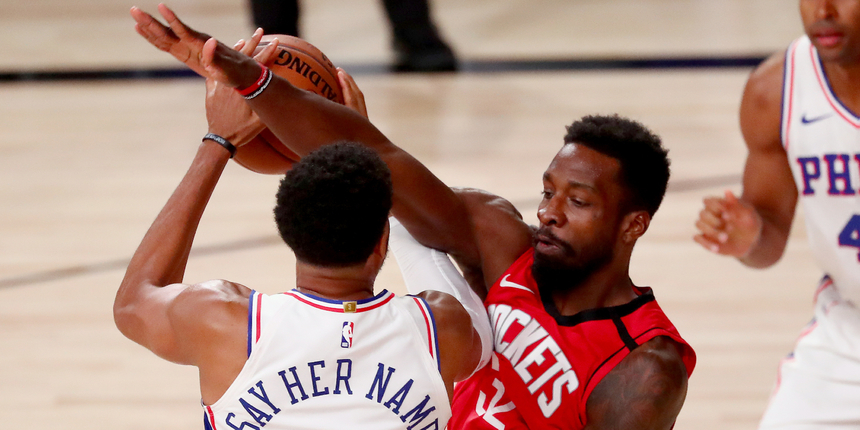 Jeff Green: Bring Him Back
If Green's career was a book, it'd likely be dubbed: "The Boy Who Cried Potential." He never became a star, and the boom-or-bust nature of his game has confounded many. Quietly, though, he's settled in as a solid bench big. He especially thrived as the Rockets' backup center last season, possessing just enough shooting and ball skills to dust enemy giants while offering versatility defensively.
Green has utility at both forward spots and should be a no-brainer to bring back assuming a bidding war doesn't ensue.
Free Agent Guards

Bargains: Tyler Johnson
Johnson had a pretty quiet regular season campaign, kicking things off in Phoenix before finding his way to the Brooklyn Nets mid-season. Johnson performed well in the postseason, averaging a shade under 14 points while unloading the clip from deep (39.3 percent on 7.0 attempts). He's a fearless driver and underrated rebounder; he isn't afraid of mixing it up with bigger players. There's a pretty natural fit offensively alongside Harden or Westbrook as part of a staggered unit.
Free Agent Wings

Mid-Tier Options: Justin Holiday
Holiday is more 3-and-Decent than 3-and-D, but he's coming off of the best shooting season of his career (40.5 percent from three-point range on 4.5 attempts) while being a credible option against 2s and 3s. He'd be a natural fit for the Rockets' transition attack. His off-ball randomness -- his ability to relocate around the perimeter, or catch ball-watching defenders off guard with hard cuts -- also fits well.
Bargains: Kent Bazemore, Garrett Temple*
The idea of Bazemore -- an athletic, 3-and-D wing that can defend 1-through-3 -- is probably a little better than the reality. Still, he can knock down open shots, is an active mover off the ball and competes defensively against both wing positions.
Temple would give the Rockets a plus, multi-positional defender with a solid three-point stroke (35.3 percent over the past five seasons). The asterisk is present on Temple's name because the Nets hold a $5 million team option on him, though it'd come as no surprise if they let Temple walk to free up tax room to bring back Joe Harris.

Free Agent Forwards

Mid-Tier Options: Danilo Gallinari
If Gallinari is serious about going the "winning > pay day" route, the Rockets would be a pretty fun landing spot for him. He would immediately boost their shooting and half-court shot creation. He can get to the rack -- and the free throw line -- on his own, but being able to play off of the dribble penetration of Westbrook and Harden would make life a lot easier for him.
Bargains: Lance Thomas, Luc Mbah a Moute
Thomas has flown under-the-radar for years as a sneaky-solid forward defender that can knock down open threes. He's converted 38.5 percent of his triples over the past five seasons, though that comes on limited volume. He'd be a solid get as a ninth man to get you through the regular season.
Mbah a Moute signed a "substitution contract" with the Rockets back in July, replacing Thabo Sefolosha. He's fallen victim to his own body, with injuries derailing his last three seasons. It's probably far-fetched to expect him to get back to his 2017-18 form, but he could serve as a nice "break-glass-in-case-of-emergency" defender during the season. There's obvious familiarity here -- why not?
Free Agent Bigs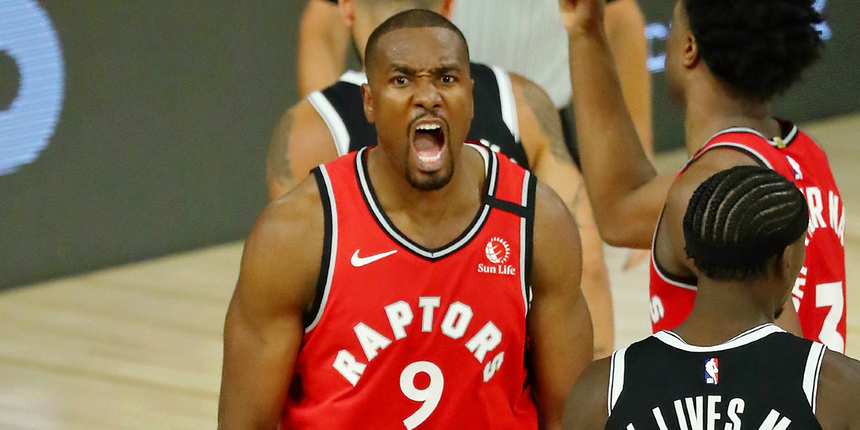 Mid-Tier Options: Serge Ibaka
This would rely on negotiation talks breaking down with the Raptors. They will have his Bird Rights, thus giving them an avenue to pay Ibaka much more than any other contender sans the Miami Heat, and even they would get outbid. If Ibaka is okay with taking the MLE, the Rockets would be a natural landing spot because of his intersection of shooting and rim protection.
Bargains: Meyers Leonard, Nerlens Noel, John Henson, Harry Giles
Leonard's free-agency value will come down to which version from last year teams feel they'll be getting. If it's the regular-season version -- where Leonard helped anchor one of the best starting lineups in the NBA with his shooting (41.4 percent from three), screening and vocal quarterbacking defensively -- then you could argue he should command a portion of the MLE. If it's the postseason version, where Leonard looked out of place defensively and his lack of three-point volume really stood out, the vet minimum could be all he musters.
Noel is your classic toolsy big whose reputation precedes him a bit. He is talented, of course; he's able to sky for lobs, can knock down the occasional jumper (though you don't want him taking many of them), has wing-like mobility in space and can send shots into orbit. The issue with Noel, aside from help, has been his propensity to go for the home-run on defense, which often leaves him out of position when those gambles fail.
He was a bit more under control in Oklahoma City last season; shockingly, he had his most efficient year to date. There's room for him to command a portion of some team's mid-level exception, but it wouldn't shock me to see him take another prove-it type deal for a contender to set himself up for a pay day in 2021.
Henson entered the league as a classic screen-and-dive big, using his broomstick arms to convert lobs and clean up on the offensive glass. He's been a prolific shot-blocker throughout his career, though he's never been strong enough to deal with post brutes. He's attempted to stretch his game over the past two seasons with mostly "meh" results on an even more "meh" sample. The intrigue would be providing Harden or Westbrook with a lob target. If the spot-up three experiment continues and has some success, that would be an obvious bonus.
Giles has a bit of an injury history, dating back to his high-school days. Multiple lower-body injuries have sapped some of his athleticism, and he's still a fluid, jumpy big who can feast in transition. The intrigue lies in his on-ball skill; he's quietly one of the better passing big men in the league already. There's some serious "throw-it-to-him-in-the-high-post-and-let-him-do-stuff" potential waiting to be untapped. If the Rockets are serious about adding some optionality to their half-court attack -- and want to take a young flier -- Giles is a nice place to start.