If you weren't in the Miami Heat's locker room to begin this season, there's almost no chance you saw their run coming.
This is a team that has believed all along they could win a title. Their initial 24-8 start was a wakeup call for the rest of the league; the bubble run, as weird as the circumstances around it were, further validated their self belief. There were hiccups and changes along the way -- injuries to key starters and trade-deadline deals led to a fundamental shift in the way the Heat played defensively -- but ultimately those changes paid off. Being two wins away from a title in Year 1 of the Jimmy Butler Era is a massive success.
Now, the fun part begins.
The Heat aren't catching teams off guard next season. They aren't a plucky "if-things-go-right" fringe contender anymore. There are real external expectations now, and Butler is helping fuel those fires. There's obvious room for improvement, but the Heat are going to want to be careful about how they improve. Their trade for Andre Iguodala, Jae Crowder and Solomon Hill gives them the flexibility to generate up to $22 million in space this summer after renouncing cap holds. The always-informative Keith Smith has a more thorough breakdown of their cap situation, which you can find here.
So, yeah, the Heat can make a big splash. Will they? I wouldn't hold my breath on it. Most of the players good enough to warrant that kind of money will be looking for multi-year deals, which could cut into the Heat's heralded 2021 cap space. Staying over the cap and mostly running it back would give them a pretty strong roster, while also giving them a more lucrative mid-level exception to add help.
Let's take a look at some guys they'll look to bring back as well as some targets that could help them come back stronger than ever.
Key In-House Decisions
Goran Dragic: Bring Him Back
If you're looking solely at on-court factors, there's an argument for the Heat to let Dragic walk. He'll be coming off a foot injury, one that could hinder his already limited mobility defensively. That's on top of the natural decline Dragic will suffer from as he turns 35 years old next season. With Butler, Bam Adebayo and Tyler Herro to soak up a lot of on-ball usage moving forward, and Kendrick Nunn having a claim to reps if he returns to form (or isn't traded), there's a case to be made that the Heat should focus more on bolstering their perimeter defense.
Even with those concerns, Dragic is still a good player. He was one of the NBA's most prolific bench players. His pick-and-roll chemistry with Adebayo has become a half-court staple for the Heat. Beyond that: everyone, and I mean everyone, loves Dragic. It's hard to overstate how much Dragic has meant to the Heat as a pillar of the Post-Bosh Era. He's going to be back unless something egregious goes down in contract talks.
Jae Crowder: Bring Him Back
Crowder was simultaneously who we thought he was, but also a little better than expected. He's been a streaky shooter for his entire career; only once, in 2016-17 with the Boston Celtics (39.8 percent), has Crowder shot above league average from three. Crowder converted nearly 45 percent of his triples during the regular season, then shot 40 percent on 8.3 attempts through the first two rounds of the playoffs. Those numbers plummeted throughout the rest of the run (29.1 percent on 7.2 attempts), but he provided his usual brand of gritty defense to offset some of the cold streak. There's mutual interest between the two. I'd expect a 1+1 with a team option on the back end.
Derrick Jones Jr.: Let Him Walk
Jones Jr was a fun find. After being exiled by the Phoenix Suns, the Heat gave him a shot and deployed him as a frontcourt spark plug off the bench. He quickly came on as a rim-roller, offensive rebounder and a surprisingly versatile defender. His complete lack of on-ball skill caps his ceiling, and the jumper just hasn't come around. As exciting as he can be, he's an actively harmful offensive player on balance, and the defense isn't good *enough* to justify a consistent role in games that matter. Working a sign-and-trade to a new team for a second-rounder or two could be beneficial for both parties.
Meyers Leonard: Circle Back Later
It's hard to get a gauge on Leonard's market. On one hand, he was a starter for most of the season before an ankle sprain took him out. He provided value as a shooter (41.4 percent), albeit on low volume. He was the vocal quarterback of Miami's drop scheme, and his size helped Adebayo avoid more physically taxing matchups during the regular season.
On the other hand, Leonard was a relative on-court non-factor during the postseason as the Heat went smaller. It's hard to argue for a deal worth more than $10 million, but his proficiency as a starter gives him a little more than "vet minimum" status. I expect him and the Heat to find a middle ground after they look at some other big man options.
Solomon Hill: Circle Back Later
Hill was the inverse of Miami's other trade acquisitions. He didn't see much of a role during the regular season, then was thrust into the rotation as a small-ball 5 (!) during the Eastern Conference Finals. Hill is a fine defender, spotty shooter and Anime enthusiast. He should still be available once the Heat do their shopping elsewhere.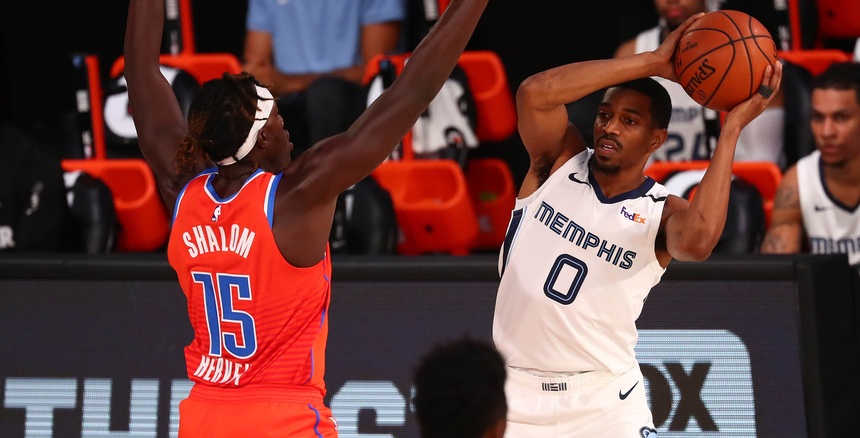 Free Agent Guards

Cap Space Option: De'Anthony Melton*
It's tempting to look into Raptors free agent Fred VanVleet, the best point guard on the market and someone who would solve all of Miami's point of attack issues while adding value as a shooter and secondary creator. Melton is flat-out worse offensively. The jumper isn't there outside of corner looks. There's some pick-and-roll craft worth exploring (54th percentile in passes out of pick-and-roll, per Synergy), but he should firmly be in the secondary attacker role.
However, Melton is an absolute hound defensively. He can shut the water off both guard spots, and has the length (near 6-foot-9 wingspan) to bother some 3s in a pinch. If you have faith in him becoming a reliable spot-up guy beyond the corners, he's the kind of young guy you make the gamble on.
Memphis will look to retain Melton as he's a restricted free agent, but other teams will come calling. There's an obvious fit in Atlanta alongside Trae Young, for example. Offering something like a 4-year, $45 million offer for Melton may be enough to pry him away, while still leaving just enough wiggle room to offer a star a max contract next year, depending on what the cap does.
Mid-Tier Option: Jordan Clarkson
Clarkson is coming off of, by far, the most efficient season of his career. He gave the Jazz a much-needed scoring punch once he arrived, averaging 15.6 points with a 56.9 True Shooting percentage during the regular season. Both of those marks increased (16.7, 57.7) during Utah's first round showdown with the Denver Nuggets.
Clarkson trading out some of his pull-up long twos for threes went a long way to making him a more efficient option. If the Heat end up looking for a Dragic replacement, Clarkson should be at the top of the list.
Bargains: Austin Rivers
Rivers brings a particular brand of energy offensively. He's one of the NBA's underrated drivers, utilizing a quick first step and channeled aggression to generate looks at the rim. He isn't much more than a rudimentary playmaker, but his north-south style would be a welcomed addition to the Heat bench. He's also a reliable spot-up threat, drilling nearly 38 percent of his catch-and-shoot threes over the past three seasons, according to a source with access to Second Spectrum tracking data.
Free Agent Wings

Mid-Tier Options: Wes Matthews, Justin Holiday
There's a case to be made that Matthews could accept another minimum deal from a contender, either remaining in Milwaukee or going elsewhere. There's an even stronger case to be made that he's earned himself a pay day.
Matthews routinely took on the most demanding perimeter defensive assignments throughout the regular season, while knocking down over 36 percent of his threes on decent volume. He then upped the ante in the postseason, something that the Heat -- and Butler -- got a firsthand look at. There's an obvious Marquette connection at play; adding Matthews would boost Miami's perimeter defense while delivering a blow to the Bucks.
Holiday is more 3-and-Decent than 3-and-D, but he's coming off the best shooting season of his career (40.5 percent from three-point range on 4.5 attempts) while being a credible option against 2s and 3s. He's certainly worth a portion of the MLE if it comes down to it.
Bargains: Garrett Temple*
Temple would give the Heat a plus, multi-positional defender with a solid three-point stroke (35.3 percent over the past five seasons). The asterisk is present because the Nets hold a team option, though it'd come as no surprise if they let Temple walk to free up tax room to bring back Joe Harris.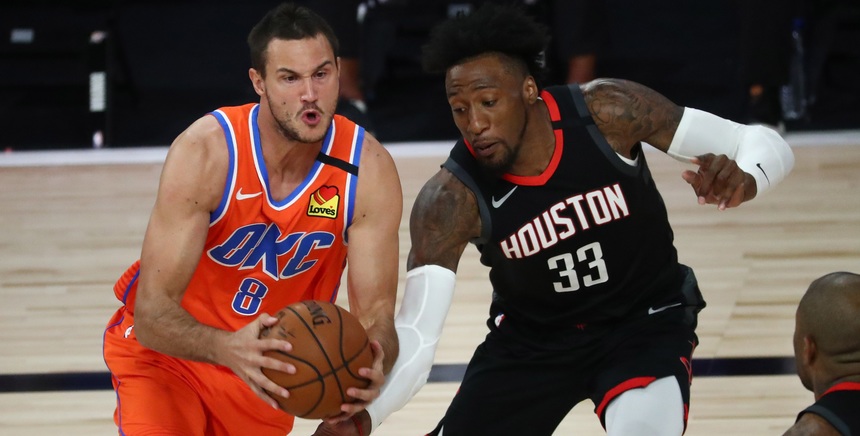 Free Agent Forwards

Cap Space Option: Danilo Gallinari
Gallinari was pretty close to being a member of the Heat this season, though talks allegedly broke down over a post-trade contract extension. Gallinari is one of the NBA's most underrated scorers, able to get buckets from all three levels and live at the free throw line when attacking mismatches. He may prioritize winning over dollars this offseason per his own words, but the Heat have a pathway to outbidding all non-Thunder playoff teams this summer. A high-dollar 1+1 deal could get things done.
Mid-Tier Options: Jerami Grant, Paul Millsap
Grant was one of the breakout-adjacent ballers of the bubble, providing value as a shooter, cutter and multi-positional defender. Firecracker athletes with off-ball value and defensive versatility are hard to come by. He could realistically cash in with a team with cap space (hello, Atlanta, again), though he'll have plenty of interest from playoff teams. The Nuggets are in the lead, but tossing the full mid-level at Grant would be a smart play. Similar to Melton, a multi-year deal in the $9-10 million per year range would still allow the Heat to have room for a max slot next season.
If not Grant, going for Millsap could be a cheaper but just-as-fruitful option. He did look a bit washed at points during the postseason, but still managed to defend Anthony Davis as well as nearly anyone while filling the gaps offensively. I'd argue that Millsap has a bit more in the tank than it would appear; operating as the backline defender in Denver's aggressive pick-and-roll scheme puts a lot of strain on those old bones. He would be surrounded by better defenders in Miami, and there's enough scheme versatility to where his responsibility would be much lighter.
Bargains: Mo Harkless, Luc Mbah a Moute, Anthony Tolliver
Harkless was a member of the Heat for about 27 minutes as part of the Hassan Whiteside trade before getting redirected. He's a credible defender of 3s and 4s, though his jumper has always been the swing skill of his effectiveness. He's never been a high volume guy and even with that caveat, he has shot over 35 percent from three-point range in just three of his eight seasons. He can provide value as an eighth man during the regular season.
Mbah a Moute has fallen victim to his own body, with injuries derailing his last three seasons. It's probably far-fetched to expect his 2017-18 form, but he could serve as a nice "break-glass-in-case-of-emergency" defender during the season.
Tolliver is a Professional Good Person whose on-court value comes almost entirely from beyond the arc. You can do a whole lot worse than a career 37.3 percent three-point shooter.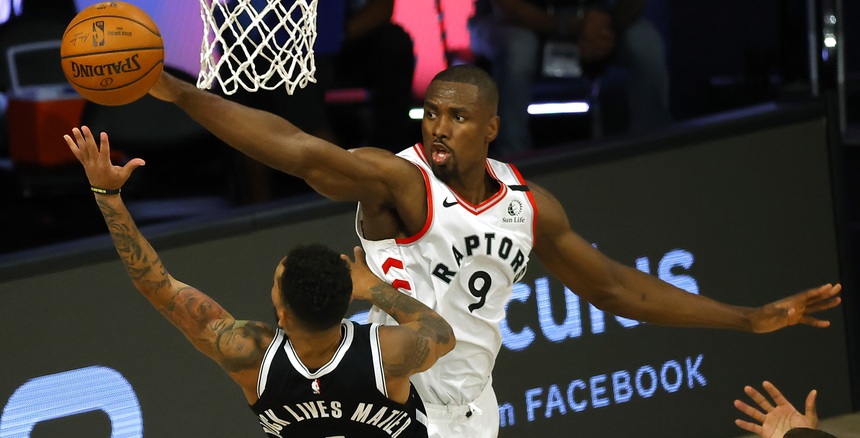 Free Agent Bigs

Big Money: Serge Ibaka
If you're looking for an ideal frontcourt partner for Adebayo, he has to have the size to bang with true centers, or perimeter shooting ability. Both would be preferred of course, but one of those qualities have to be present. Ibaka comes with more of the latter, but he has been a fearsome rim protector for nearly his entire career.
It would likely take a sizable 1+1 deal, but an Ibaka-Adebayo frontcourt could be worth it. Ibaka would operate as the 4 on offense, working pick-and-pops and floating around the perimeter while the other Heatles work downhill. He would serve as the 5 on defense, hanging around the rim in the Heat's drop scheme, or roaming the paint as part of their zone.
Mid-Tier Option: Aron Baynes
Factoring in money, it's hard to argue against Baynes being one of the most valuable centers in basketball last season. He did the usual grunt work: setting bone-crushing screens as a roller or handoff partner, protected the rim with superb positioning, and boxed out well enough to help end possessions or grab the board himself. The new, somewhat surprising twist is that he became a legitimate three-point option (35.1 percent on 4.0 attempts per game). Stretch-ish fives are hard to find; the fit next to Adebayo is pretty darn seamless.
Bargains: Harry Giles
Giles has a bit of an injury history, dating back to his high-school days. Multiple lower body injuries have sapped some of his athleticism, and he's still a fluid, jumpy big who can feast in transition. The intrigue lies in his on-ball skill; he's quietly one of the better passing big men in the league already. There's some serious "throw-it-to-him-in-the-high-post-and-let-him-do-stuff" potential waiting to be untapped. This would be a smart buy-low candidate to look into.