The basketball world at large expected a "Battle For Los Angeles" in this year's Western Conference Finals, though only one of those teams held up their end of the bargain.
The Los Angeles Lakers are humming, led by the two-headed-monster attack of LeBron James and Anthony Davis. On the other side, the Denver Nuggets continue their Series of Sevens. A seven-game slog with the Utah Jazz ended in mayhem. Their seven-game series with the Los Angeles Clippers ended in memes and Twitter shots fired from other NBA stars.
But the Nuggets are for real, headlined by the virtuosic stylings of Nikola Jokic and the big shot-making of Jamal Murray.
I'm not a coach -- I'm just a pun-loving basketball fan with a hankering for film breakdowns. But instead of a traditional series preview, I decided to go into the basketball trenches and devise gameplans for both teams. The tone of this two-part series will be a little more informal, but it will still be informative (at least I hope). In part one, I broke down the Lakers' offense and what the Nuggets must do defensively.
Today, we're focusing on how the Los Angeles Lakers will try to stop the Denver Nuggets' offense.
Defensive Matchups
Kentavious Caldwell-Pope → Jamal Murray
Danny Green → Gary Harris
LeBron James → Jerami Grant
Anthony Davis → Paul Millsap
JaVale McGee → Nikola Jokic
I think you play this one pretty straight. There's no need to have Davis on Jokic if you don't have to. There's room to toggle that matchup if McGee is struggling to play up in pick-and-roll, but it's best to exhaust that option first. Having Davis on Millsap will allow him to roam a little bit anyway.
Top Priority on Defense: Stifling the Murray-Jokic Two-Man Game
The Nuggets go as their top two players go, in what amounts as the biggest "duh" statement of the century.
No pairing in the NBA ran more dribble handoffs than Murray and Jokic, connecting on 428, per a source with access to Second Spectrum tracking data. The Nuggets scored a shade under 1.02 points per possession on trips featuring a Murray-Jokic handoff. Only eight duos hooked up for more pick-and-rolls (751).
The Nuggets may force defenses into death by a million cuts, but it all starts with the Murray-Jokic connection. Slowing that down can grind their offense to a halt, forcing them to make lemonade out of late-clock lemons.
Nuggets' Team Stats (and Denver's stats vs. L.A. in parentheses)
• Offensive Rating: 112.6 (117.9)
• True Shooting Percentage: 56.7 (59.3)
• Assist Percentage: 63.6 (67.8)
• Turnover Rate: 13.9 (12.0)
• Pace: 97.64 (95.76)
• Free-Throw Attempts: 20.9 (23.0)
• Free-Throw Percentage: 77.7 (84.8)
• Three-Point Attempts: 30.6 (27.3)
• Three-Point Percentage: 35.9 (37.6)
• Offensive Rebounds: 10.8 (9.3)
Nuggets' Play Type Breakdown

Defending Nikola Jokic
Jokic has solidified himself as the best center in the league this postseason. Skilled out the wazoo, he can score at all three levels and an argument can be made that he's the best passer in the league. He torched an All-World defensive center in round one and mashed a more versatile (but smaller) defensive unit in round two. Discipline is going to be the key to slowing him down.
Major Keys
1. Don't help the bigs
Sounds like a risky proposition, right? Jokic is one of the league's best post players, ranking in the 86th percentile as a scorer (1.06 PPP) during the regular season, per Synergy. He's got great touch with either hand, superb footwork and a high release point on fadeaways over either shoulder.
He hasn't had that same success against the Lakers.
The Nuggets generated a paltry 0.57 points per possession on trips featuring a Jokic post-up, according to the Second Spectrum source. That mark dropped to 0.4 when being defended by one of the centers (McGee or Dwight Howard).
Jokic is going to attempt to toss his body around and create angles that way. McGee doesn't have the strength to keep Jokic off his spots, but he does have a 7-foot-6 wingspan to make those finishes tough.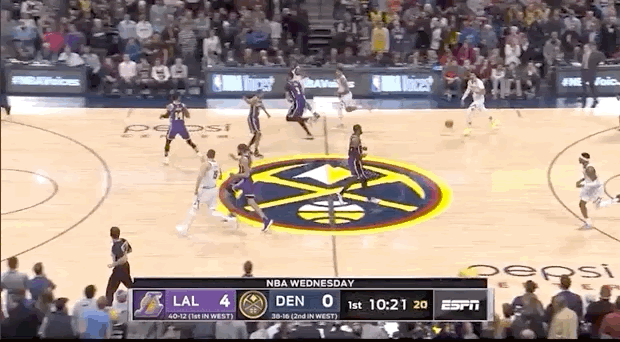 You generally don't want to give up this deep of a seal, but forcing Jokic to finish over the top is a better bet than giving up a catch-and-shoot opportunity if you send help. Howard has long arms as well, and has the core strength to keep Jokic from getting favorable positioning.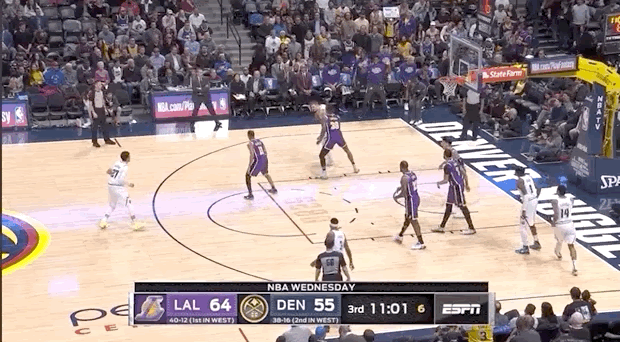 The big thing for Howard will be staying out of foul trouble. He's averaging a career-worst 6.1 fouls per 36 minutes. You can attribute some of that to more freedom (read: aggression) with a smaller role, but this isn't going to be the series for him to be handsy. Absorb the blows, then force Jokic to finish over the top.
Being able to leave the bigs on an island will allow the rest of the defense to key in on random cuts.
2. High, active hands in the passing lane
Speaking of cuts, this is where hands will be important.
Keep. Them. Up.
It's true that Jokic sees passing windows that normal humans can't see, but he's able to fit the ball into tight spaces because defenders have their hands down in pursuit of a cutter.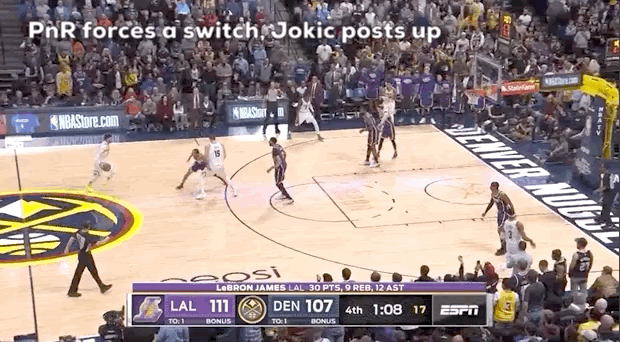 Alex Caruso is caught splitting the difference, and truly has no good option. If he sells out to take away Grant, the corner is left wide open. Jokic makes a great read here, but Avery Bradley does himself no favors by having his arms by his side.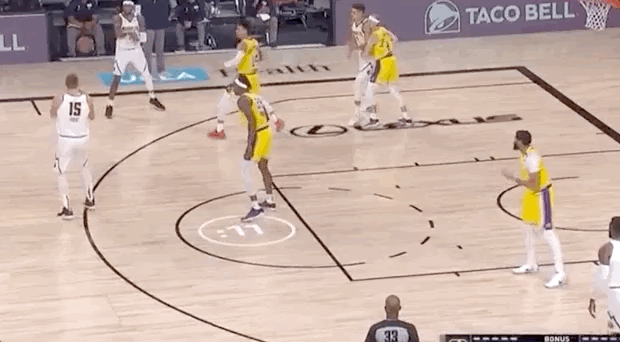 This is much better. The Nuggets try to set up some Flex action with Michael Porter Jr. and Torrey Craig. There's a switch on the screen, which gives Porter inside leverage. Look at how Green gets his left arm into Porter's space, making it a tougher pass to make (and to catch). Caruso gets in on the action as well, ultimately deflecting the ball away.
3. Play the corners
In the event that Jokic is able to draw a small on a switch, the help has to be aggressive and intentional. Jokic's whole schtick is making the defense guess wrong, working the progression of a rotation to stay ahead of the play. Look at this play from last round: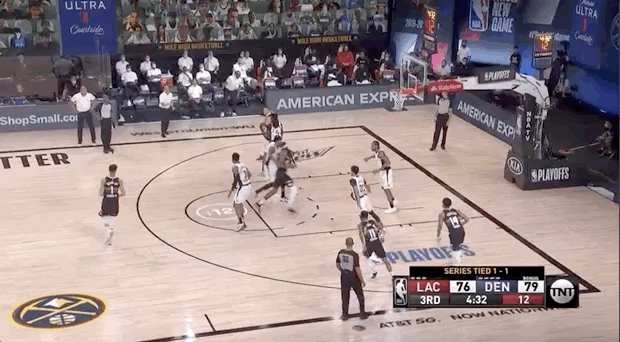 Landry Shamet comes with a double team, which leaves Kawhi Leonard and Paul George defending three players. George rotates down to take away the cut from Grant, leaving Kawhi to split the difference between Monte Morris and Harris.
Jokic senses Kawhi rotating up, so he flings a dart to the corner, which forces the closeout from George and ultimately gives Grant a size mismatch on the block against Shamet.
Whew.
Ultimately, Jokic was banking on the corner opening up. If Kawhi stayed home, the kickout to Morris above the break would've been there, but the Clippers would've had an easier time recovering.
Jokic can make any pass in the book, but he's looking for the rim shot and the corner triple first.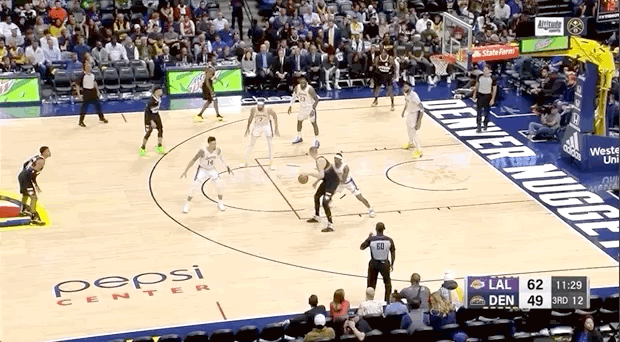 Take away the cut and the corner in those situations and make the Nuggets beat you from farther out.
Defending Jamal Murray
Murray has seemingly taken a leap in this postseason. He's averaging 27.1 points (which ranks second among remaining postseason players) while boasting a 50/49/91 shooting split. He's been carving teams up in pick-and-roll and using his pull-up jumper to set up the rest of his game. Jokic is Denver's best player, but Murray is the head of the snake. Cut him off and the scoring options get stark for Denver.
Major Key
1. Take away his airspace
The Murray-Jokic pick-and-roll is deadly because there's no comfortable way to defend it with two players. Switch the action, and Jokic can bury smalls on the block or Murray can dance against bigs in space. Play a traditional drop, and Murray can step into jumpers.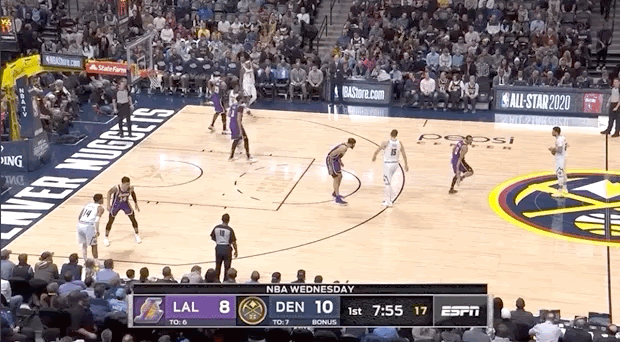 The Nuggets are generating a shade over 1.04 points per possession on trips featuring a Murray-Jokic pick-and-roll this postseason, per the Second Spectrum source. That number rises to 1.09 against drop or ICE coverage. Murray's gotten so good at wrong-footing defenders on the wings.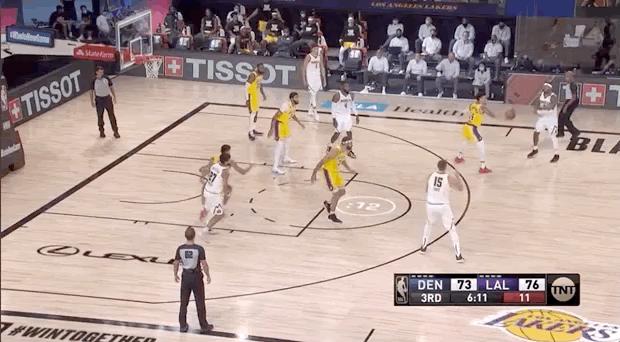 The Murray-Jokic combo against a "show" or blitz this postseason? 0.82 points per possession.
Potentially turning Jokic into a short-roll threat is a scary proposition, but there's going to be opportunities available for strong tags on the roll. LeBron is a menace, as is Davis.
Having either of them roam off a non-shooter (watch the Craig minutes) or a shaky one (Harris and Millsap have been up-and-down all year long, and the latter has a slow trigger) can help slow down the roll enough for the rest of the defense to rotate. The important thing is making sure Murray doesn't see daylight.
Murray has converted an unconscionable 50 percent of his dribble jumpers (38-of-76) out of pick-and-roll this postseason, via Synergy. You can make a bet on regression, but why hope he starts missing when you can try to take away those opportunities altogether?
The same principles should apply in handoff situations. It doesn't have to be an all-out blitz, but at least show high so Murray isn't able to turn the corner.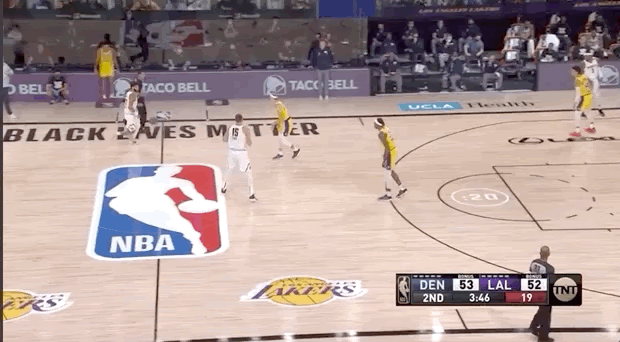 Textbook.
Defending the Shooters (Perimeter)
Gary Harris: Soft close-out.
Harris is starting to get his mojo back this postseason (36.8 percent on 4.2 attempts), but you still don't want him getting downhill. He's always been a great finisher and can get rolling if he's able to attack too many sloppy closeouts. Force him to take semi-contested looks.
Monte Morris: Soft close-out.
Morris has been a disaster of late (28.1 percent this postseason), but is a good shooter with his feet set. Like Harris, he can be tough to deal with when he gets downhill. Unlike Harris, he'll look to beat you with the pass in advantage situations. One of the best decision-makers in the league.
Defending the Shooters (Frontcourt)
Jerami Grant: Hard close-out.
Grant has turned into a reliable spot-up threat (69th percentile, via Synergy), but he still isn't a killer shooter. The value in a hard close-out here is to take advantage of his lack of body control. He's been called for a charge 14 times this season (postseason included), which leads the team and ranks 10th in the NBA.
Paul Millsap: Soft close-out.
Millsap is shooting well this postseason (37.5 percent) but the volume isn't there (2.3 attempts). Slow load-up should allow for a soft close to cut off his space. He doesn't possess the same juice as a driver to make defenses pay. Keep things in front and stall him out.
Torrey Craig: Let him fire.
Craig has made 29.6 percent of his unguarded catch-and-shoot opportunities over the regular season and postseason combined, per Synergy. This is much worse than his clip last year (36.5 percent), and even that clip isn't enough to force a rotation. Ignore him to muck up Denver's other actions.
Nikola Jokic: Hard close-out.
Run Jokic off the line and force him to win on drives. He's not quick enough to beat mobile bigs off the bounce. Again, he'll look to toss his body around to create angles for himself at the rim. Swarm him with length and make him finish over the top.
X-Factor: Paul Millsap
Millsap has long been the security blanket for Denver, operating as the backline savior of their aggressive ball-screen defense and being the fill-in-the-blank option offensively. Spot up? Sure. Post-up mismatches? Sure. Set hard screens? Absolutely.
He's been a bit rickety this postseason, though, looking borderline unplayable during Denver's first-round series against the Utah Jazz. It seems like he's lost half a step defensively, which makes his balancing act on the backline harder.
However, he did look a little better against the Clippers in round two (averaging 10 and 5, while shooting 35 percent from three in 26 minutes per contest), but the Nuggets will need more from him. He's going to be tasked with banging with LeBron or Davis on a lot of possessions. Winning that matchup handedly may force Denver into more Porter minutes for more of a scoring punch. That could be catastrophic for their defense.