Now that we can reasonably discern that Andre Drummond is undecided about his $28.7 million player option with the Cleveland Cavaliers, the prudent thing to do is figure out where he might end up next.
The New York Knicks make a ton of sense, even though Drummond may not be the free agent they covet the most. Back at the NBA trade deadline in February, the Cavs were able to get Drummond from Detroit in exchange for the expiring contracts of John Henson and Brandon Knight and a second-round pick. Incredibly, that was the best offer the Pistons could get for a guy who has led the NBA in rebounding in four of the past five seasons (including the past three).
The Knicks had the means to make a better offer, but under the previous leadership regime of Scott Perry and Steve Mills, their belief was that it made little sense to give up anything for Drummond because he was likely going to become a free agent in the summer of 2020.
New York's new management team led by Leon Rose is quite interested in free-agent point guard Fred VanVleet, but the Toronto Raptors could retain VanVleet by giving him a max contract that would have higher annual pay raises than anything he could get from the Knicks, Pistons, Atlanta Hawks, Charlotte Hornets or any other team that finds itself with max cap room.
If that happens and VanVleet is off the table, what is the best "Plan B" for New York?
The Knicks have Mitchell Robinson at center, but rarely started him last season, and Robinson's laid-back demeanor may not be a fantastic fit with uber-intense new coach Tom Thibodeau. If the Knicks were to commit a majority of their $43 million in cap space to a single player, Drummond would be a good place to start because they will not need to worry about who is going to grab rebounds and defend the paint for the next four seasons.
And despite saying back in June that he planned to stay in Cleveland, Drummond is now hedging.
"I'm at a point now in my career where I spent the last eight years in Detroit, and I'm looking forward to the new start. If it's with the Cavs, fantastic," Drummond told Cleveland.com.
"If" is a strong word in this instance, and a well-informed league source told BasketballNews.com that Drummond is genuinely undecided about exercising his player option.
The NBA and the Players' Association have not yet set a date for the start of free agency.
"Whenever it's time to start, and when that time does come to make that decision, everybody will know," Drummond said. "Right now, I'm a Cleveland Cavalier. In terms of extending, we will find that out when the time comes around."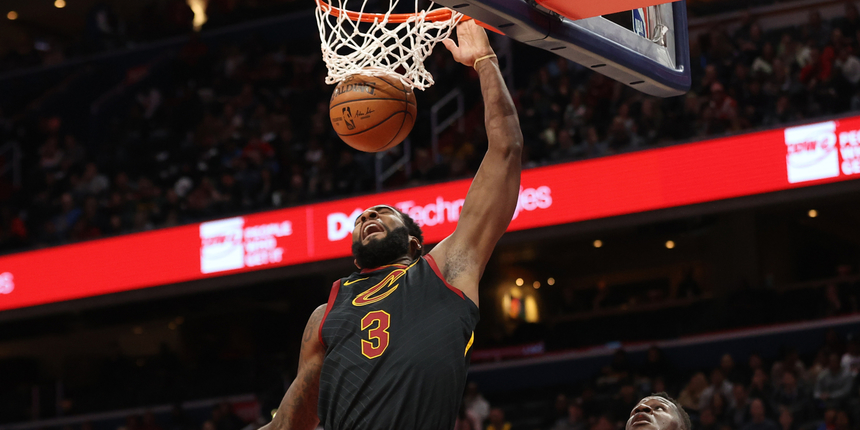 Let's look at the six teams that will have the cap space to conceivably acquire Drummond through outright free agency or through a sign-and-trade with the Cavs:
New York Knicks
The Knicks have the cap space to get this done in Hour 1 of free agency, and they could give Cleveland something back in a sign-and-trade in order to get Drummond the extra season and higher raises that sign-and-trades provide. New York would not have to give up much, but the Knicks could gift a player on an expiring deal (Reggie Bullock, Wayne Ellington, Taj Gibson or Elfrid Payton) to give Cavs general manager Koby Altman extraordinary cash savings -- all four of the aforementioned Knicks players have partially guaranteed contracts with only $1 million apiece guaranteed. It should also be noted that Drummond was born in Mount Vernon, NY, and played college ball at UConn, so a move back to the New York metropolitan area would make sense from that perspective.
Charlotte Hornets
Michael Jordan needs a big man to augment a guard-heavy roster with last season's two leading scorers, Devonte' Graham and Terry Rozier, playing the same position. With Bismack Biyombo becoming a free agent, Cody Zeller is slated to be the starting center next season. But if Drummond signed on, Zeller would become an asset that Mitch Kupchak could use in the trade market. The Hornets will have roughly $30 million in cap space this summer, and Nicolas Batum's $27.1 million contract comes off their books after one more season.
Detroit Pistons
The Pistons are not using their cap space on a guy they just traded.
Atlanta Hawks
The Hawks are building what could become a very good team and they have a three-man nucleus of Trae Young, John Collins and Clint Capela to build around. And since Drummond and Capela play the same position, that would be what we call a conceptual complication. The Hawks would be better off shopping from among the other available free agents ranked in this column by my colleague Spencer Davies.
Miami Heat
The Heat will have plenty of cap space if Goran Dragic and Jae Crowder sign elsewhere as unrestricted free agents, but Bam Adebayo is their center, so this does not make all that much sense unless Adebayo moves to the power forward position. But that would still leave the Heat without a point guard other than Kendrick Nunn, and without a 3-and-D guy (although Crowder is more easily-replaced than Dragic).
Phoenix Suns
The Suns' cap space is largely contingent on whether they pick up team options on Frank Kaminsky, Cameron Payne and Cheick Diallo. If they decline those options, they have roughly $30 million to play with -- but they also have a center, Deandre Ayton, whom they drafted No. 1 overall two years ago, so Drummond really isn't a fit.
Drummond is spending his offseason working out in Miami, making trick shots with Oreos and engaging in a Twitter challenge with Aaron Gordon as part of the GotMilk? marketing campaign. He did not attend the Cavs' most recent bubble mini-camp.
To those who argue that the center position has become devalued in today's NBA, he makes this argument in the Cleveland.com article.
"In terms of the big man position dying, I don't think that's a real thing. I think it's more of just, you know, people not knowing basketball or paying attention to what is going on," he said. "The big man is coming back. You look at the perennial bigs, we've got [Nikola] Jokic, Joel Embiid, myself, [Kristaps] Porzingis, [Jusuf] Nurkic... go down the list of bigs that are playing really, really well or holding their own at the position. The do-a-little-of-everything style is the new evolution of the big man on the court."