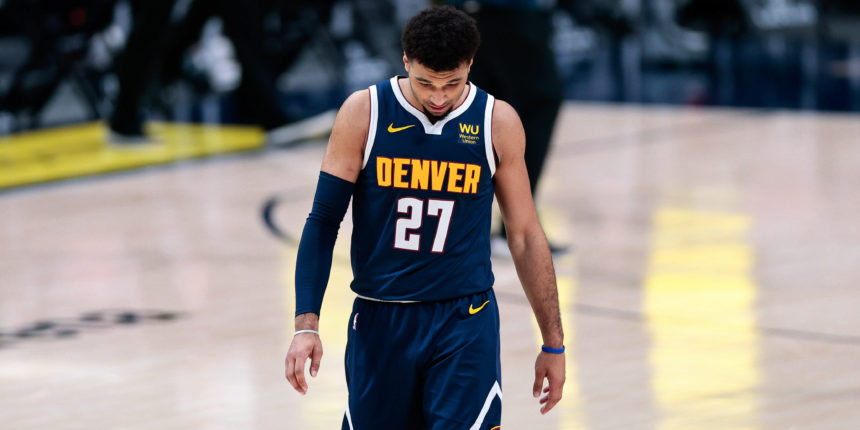 On Jamal Murray, a lost season and the Nuggets deserving better
Not an ounce of luck. Not a scintilla.
And obviously, not a Nugget.
With his team trailing by seven points in the final minute against the Golden State Warriors on Monday night, Jamal Murray watched as Steph Curry hoisted a 28-foot stepback three-pointer that found the back rim.
Perhaps it was the fact that just five seconds remained on the shot clock... Maybe that's why Curry opted to heave the shot rather than whip the ball to Draymond Green, who was 12 feet to his left. Or maybe Curry, who ended up with 53 points, realized that his 18th three-point shot of the night had a good chance of sealing the game, defenders be damned. After all, Facundo Campazzo, Will Barton and many of their teammates had already been resolved to bystanders on a number of occasions. Curry connected on 10 threes to that point.
Whatever the reason, Curry took the shot.
The rest, as they say, is history.
Murray rebounded the miss, opted to attempt a quick score and tore his left ACL on the ensuing play.
"Let's go," Murray said as he skyed for the rebound. He instructed Nikola Jokic and Michael Porter Jr. to beat feet down the floor. Tough but not impossible, the obvious desire was to get a quick two points and preserve his team's opportunity to score a victory.
It's that never-say-die attitude that caused the basketball viewing public to believe in these Nuggets in the first place, and it's exactly why Murray's season-ending injury has caused hearts to bleed.
National Basketball Association, P.D.E.
Strange times we're living in. The Post-Decision Era.
LeBron James took his talents to South Beach, Kevin Durant opted for the path of least resistance and Brooklyn became the epicenter of the league's talent arms race. In a world where MVPs conspire to join forces, it stands to reason that there will be fewer and fewer occurrences of teams being given the opportunity to grow organically and congeal.
In that regard, the Nuggets are in the minority.
Led by Jokic and Murray, Mike Malone's team became the first in NBA history to erase a 3-1 series deficit twice in one postseason. The world bristled as Porter voiced his displeasure with a small role during the playoffs, but all he's done since then has been prove that his bite is just as sharp as his bark.
Coach of the Year, Most Valuable Player, Most Improved Player... These Nuggets have put themselves in every conversation worth having this season. And with the addition of Aaron Gordon, the world, at least the basketball world, was interested in seeing if he could be the piece to put them over the top.
Now, it seems that we'll all have to wait at least a year to get the answer, and it just doesn't seem fair.
Nikola Jokic and Aaron Gordon...

Who would've thought? pic.twitter.com/gZ6KnsIuQA

— Joel Rush (@JoelRushNBA) April 8, 2021
If there's something to take away from Murray's sudden season-ending injury, it's this: success in the NBA isn't necessarily promised to a team that seems to have all the ingredients. Dumb luck or good fortune, somehow, always end up factoring in, as well.
Winning a championship is hard. Not too long ago, the Boston Celtics had Kyrie Irving, Gordon Hayward, Al Horford, Terry Rozier and Marcus Morris on one roster, and they all played with Marcus Smart, Jaylen Brown and Jayson Tatum.
They won as many championships as me.
Once upon a time, Russell Westbrook, Serge Ibaka and Reggie Jackson flanked Durant and James Harden. And before them, the late, great Kobe Bryant ran beside Pau Gasol, Dwight Howard, Steve Nash and Metta World Peace. Throughout modern history, we've been served constant reminders of the fact that collecting talent doesn't necessarily guarantee a success story.
Indeed, dumb luck tends to rear its ugly head at the most inopportune times, and often, impacts those who seem to "deserve" it least. And that's not to say that any player or franchise "deserves" to have a season derailed, but in the 10 years since Carmelo Anthony decided to pursue his goals in New York, the Nuggets struggled a bit before eventually figuring things out.
George Karl and Brian Shaw held the clipboard before Malone got his opportunity, while the likes of Ty Lawson and Emmanuel Mudiay were among those who barked out plays before Murray ascended. Jokic had to beat out Kenneth Faried and Jusuf Nurkic to get his shot, but he did, nonetheless.
When you scour the Denver Nuggets organization and you learn the personal stories of so many of those who are responsible for the team's success, you realize that — led by the team's head coach — the common thread connecting them is how they've pulled themselves up by their bootstraps.
Even Tim Connelly, Denver's president of basketball operations, had to take a long road to his chair, beginning his career as an assistant video coordinator after beginning as an intern for the Washington Wizards way back in 1996.
To a man, the Nuggets never had the benefit of taking a shortcut.
No, it was the path less traveled.
So in it all, it seems unfair now that they'll have to continue to take the long road.
In many ways, Denver has come to represent what is good about professional sports — the grind, the natural ascension, the camaraderie, defying expectations — and they also represent a sad truth.
In an instant, it can vanish.
Coach Malone is a fighter, and his team is talented. There's no question that they'll show up every night ready to play. Jokic's MVP odds have increased dramatically, and Gordon will get more offensive reps., but the team's hopes of contending for the 2021 NBA Finals, without Murray, are now pie in the sky.
Capable of becoming champions one day, after one fateful play, the Nuggets will have to wait until next year.
"Jamal is devastated, understandably so," Malone said on Wednesday.
And for the basketball purists who root for small-market teams and organically grown programs?
It's simply impossible to not be.