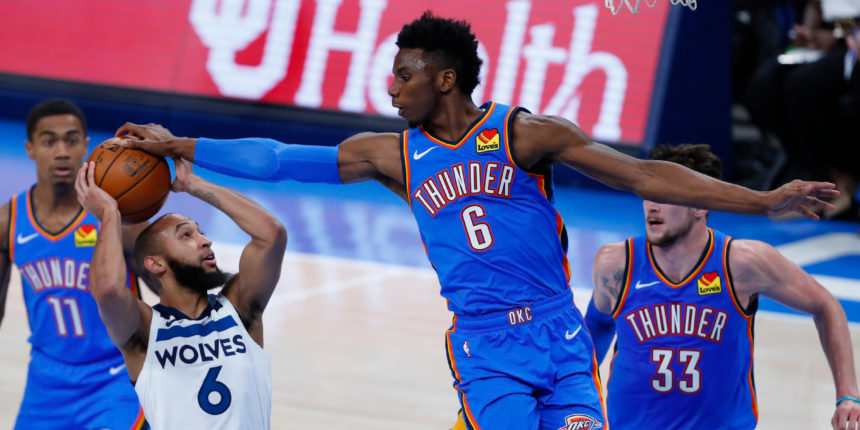 A propensity to out-compete and keep games close sum up OKC's attitude
The Oklahoma City Thunder have been in so many close games in February that you don't even need a calculator to figure out their total margin of defeat and victory. Over their last 10 contests, the team has gone just 3-7, yet they're coming up 6.5 points short on average, even with Shai Gilgeous-Alexander on the sidelines for half the time. And in the first six games of that stretch, every outcome was decided by three possessions or fewer.
Clutch time is defined as a game being within five points, ahead or behind, with five minutes or fewer left in the game. According to NBA.com, OKC has racked up 40 minutes of clutch time since Feb. 5, only trailing the Minnesota Timberwolves (41) in said scenario. It should come as no surprise that both ball clubs, two of the youngest rosters in the NBA, struggle during these moments.
Along with the Wolves, the Thunder have recorded a sub-90 offensive rating, a true shooting percentage below 51% and a turnover percentage exceeding 18% in clutch time. What seems worse is the aforementioned poor results.
It's a bottom-line business when all is said and done, but the truth is that the Thunder are in a development stage of a rebuild, one that, for all intents and purposes, is clearly off to a successful start. When you've had the sixth-hardest strength of schedule to this point and a significantly low net rating, having a 12-18 record in spite of both is a positive sign.
In addition to the foundation -- starting with rising star Gilgeous-Alexander, brimming-with-potential Darius Bazley and fast-learning Luguentz Dort -- there are still plenty of pieces to be added down the line via the draft, all thanks to the cunning brilliance of general manager Sam Presti.
Yet in the present, there's been something much more valuable than roster upgrades can provide for OKC: meaningful experience.
"First of all, it's great," said Thunder head coach Mark Daigneault. "At the end of the day, most teams in the league are gonna play half their games where [there's] five minutes left in the game and it's still gonna be a really competitive game. A skill that I think every player and every team has to develop is the ability to execute on both ends of the floor in a possession game like that. When you get to the highest-stakes games, even if the playoffs, the window of time that the game is like that is even more evolved. It's huge to be able to go through those situations and to see how guys respond and teach from those moments.
"I think we've handled them pretty well. I think we've put ourselves in positions to win some, and even the ones that we haven't come out on top, I think our execution in a lot of those [games] have been good. Our guys have taken the lessons and evolved forward and we're a more confident team when it comes to executing in those moments."
Daigneault concedes that the Thunder took their share of thumpings earlier in the season, as pretty much all of the NBA has this season already due to the nature of the campaign. However, the first-year head coach credits his players for keeping their heads up and fighting through it, which is why OKC has been involved in so many recent tight encounters.
"We just kinda keep playing. As of late, we've been really, really competitive. We keep playing through the schedule and we keep playing through the game," Daigenault said. "We've got a group of guys that see adversity as a challenge, so when they get knocked down they dust themselves off and they get back up -- especially when the competition is still going on. Competitiveness is a learned skill, and we've got a group of guys who have that type of makeup and have sharpened that blade and have found energy from competing together in those moments. We're certainly fortunate to be able to coach these guys."
I don't give a damn that OKC's lost 4 out of 5. This team is fighting tooth & nail & will benefit long-term from these close losses. #ThunderUp

Subscribe to Keepin' It 94 🎙️

Apple 🍏: https://t.co/RrwjmQqEaV
Spotify: https://t.co/fcdTWlK2Bz
Stitcher: https://t.co/Sdq8uPiD3f pic.twitter.com/jDNwKBmShE

— Spencer Davies (@SpinDavies) February 17, 2021
Every talking point Daigneault gets across with his group comes back to the word "compete," and the players follow suit. Upstart rookie Theo Maledon and breakout third-year swingman Hamidou Diallo relay that the close losses have taught them how important it is to maintain their energy for a full 48 minutes of a game. Mike Muscala, a veteran stretch big man in his seventh season, went into more detail on this concept.
"It just comes down to treating each possession like it matters -- being focused offensively, defensively, staying aggressive," Muscala said. "There's gonna be nights, periods of the game, periods of the season where shots are falling and things are good and vice-versa. So it comes down to having good habits, being there for each other, supporting each other, playing good defense and resting our hat on that on the effort side of it. Coach is preaching it a lot; we can always control how much we're competing. If you do that throughout the course of the season, you can live with the results.
"...I think if you treat it that way, it humbles you and it balances things out so it's not so up-and-down. If you're focused on that current possession... you can look back on the film after the game and see what went well and what didn't. But if you're focused on each possession, you don't have as much time to dwell on what happened in the past or look too far into the future. And I think throughout this season being 72 games [with] all the COVID-related uncertainties and whatnot, just finding some solace in the game and in the present moment. Coach Mark does a great job of that, making sure we stay grateful for the opportunity to play and try to get lost in the game being there for each other."
Needless to say, Daigneault has been grateful for Muscala and the other veterans on his team for their commitment since the 2020-21 campaign tipped off. Guys like Al Horford, George Hill, Darius Miller and Muscala have been not only coachable, but also teachers to Daigneault himself and the team as whole when they need a guiding hand.
"The most important thing in what they do is in terms of 'walking the walk.' When you have a young team in the locker room, these guys are trying to figure out where they fit in, figure out how to act, how to prepare, how to play," Daigneault said. "Their eyes are opened, especially with guys like Al and George and Mike and Darius. We have a lot of impressionable players because they're really young in their careers, so those [veteran] guys really are an unbelievable walking example of professionalism, of preparation, of maturity and then going out there and playing winning basketball. They have winning habits, they're highly fundamental, they're ruthlessly consistent. Fortunately, we never prompt guys to feel like they have to take a vocal role on, but those guys have offered that up.
"They've really tried to put their arm around guys. They're especially good in huddles in the games -- because the games can be emotional and especially for a younger team, the emotion of the game can get kinda volatile at times -- and they've been through so many battles that they're a real calming influence in the huddles and on the court. That's been a secondary benefit to the fact that they're also really good players."
There's been an encouraging domino effect to come out of this latest string of games. While Maledon can recollect times where he's been pulled aside by one of his vets for a lesson, he instead chooses to put the spotlight on how there's not one singular group or person who is the leader of the Thunder.
"The good thing about this team is everyone is doing it, no matter if it's Al or the guy that's not a veteran that only has a couple years in the league," Maledon said. "Every time we see something, we talk to each other, we hold ourselves accountable for mistakes... That helps us move forward and correct the things that we made mistakes on and do the right thing after."
Even Gilgeous-Alexander, OKC's superstar in the making, has to agree with that notion.
"It's been fun. I don't really see myself as the lone leader of this team," Gilgeous-Alexander said. "There's so many guys that step up, whether it be verbally or on the court. I think we have a group of guys that are so selfless that there's no designated leader. We just all want the best for each other, and we all do the right thing in the right moment.
"And that's one of the things that Coach says. A leader's not the oldest guy or the most talented player, it's the guy that's doing the right thing at the right time. And we have so many guys that are like that, it doesn't really put pressure on me to be the leader or the vocal leader or whatever it may be."
This rebuild is right on schedule.