Once upon a time, Scott Brooks was Russell Westbrook's coach in a different city on a different team. And one time, they found themselves together aboard an airplane going from Oklahoma City to Los Angeles.
Brooks was sitting in first class, and Westbrook was in coach. Brooks asked Westbrook, why was he sitting in the back of the airliner when he could easily afford first class? Westbrook answered: "Why should I spend an extra $300 to sit up front? We're both getting to L.A. at the same time..."
"He is as cheap as… I don't know if I should say that. He is frugal," Brooks recalled as the Washington Wizards introduced their new superstar on a Zoom call Saturday, just days after acquiring Westbrook from the Houston Rockets in the NBA's latest blockbuster trade.
Westbrook will now be playing alongside another star in Bradley Beal for a franchise that has been down on its luck for decades. The Wizards haven't won 50 games or made the Conference Finals since the 1970s. Their lack of success in some years would make Knicks fans even laugh at their misfortune.
But that could start to change, now that Westbrook will be playing with the re-signed Davis Bertans, second-year forward Rui Hachimura and center Thomas Bryant -- a starting five along with Beal that is probably a little better than the middle-of-the-pack in a so-so Eastern Conference.
Westbrook sat on the sidelines Saturday and watched Brooks run players through individual workouts, and called out to him at one point: "Hey coach, you're still running the same stuff."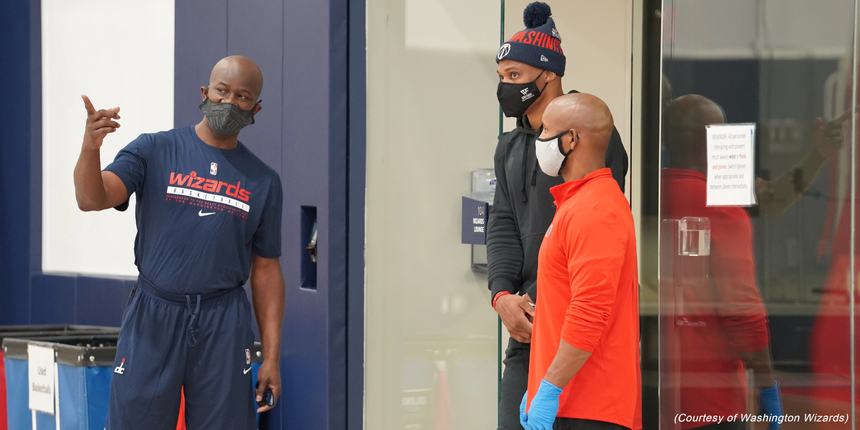 Brooks was Westbrook's coach in Oklahoma City for seven seasons, and he is about to be beginning his sixth season as head coach in Washington. He is getting a player in Westbrook who has been a statistical machine throughout his career, but who has never won a championship – something that some might think eats at him, although he insists the contrary is true.
"Most people don't know what I'm about or what I believe in," Westbrook said. "Being myself, I can be loyal and genuine, but me being a good person as a teammate a person and a father, that's the most important part of me. I worry about impacting and inspiring kids and children around the world."
He will wear uniform No. 4 in Washington after wearing No. 0 throughout his career, explaining that No. 4 was his number at UCLA and he could neither get it in Oklahoma City nor in Houston because Nick Collison and Danuel House already had it when he arrived to each franchise.
Westbrook said he was especially appreciative of having Brooks as a coach in his early years as a pro because many coaches do not allow younger players to learn through their mistakes. That was not the case with Brooks, who was his usual cheerful self as he put the Wizards through their final day of individual drills. Westbrook will be on the court Sunday when 5-on-5 practices begin.
"Russell is going into his 13th season, and some of the guys on this team were literally 8 or 9 years old when he was making a name for himself," Brooks said. "When a guy like that walks into a room, you know that guy is different."
Westbrook and Brooks have kept in close touch through the years, and Brooks laughed when telling how Westbrook's 20-year-old-self isn't exactly the same person he is now, married with three children. For his part, Westbrook said the most challenging part of the trade was moving his wife and children to the D.C. metropolitan area and finding them a new home and new schools.
Brooks said he envisions an offense in which Westbrook can dominate the ball and find four different shooters spotted up around the court, but that the main challenge will be on defense. Washington allowed 119.1 points per game last season, second-worst behind the Atlanta Hawks (119.9).
If Westbrook can lead by example, the Wizards' younger players will be better off.
"The best thing a vet can teach a young guy is by doing it yourself. It's like kids watching their parents," Brooks said. "He knows when to put an arm around someone, and he knows when you need correction.
"You cannot put a price tag on that."