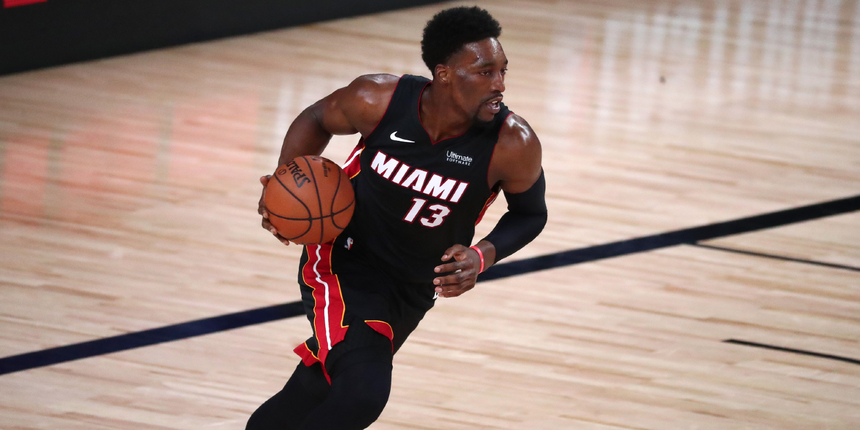 Bam Adebayo (neck) will return to lineup
Update: Bam Adebayo WILL play tonight for the Heat.
Source: Tim Reynolds of AP Sports (Twitter)
Update: According to ESPN's Adrian Wojnarowski, Miami Heat big man Bam Adebayo (neck) is "planning to return" for tonight's pivotal Game 4.
Source: Adrian Wojnarowski of ESPN (Twitter)
Original report: Bam Adebayo might be on his way back to the NBA Finals.
Adebayo, Miami's All-Star center who missed Games 2 and 3 of the title series against the Los Angeles Lakers with a neck strain, is now listed as questionable for Game 4 on Tuesday night. The Heat made that determination Monday, while continuing to list fellow starter Goran Dragic as doubtful with a torn left plantar fascia.
"I'm trying to get back as quickly as possible," Adebayo said Monday before the Heat upgraded his status. "They're just trying to make sure I'm safe and I'm ready to play. It's really day-to-day. When they say I'm ready to play, I'll be out there."
Source: The Associated Press (ESPN)
ANALYSIS: After an impressive Game 3 win over the Los Angeles Lakers, the Miami Heat will welcome the return of Bam Adebayo to the lineup after missing the past two games. There was speculation that Adebayo would return for Game 3, but ultimately the medical staff held him out.
Adebayo has been a big impact player for the Heat during their postseason run with averages of 17.8 points and 10.9 rebounds per game in about 36 minutes on the court. With Adebayo back on the court, the Heat have to like their chances of tying the series up at 2-2 on Tuesday.