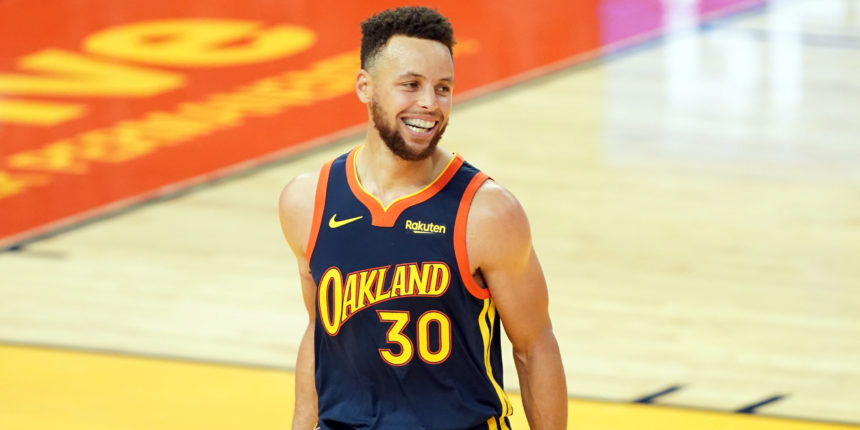 Curry credits conditioning for streak: 'You're going to tire other guys out'
Stephen Curry has been on fire this month, so much so that he's being mentioned as a possible NBA MVP candidate even though the Golden State Warriors have the ninth-best record in the Western Conference at 29-30.
This month, Curry is averaging 38.7 points, 6.3 rebounds, 4.7 assists and 7.5 threes while shooting 52.3% from the field, 47.1% from three and 91.1% from the free throw line.
Before an off night in Washington, he scored 30+ points in 10 of 11 games (including five outings with 40+ points and a 53-point performance). Curry knocked down 78 three-pointers, which is the most in any 11-game stretch in NBA history. Some have argued that this was the best stretch of his NBA career, which is saying something considering he's a two-time MVP (and he was the first unanimous MVP in NBA history).
During that stretch from March 29 to April 19, he averaged 40 points per game and shot 55% from the field, which no player had achieved since Michael Jordan did it 31 years ago.
This week, Curry was a guest on "The Rex Chapman Show," and Rex asked how he managed to put together that ridiculous stretch, especially at his size (since he doesn't have the physical traits and athleticism that Jordan had).
"A lot of it is probably hand-eye coordination, footwork and all of that," Curry said. "I mean, as a shooter, you're blessed with a certain level of just natural skill, and then you add to that with the work and the reps and the pursuit of perfection in that respect. But a big part of it, too, is the conditioning aspect of the game. I was watching some old-school Pistons-Nuggets game, it was the highest-scoring game in NBA history in, I think, the early ['80s], and I was just watching the pace in that game and analyzing it, and I'm like... I cover so much more ground in an average game than what I just watched in that Hardwood Classics [game].
"And a lot of that is to my advantage because there are a lot stronger, faster, more athletic guys out there -- especially defenders that try to make your life miserable out there -- but I try to counter that by never staying in the same spot for more than a second and covering as much ground as possible and never getting tired. Over the course of my 34-35 minutes that I play in a game, you're going to tire other guys out and you're gonna find more space, on top of just using your ball-handling and court awareness and IQ and all of that stuff.
"But the biggest piece for any young kid who's playing the game is: be comfortable with who you are as a basketball player. I had some temptations of, 'I wish I could just dunk,' or, 'I wish I could just drive down the lane and...' You always get fascinated by what you can't do. I see LeBron and I'm like, 'I wish I could do some of the stuff that he does physically.' You can get wrapped up in that and distracted by that, but at the end of the day, I am my own type of basketball player and I gotta do what I can to be successful."
Check out the full 50-minute interview with Curry above!