Kyle Lowry or Rudy Gobert, anyone? Or perhaps, Victor Oladipo or Andre Drummond?
Assuming that Kawhi Leonard is going to come off the market by signing an extension with the Los Angeles Clippers, similar to what Paul George just did, the unrestricted free-agent class of 2021 got depleted in an extraordinary way yesterday with the news that Giannis Antetokounmpo is signing his five-year, $228 million supermax extension with the Milwaukee Bucks.
Any team hoping to save space for an offseason spending spree just got kicked in the gut. And as a result, there is probably going to be a huge benefit for a class of restricted free agents who will be able to cash in as a result of the dearth of available veteran talent.
The San Antonio Spurs, New York Knicks, Chicago Bulls, New Orleans Pelicans, Cleveland Cavaliers, Memphis Grizzlies and Oklahoma City Thunder are currently projected to be the teams with at least $50 million in salary cap space if we project a salary cap of $112 million, which would be a slight rise from this year's number of $109.14 million. (There is a bit of guesswork here because the coronavirus pandemic and its economic impact on the NBA over the course of the upcoming season has yet to be determined.)
So those teams were the ones theoretically in the mix for Giannis had the Greek Freak not re-upped with Milwaukee, which finally has a superstar who wants to stay there long-term (take it from a columnist who was a Milwaukee resident at age 8 in 1973 when the Bucks last won a title, but then lost Kareem Abdul-Jabbar to the Lakers because of his distaste for the city.)
"This is my home, this is my city... I'm blessed to be able to be a part of the Milwaukee Bucks for the next 5 years. Let's make these years count. The show goes on, let's get it," Antetokounmpo posted on Twitter.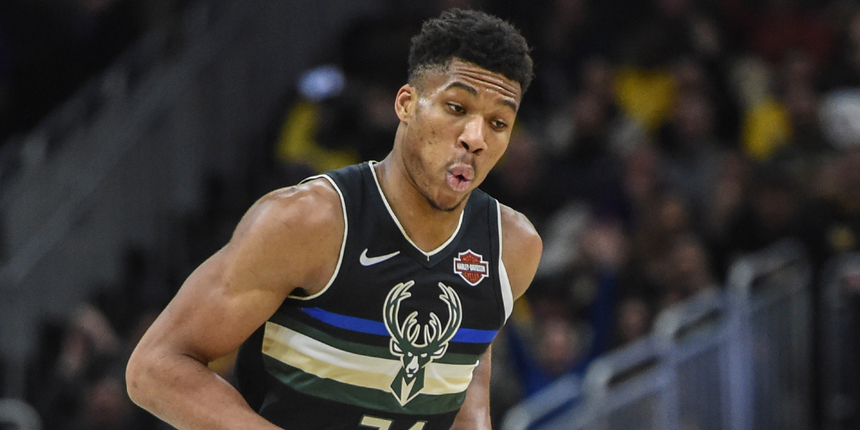 But the Spurs, Knicks, Bulls, Pelicans, Cavs, Grizzlies and Thunder are only the tip of the iceberg as far as cap space is concerned. Teams with significant cap space (not including cap holds on their own free agents) include Orlando, Indiana, Utah, Toronto, Dallas, Miami, Atlanta and Charlotte.
And because teams are required under the Collective Bargaining Agreement to spend at least 90 percent of the cap on player salaries, there will be a lot of money to be spread around a free agency pool that ain't all that deep.
That's where things get rewarding for restricted free agents, a list that includes: John Collins (Hawks), Jarrett Allen (Nets), Devonte' Graham (Hornets), Lauri Markkanen (Bulls), Svi Mykhailiuk (Pistons), Kyle Kuzma and Talen Horton-Tucker (Lakers), Luke Kennard (Clippers), Duncan Robinson and Kendrick Nunn (Heat), Lonzo Ball, Nicolo Melli and Josh Hart (Pelicans), Mitchell Robinson (Knicks), Justin Jackson, T.J. Leaf and Hamadou Diallo (Thunder), Markelle Fultz and Jonathan Isaac (Magic), Zach Collins and Gary Trent Jr. (Blazers), Derrick White (Spurs), OG Anunoby (Raptors) and Isaac Bonga (Wizards).
Not that anyone was going to put together a better team than what the Lakers will put together, but that is beside the point.
Hope is the lifeblood of every NBA fan who does not root for the Lakers, and the hope that a franchise player might somehow come aboard has been lessened considerably by Giannis coming off the market. It takes years and years and years to build through the draft, and it is rare to find a team (although Atlanta comes to mind this season) that has the patience to build slowly, but surely without trying to hit a home run through free agency.
But that will be the new normal in the years ahead, and the teams that have drafted well over the past half-decade are the teams that will become preeminent, as the NBA eventually moves to a post-LeBron era in which the next translucent superstar has not yet emerged from the pack. It could be Luka Doncic in Dallas, it could be Devin Booker in Phoenix, it could be Trae Young in Atlanta or Zion Williamson in New Orleans. We just don't know yet.
But what we do know is that the Bucks will be led by the two-time reigning MVP for another half-decade, but whether that ever translates into playoff success may depend more upon Jrue Holiday and Khris Middleton than it does on Giannis.
The big winners here are the Bucks, along with the restricted free agents who will come up for new deals in the next two years -- and whoever gets James Harden, if he is traded. We did not exactly get clarity on that Tuesday night as Harden stayed silent after making his preseason debut for the Rockets, but the former MVP broke his silence today.

Once Houston general manager Rafael Stone and owner Tilman Fertitta decide where the Harden thing is going to go, a clearer picture of what the 2020-21 season looks like will emerge. If 2020 has taught us anything, it is that anything could happen at any moment. Kyle Guy of the Kings gave us an example late Tuesday night by draining a buzzer-beating three-pointer to give the Sacramento Kings a preseason victory over Golden State.
Tonight, LeBron James and Anthony Davis will see the court for the first time since the Lakers finished off the Heat in the NBA Finals in the bubble. Pretty much everyone expects them back in the Finals next spring, but the NBA season always brings surprises. At least the folks in Milwaukee will not have an unpleasant one as they hunker down for the winter. Giannis will be their rock for the next half-decade.
Moving forward, it's just a matter of seeing which are the best pieces the place around him... and whether the Bucks are good enough to beat out Brooklyn and Miami. Lest we forget, Milwaukee lost three straight before the pandemic hit, then went 3-5 in the bubble and 5-5 in the playoffs. So they've lost 13 of their last 21 games. A supermax extension does not change that fact.
For now, this league still belongs to the Lakers and LeBron. A season down the road, it belongs to the restricted free agents.