Fresh off of signing a five-year, $12.5 million contract extension with the Memphis Tigers, Penny Hardaway sat down with me on my show, "The Rematch."
He talked about being a Memphis native, pouring resources back into the community, how he got into coaching, how he actually cares about his players and their well-being and the life lessons he teaches them. He also discussed his playing days, stint in Orlando alongside Shaquille O'Neal, the injuries he dealt with, his AAU days and more.
However, one topic he didn't shy away from was the NCAA's treatment of his star player, James Wiseman, who played only three games with Memphis last season before being ruled ineligible by the NCAA. He discussed how unfair that ruling was and how it sent Wiseman spiraling into depression.
Hardaway didn't hold back at all -- even when I interjected that I didn't want to get him in trouble with the NCAA. He was eager to get this off his chest and break down exactly what happened. Here's a transcript of our conversation (and you can watch the full interview above):
Etan Thomas: "What happened with James Wiseman being suspended? As much as you can say, of course. It seemed to me like he was kind of an innocent bystander in this whole thing, but he got the bulk of the punishment. That's what I saw, but can you explain to me what happened?"
Penny Hardaway: "First of all, you're a former athlete, just like I am. 'Melo built the practice facility at Syracuse, right?"
Etan: "Right. The Melo Center."
Penny: "Okay, so Melo built the practice facility at Syracuse out of the kindness of his heart. He won a national championship, showing Syracuse all kinds of love. If Melo wanted to be the head coach of Syracuse, everybody that plays on his AAU team, Team Melo, is not eligible to go to Syracuse, and why's that? Because he gave that practice facility. I gave $1 million to the university to build the athletic department offices -- out of the kindness of my heart, [I] never had anything to do with the school. I became a high school coach and gave to my community. When I became the head coach, they said that I was deemed a booster. And when you're a booster, you can't deal with athletes."
Etan: "Wow."
Penny: "And James got caught up in that wash because I helped him and his mom move from Nashville to Memphis when I was a high school coach, and they intertwined all of that together. And that's how he became ineligible. How hard is that as an athlete where you played the game and a school gave you a scholarship, and you said, 'Man, you know what? I'm going to bless the school and give them money back.' As soon as you do that, if you're thinking about being a coach, then you can't be a coach at your alma mater, you gotta go to another school."
Etan: "Yeah, that's a terrible rule."
Penny: "That's horrible. It needs to be thrown away, man."
Etan: "And the NCAA, in essence, pushed him out of college, because he wanted to play. I mean, he wanted to play for you."
Penny: "Yes."
Etan: "Talk about how much he struggled and anguished over that whole situation, because a lot of people don't know. They know he got suspended and then there was a period of time, then he announced that he was leaving. But there was a lot that went on in between that, with you dealing with him personally and how it personally affected him."
Penny: "Man, we saw him spiraling downward fast. It sent him into depression. He was really depressed. He was not happy; he didn't understand why he was being punished. It was something that was so innocent that got taken advantage of. There are so many ways that I can look at that, and any coach around the country would say, from top to bottom, low-major, mid-major, high-major, that was the biggest disappointment ever with a player and a coach."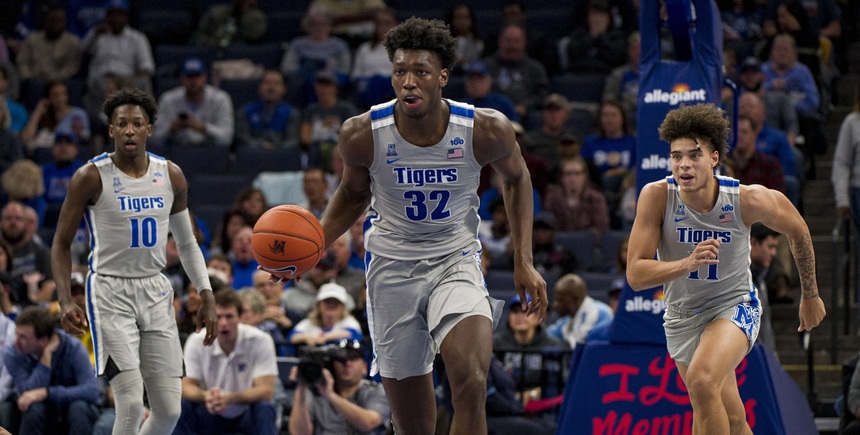 Etan: "That's really messed up."
Penny: "I didn't do anything wrong on the collegiate level at all. All I did was give my hard-earned money that I broke bones for back to the university, and then went back to help my community. And because it quote-unquote looked like I paid James Wiseman to come to Memphis, to go to Memphis, that's unheard of. That's what they deemed. It's not what they knew, it's just what they thought. Like, 'Maybe that's what happened…' or, 'We thought that's what happened,' and now we're going to penalize them."
Etan: "That's terrible. What do you think of the new rule that Governor Gavin Newsom instituted? The one that allows college students to profit off of their likeness, get endorsements and things of that nature. Do you think that helps the NCAA, or do you think that hurts them?"
Penny: "No, it helps, because kids were going to start going to the G League -- a lot of these top kids. Not every kid; every kid can't go. But all the top kids that college [basketball] needs to kind of promote what NCAA is all about. You need five-star players who need to be seen on TV, which promotes the NCAA. The NCAA did themselves a disjustice by not allowing James Wiseman to play, because the kid left. Even though it ended up being the COVID situation and not doing the conference tournaments and the NCAA tournament, this kid would've been all over ESPN and he would've been overshadowing anything that was going on with the NBA, because that's how ESPN works. Unfortunately for him first, and then for the NCAA second, that happened. But the name, image and likeness situation is going to help the NCAA, because kids are going to want to go to college that aren't ready for the NBA. And they're going to be able to get paid, and that helps them."
Etan: "But even from a business standpoint, that just didn't seem like it was a wise move for the NCAA. I mean, they know that each situation is different. I don't want to get you in trouble. I don't know how much you can say and can't say, but it was just unfortunate that he had to be used as an example for a rule that didn't apply here and had different circumstances in the first place. So I thought that was just unfortunate, and these types of situations are causing young people to want to bypass the NCAA completely. You see LaMelo Ball going overseas, you see Darius Bazley, who was supposed to go to Syracuse, but he just worked out for a year basically and then went in the first round of the draft. You see guys wanting to take different routes. Do you see that becoming more of the norm, or do you see this new rule with guys being able to get endorsements and profit off their likeness helping curb that new wave? What do you think?"
Penny: "I think it will curb it some, but most guys just don't want to deal with the NCAA. Period. When you start hearing what happened to James, you see things of that nature, it scares you, it makes you not want to go. It'll make you sit out a whole year like Darius did. Darius was in Memphis pretty much that whole year that he sat out, working out down here. And you get guys that'll just go and work out [individually] or go overseas, and they'll still be a top pick because the league wants them. And that'll be a shame on the NCAA because every kid, to me, should experience college, man. College is the most fun time of your life before you get to that next level, if you're able to go -- even if it's just for one year."
Etan: "Yeah, it was a blast. I was blessed to go to Syracuse, where I met my wife and started my whole... everything. So, I loved it. But I do see the economic exploitation, and I do see these situations like what happened to Wiseman that make it apparent that there's definitely a lot that the NCAA needs to change and improve on. And I hope they keep improving for the sake of the players and college basketball as a whole."