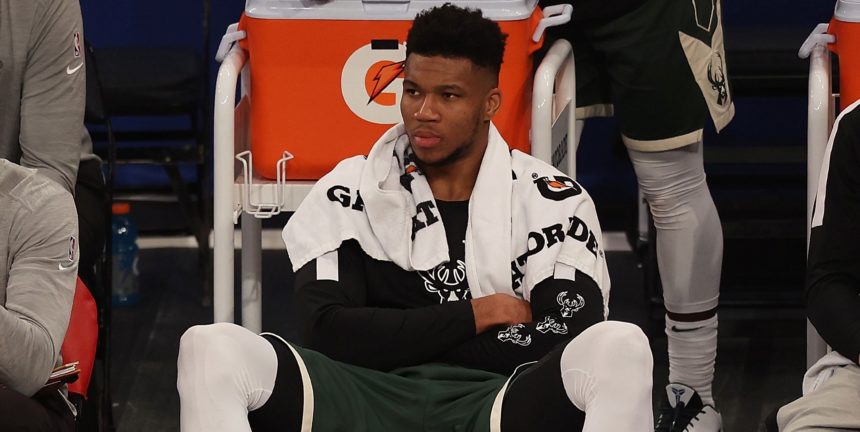 The state of the Bucks: What's wrong and where do they go from here?
It started with an increased pace, at least initially. The Bucks, at the beginning of the 2020-21 season, were playing quick, efficient, and generally livelier basketball than usual for a team that was best known as a defensive juggernaut over the past several seasons. A large part of that acceleration was due to Jrue Holiday, an adept playmaker who helped New Orleans climb to the top of the league's pace ratings from 2016-17 through last season, when the team he would eventually be traded to overtook the Pelicans on that front.
Prior to the suspension of the 2019-20 NBA season last March, the Bucks were rampaging. However, their return to play in the Orlando bubble looked arduous by comparison. Milwaukee appeared flat and unresponsive until they were deftly dealt a much earlier exit than anticipated by a brisk and biting Miami.
While the backdrop had been vastly different, the way the Bucks fell out was familiar. A team that easily dominated throughout the regular season was looking, by comparison, overmatched and outworked in the playoffs. This was an uneasy deja vu for Milwaukee fans without an immediately obvious solution because on paper, nothing about the team should have lent to such a distinct postseason dissolution.
The team's offseason moves — signing Giannis Antetokounmpo to a supermax extension, acquiring Holiday and filling out the supporting cast with Bobby Portis, DJ Augustin, Bryn Forbes and Torrey Craig — were pointed in that their ultimate purpose and direction were for a more responsive playoff team.
The position the Bucks currently find themselves in, teetering in the top three of the Eastern Conference without an entirely dominant record thus far, is new and largely uneasy territory. With the focus on creating an improved playoff vehicle, Milwaukee may have inadvertently stalled out on the regular season.
Losing Holiday to the health-and-safety protocols after a positive COVID-19 diagnosis set Milwaukee immediately adrift. After a win against the Nuggets, the Bucks would lose their next five-straight games. With Holiday out, Milwaukee's lack of reserve playmaking has been on display. Their backup guard, Augustin, has delivered just 26 points across a four-game stretch while shooting 6-for-25 from the field. Forbes, who's still finding his groove with the team, is not yet a shot-for-shot stabilizer and is currently averaging 9.5 points per game off the bench. Even when Holiday returns, aside from any adjustment period, it's hard not to acknowledge what the last few weeks have shone a spotlight on: For a team to succeed in the gruelling realities of the postseason, nothing can hinge on the abilities of one player alone.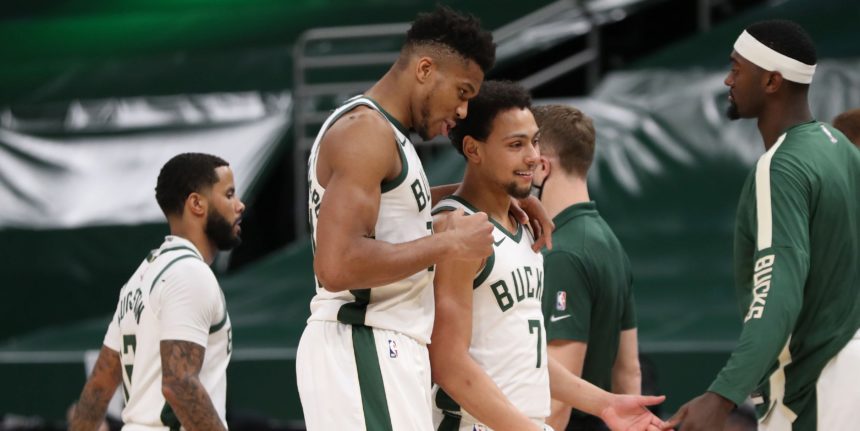 Gaining Holiday also came with its drawbacks, not all of them as apparent before the season got underway. Because whatever perceived postseason problems there were with Eric Bledsoe, George Hill and Wes Matthews, the three of them also represented a wealth of veteran presence with intuitive knowledge of the team's off-ball rotations, an area where the Bucks continue to struggle against any offense faster and marginally more adaptable. The Bucks aren't alone in losing a bigger defensive step with outgoing players than their front office potentially anticipated, as the Raptors experienced something similar with the departure of Serge Ibaka and Marc Gasol. But where the Raptors appear to be righting themselves, Milwaukee's defensive game still looks slanted.
For the past two years, the Bucks were ranked No. 1 overall when it came to limiting their opponents' shooting from the field, but they've since dropped to No. 12 this season (at 53.3%). This has particularly come to hurt them with limiting effective three-point shooting, where they now sit No. 25 overall (at 38.3%), a perceptible drop from No. 15 last season and No. 17 prior to that. For context, Cleveland is currently sitting last at 40.5%. It's not just in the particulars, the Bucks have fallen to No. 10 in overall defensive efficiency, a sharp decline considering the highly fortified defensive identity they'd come to claim over the past two seasons — a veritable fortress on wheels.
As that fortress's architect, Mike Budenholzer's approach relies on limiting opportunities for an opposing offense in the paint, doubling up to block any lanes for driving, dunking and layups. But with so many teams shooting the lights out this season — from outside and just inside the arc — Milwaukee's tendency to crowd the key has only made it easier for their opponents to not just take shots, but make efficient shots, lining them up with time to spare. It was Budenholzer's stubborn digging in with the Hawks that played into his departure from Atlanta, and while it seems unlikely the Bucks would cut ties with their coach in the middle of what's become a difficult and uncharacteristic season, this is a league that can lean into proximal trends. Minnesota having cut Ryan Saunders loose so abruptly could stir something in a panicky Bucks ownership group if they're at all inclined to believe Budenholzer limits their chance of making it out of the East.
Milwaukee is not a team that is used to losing in the regular season. It's apparent in their play as much as certain naiveté from players. In his postgame interview following the Bucks' loss to the Jazz on February 12, Antetokounmpo offered a silver lining, "Win or lose, we're getting better. Game by game, we improve. We are trying new things. We started the game switching. We've never done this before."
Though hopeful, it also presents some telling takeaways. The fact that the team had never begun a game by switching and that it was enough of an anomaly in play to be noted is noteworthy.
The Bucks are beginning to make adjustments; the question is whether these changes will be enough to jumpstart a stalling team that has fallen into the trap of repetition, making them easy targets for the swarm of proficient offenses capable of collapsing them with the bare minimum of counter-strategy. While Antetokounmpo's strength makes him more or less unstoppable at the 5, it puts a strain on the team's backcourt, and not that he's a high-flying player, but the position sticks a pin in his movement on the floor.
Brook Lopez can't consistently keep up against new-caliber bigs like Anthony Davis and Nikola Jokic, and he's also struggled against very quick guards pulling up in the mid-range since it's impossible for him to reach them in time when he's planted under the basket. It's not entirely on Lopez; the Bucks have no backup center and when eyeballing teams stacked with size in the West, there isn't enough of a contingency plan to account for missing size in a deep playoff run.
Moreover, with the three first-round pick options and two future pick swaps it took to get Holiday, and the team's only real potential trade chip being Donte DiVincenzo, the Bucks have to make sense of what they have with little opportunity to adjust their roster at the trade deadline.
It's possible that the strategy for this season was to acclimatize Holiday and the team's other new additions while giving Antetokounmpo a more flexible role on the floor — the tradeoff being less regular-season success for a group that, come the playoffs, would be humming. It's also entirely possible that the grueling schedule — 17 games in a 30-day stretch — that the team took on in February, paired with an entirely unpredictable season, has run a Milwaukee team with a shorter roster and thinner margin for error a little ragged. But the strategy of looking only to the postseason when shaping a team before any games have begun relies inherently on a group good and steady enough to get there, with plenty of time to iron out the kinks.
The Bucks, halfway through the season and beholden to what they currently have, may be running out of runway.