"The path is pretty easy to lay out. Devin Booker makes his first All-NBA team as the second-best 2 in the league; Chris Paul is healthy and gives the Suns some added playmaking and shot creation in the half-court. Stellar defensive play from Mikal Bridges, with DeAndre Ayton (finally) putting it all together for extended stretches. Add in serviceable vets to fill in gaps, and a top-four seed doesn't look too crazy."
That was me recently riffing on the possibility of the Suns hosting a first-round playoff series. With their core four playing well and veterans chipping in to help, I thought they could nab the fourth seed in a best-case scenario.
There's always an injury-based caveat that goes into these types of projections, and it's generally not a good idea to make declarations based on a seven-game sample.
Screw it, though: I think I sold the Suns a little short.
They've jumped out to a 5-2 record, tying them with the Los Angeles teams for the best record in the West so far. Early numbers can be wonky, but it's worth noting that the Suns are tied for fourth in net rating (plus-7.3), third in defense (103.4 defensive rating), and their offense (110.7) is less than a point per possession off from placing them in the top 10 (Boston/Brooklyn at 111.6). The Suns flirting with a top-10 offense despite their star backcourt shooting a combined 20-of-59 (33.9 percent) from deep is a testament to how much room they have to improve.
THE DEFENSE IS REAL
Oh, buddy, this unit is a joy to watch.
This is an active group. A smart group. A versatile group. They've trended slightly conservative in terms of scheme, preferring to drop their bigs in pick-and-roll and trusting their on-ball defenders to fight over. When you have a guy like Chris Paul at the point of attack, you can make that bet.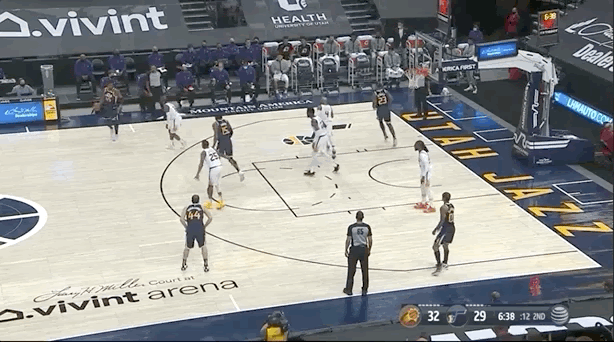 That's a 35-year-old Paul preparing to ICE the screen, fighting over, then hopping back to his left as Donovan Mitchell attempts to cross over. Paul then chases Mitchell into DeAndre Ayton, who stonewalls what's left of this possession.
To that point, Ayton has been a safe haven on the interior. He has the size to meet guys at the rim in a drop scheme, and is also mobile enough to play higher up to take away more fruitful pull-ups. He also moves well enough laterally to switch onto perimeter players in a pinch. Watching Ayton pick up snaking ball-handlers has been an underrated pleasure of the season.
Speaking of snaking ball-handlers, can we just appreciate the menace that is Mikal Bridges? His arms are as endless as his motor. He's a lanky lad, but it allows him to slither through screens and stay attached to his prey. Bridges has also gotten strong enough to fight through bigger picks. Even in the event that he gets hung up, he has the length to make recovery plays that shouldn't be possible.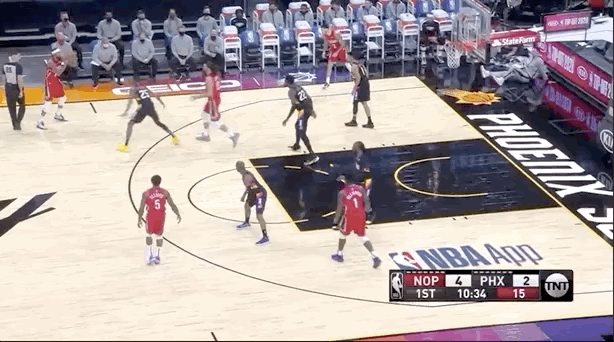 It's a similar possession to Paul's. Bridges attempts to ICE the screen to send Brandon Ingram to the baseline. Ingram snakes around the initial pick, then runs Bridges into a second body-bump from Steven Adams. Ayton is there to meet Ingram in the air, and Bridges makes the tight-area interception.
Challenging the Bridges-Ayton combo hasn't been a fruitful endeavor. A quick stat, via a source with access to Second Spectrum tracking data: Enemy offenses are generating a shade over 0.7 points per possession on trips that feature a pick-and-roll defended by those two.
Bridges is absurd. Ayton is really good. Paul is still kickin' in his mid 30s. Jae Crowder, the new addition, is a plus defender even if he can't hang with the twitchiest of ball-handlers. The weak spot in the starting lineup is still Devin Booker. Not only is he competing at a higher level on that end of the floor, you can't really isolate him because of how well the Suns dig-and-recover or flat-out switch to keep themselves out of uncomfortable rotations.
THE STARS ARE STILL SHINING
Even with middling efficiency on jumpers so far, the Suns are still getting quality production from Booker and Paul.
Paul has been directing traffic like you'd expect. He's been the trigger man for off-ball plays for Booker, a smart off-ball mover when the action shifts around him, and he remains one of the sauciest dudes we've ever seen against drop coverage.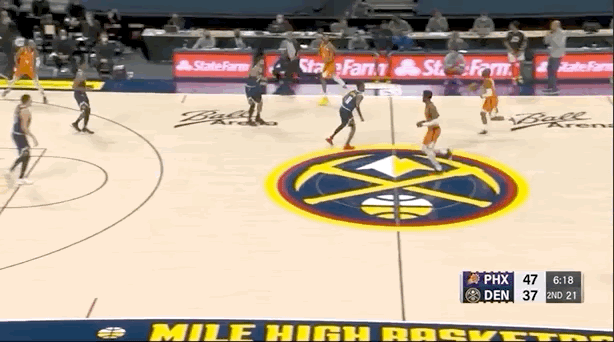 As alluded to earlier, Paul has struggled with his jumper so far this season. Per Synergy, Paul has only converted 36 percent of his off-the-dribble looks. He's converting 40.9 percent of his shots between 10-16 feet per Basketball-Reference, a clear outlier considering he's canned 50.1 percent of those shots over the past eight seasons.
Conversely, Booker has had to do less offensively. He's only tossing up 16 shots a night, down from 18.3 last season. Half of his two-point shots have been assisted so far this year. That's way up from his 41.6 percent clip last season -- hello, Ricky Rubio's influence! -- and that was waaay up from the 29.5 percent clip the year before that.
The Suns have been feeding Booker in the mid-post via quick-hitters off of screens, which have allowed him to get up efficient looks without a ton of work. A year after converting 51.9 percent of his shots coming off a screen on hefty volume, Booker is off to a 6-of-11 start (54.5 percent), per Synergy.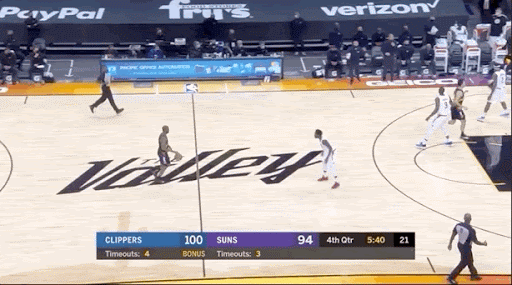 If you're counting at home -- or at work, or the grocery store, or anywhere -- that's four steps from Booker as he makes that diagonal cut to receive the pass, then a pivot, dribble, and fadeaway. He receives the ball with 18 on the shot clock, and the ball is going through the net as the clock hits 15.
There's room for some positive regression, if you will, for Booker. He has been the NBA's Carson Wentz so far; nobody has accumulated more turnovers than Booker's 37, and only Nikola Jokic is averaging more on a per-game basis.
The infuriating-yet-comforting thing about Booker's turnovers is that they've been mostly self-inflicted. According to PBP Stats, Booker has been called for three travel violations so far this season after only being guilty of the crime seven times all of last season. There has been some handsy-ness curling off of screens or just as he begins his drives, leading to offensive foul calls. He's also found himself in tough positions via jump-passing, looking for last-second relief outlets after digging himself into holes after drives.
If you want to put a number to it: of the 41 players that have committed at least 15 turnovers so far this season, Booker's live-ball turnover percentage (the rate of turnovers that don't lead to an inbound) of 37.8 is the third-lowest of the group. He isn't putting his team in compromising situations in regards to transition opportunities. Assuming he irons out those kinks, he and the Suns will be fine.
The odd thing about the Paul-Booker backcourt so far is that, statistically, they haven't played that well together. The Suns are actually getting outscored when Paul and Booker share the floor, and have prospered both ways in the one-on, one-off minutes. Part of that is just the sample; they're still figuring out how to play together.
It's also worth noting that the latter portion -- Paul-only and Booker-only lineups performing well -- is part of the reason why the Paul move was a good one. Having 48 minutes of high-level creation, even if that creation comes in different ways and at different speeds, is a luxury that only a handful of teams have.
BRIDGES, ON THE OTHER END
While Bridges' calling card is on defense, it's hard not to be excited about his offensive growth. He's knocking down threes at an insane level (46.3 percent on 5.9 attempts). That's going to regress at some point, but stabilizing as a 37 or 38 percent three-point shooter would be huge for him.
What's really enticing is Bridges' newfound aggression with the ball in his hands. While he isn't tasked with creating, he's done a better job of feasting off of the chaos created from others. Decisiveness was an issue for Bridges earlier in his career. That guy -- the one that was hesitant to fire against pressure, or would let driving windows close as he thought about his next move -- seems to be long gone.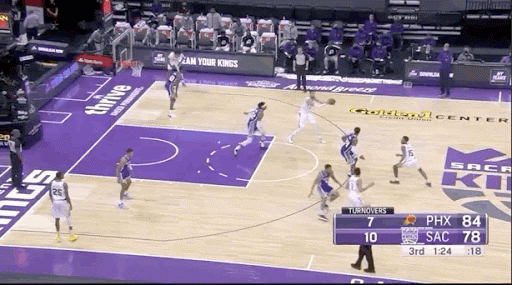 He's shown hints of pick-and-roll craft, snaking around picks and flowing into pull-ups. He isn't effective at it yet, but it's nice to see him put those reps on tape.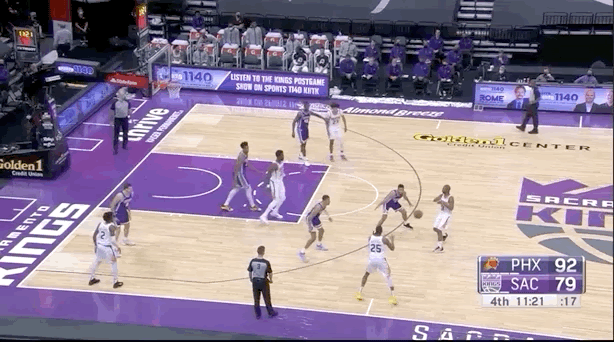 At bare minimum, Bridges is someone who will knock down open looks, fly and finish in transition, and beat ball-watching defenders with smart cuts. If he's able to show more growth with the ball in his hands, we'll be looking at one of the best wings in the league.
THE CAM PAYNE CAMPAIGN (AND OTHER BENCH GUYS, I GUESS)
Raise your hand if you thought Cam Payne could turn his NBA career around after earlier "meh" stints in Oklahoma City, Cleveland and Chicago.
Alright, decent amount of hands.
How many of you thought Payne would continue his hot stretch from the bubble, and stake his claim as one of the more underrated backup point guards in the league?
Cool, cool. Don't really believe some of you, but cool.
Let's try this: Raise your hand if you expected Payne to drain 47 percent of his triples, keep the pick-and-roll machine running (59th percentile as the ball-handler, passes included, per Synergy) as a secondary option, and help stabilize units to the point where the Suns are darn-near 24 points per 100 possessions better with him on the floor?
Liars, the lot of you.
It may be a bridge too far -- Bridges, if you will -- to make a fringe Sixth-Man-of-the-Year case for Payne, but he's legitimately been good. He's finding cracks around the perimeter to generate clean catch-and-shoot opportunities for himself. On the ball, he's utilizing hang dribbles and some Normal-3-on-2K21 hesitations to waltz into pull-up opportunities.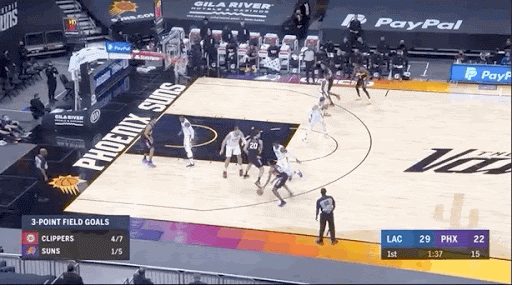 Payne isn't the only one providing value off the bench. Cameron Johnson is building off of his sneaky-good rookie campaign, knocking down nearly 40 percent of his threes on over six attempts per contest. Dario Saric is stretching defenses thin with his shooting ability (38.5 percent from three) and firing slick passes on occasion.
The Suns can go offense or defense with their other backup guard. Langston Galloway is a solid off-ball guard who can shoot or get downhill against a bent defense. Jevon Carter is an absolute dog as a point-of-attack defender, though he hasn't been able to provide enough value at just about anything pertaining to offense to warrant consistent minutes.
You don't want to make "this-team-is-a-contender" declarations after seven games. In terms of the roster construction, the Suns still have questions to answer about their backup 5 spot. Saric isn't a true rim protector. Their rookie Jalen Smith needs time to grow. Damian Jones just… isn't very good.
With that said, the Suns may be closer to the West's elite class than we collectively thought coming into the year. The defense is elite. The offense is pretty close to elite status despite the top guns not performing to their level. Add in growth from the young pieces and contributions from the vets in place, and this team may be ready to contend sooner than anticipated.