It didn't take long for Jimmy Butler to realize that he belonged on the Miami Heat.
During Butler's free-agency meeting with Heat president Pat Riley and coach Erik Spoelstra last offseason, he committed to join the team before they had a chance to start their pitch.
"It was one of the most amazing recruiting visits we've ever had," Spoelstra said. "It was so conversational and you just felt like, after 20 minutes, we were so aligned in how we viewed competition and work and culture… everything. We never even got into a pitch with him. We really just had dinner. We were talking shop and he interrupted Pat and I after dinner, probably five minutes into a conversation, and he said, 'By the way, I'm in.' We're like, 'What? We haven't even given you our pitch yet!'"
The Heat's reputation precedes them, and Butler had heard that their culture was special from Dwyane Wade when the two were teammates on the Chicago Bulls.
"Spo and Coach Pat knew what they was doing," Butler said of the free-agency meeting. "They was blasting [music by] my guy, Dermot Kennedy, when we walked in. I was like, 'I'm home!' It was easy. Obviously, D-Wade told me about it. I wanted to be part of that: the work, the 'culture' - the word that everybody uses. I know y'all are tired of hearing it, but it's real. More than anything, they wanted me to be here. They told me, like, 'Yo, you're the guy that we want. We're coming after you.' To be wanted, that's what anybody wants in the world, not just basketball. I'm happy to be home."
Butler's a maniacal competitor, who's known for pushing his teammates and wanting to win above all else. That rubbed some of his former teammates the wrong way, which is (in part) why Miami is Butler's fourth team in four years. However, on the Heat, he's surrounded by like-minded individuals and he can be himself.
"I think what this whole thing comes down to is being wanted, being appreciated for what you bring to the table," Butler said. "As I've said time and time again, as Spo constantly says, 'We're not for everybody.' I'm not for everybody. But here, I am. The guys we have, we're [perfect] for one another. We're going to constantly compete for one another. This is home for me."
Butler has proven that his demanding attitude is effective, if everyone is on board.
"I always just wanted to win, do whatever it took to win," Butler said. "Nobody is taking it personally because we all have the same agenda. It's not for stats. It's not for fame. It's not for none of that. It's to win a championship. My leadership style, it works here.
"I just get to be me here. I get to call it how I see it. Nobody takes it personally. I don't have to worry about anybody trying to control me, as it was said people were trying to do over there [in Philadelphia]. But I have no hard feelings towards any of those players, anybody in that organization. I'm glad to be where I am. As you can tell, it's worked out, and that's where I'll leave it."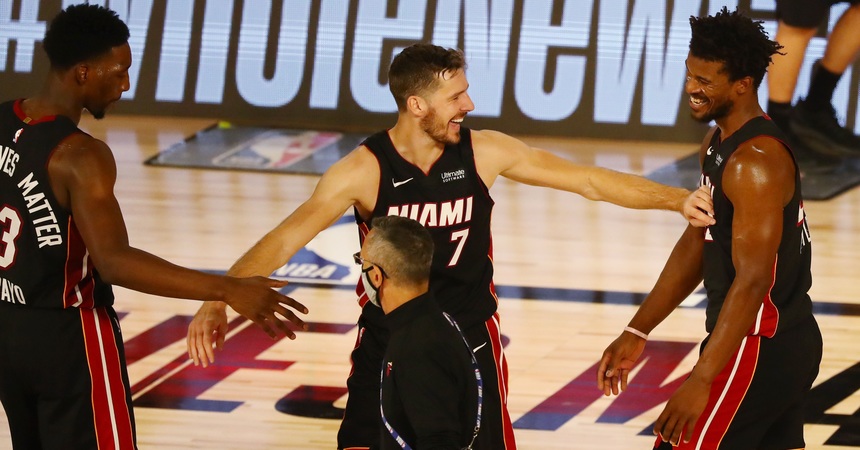 If there's any organization that is aligned with Butler's mentality, it's the Heat. They are known for their intense offseason workouts, brutal training camps and long, full-contact practices. There's a huge emphasis on conditioning and weight-training. They want their players to be in the best shape of their life. Once a week, players are weighed and their body-fat percentage is measured. They take a photo of each player's body before, during and after the season to keep track of their transformation. The team's goal is for everyone to be under 10 percent body fat.
Hell, if any Heat player puts his hands on his knees for a breather during a practice or a game, he is fined $100. Also, in order to participate in training camp, players must pass a brutal conditioning test that's been described as one of the hardest in all of professional sports. Players must sprint from baseline-to-baseline 10 times in under a minute, take a minute to rest, and then do it again. As ESPN's Brian Windhorst reported, Butler actually failed the test the first time he attempted it.
"They had us come in early during the offseason to prepare for training camp," an anonymous Heat player told me in 2017. "We did sprints and other conditioning drills, and we even went outside to push some sleds and flip tires and stuff. This was all to get ready for training camp."
"Everybody has to work hard all the time," said former Heat forward James Posey, who won a title with Miami in 2006. "It's demanding. That's what they're about. At first, it was a little bit tough with the weight checks, the body-fat percentage checks and how they do things. Then, you buy in and put in that work and you see the results and you're like, 'Aw, shit! It's worth it.' And it gets easier once you buy in and you get used to it. But are you willing to buy in and make the sacrifices? That's where players have the most problems."
It's hard to argue with Miami's way of doing things considering the results. They've been to five NBA Finals and won two championships in the last 10 years. They typically play their best basketball later in the season (when other teams are worn out), and they've done an incredible job of identifying and developing talent. They should only get better going forward, too. Star players see what Riley and Spoelstra are building in Miami and want to be part of it. For example, Victor Oladipo and Giannis Antetokounmpo have been linked to the Heat recently.
But first things first: Miami is four wins away from winning a championship. Exactly one year to the day after Butler was introduced as a member of the Heat, he helped Miami advance to the organization's first NBA Finals appearance since the Big Three era.
Did Butler ever imagine this team would be in the NBA Finals this one year later?
"Actually, yeah; I said it time and time again," Butler said. "I believe in our group. I know that we can still win four more [games]. We're not satisfied. We're not complacent. We know we've got a really good team to go up against… [But] we said this from the beginning of the year… We talked about it and put that out there in the world and I think all that positive energy we put out, it came back to us. We believed when not too many did, but that's okay. We're going to keep believing and get these next four [games]."
Posey isn't surprised that Butler has been such a perfect fit with the Heat.
"Jimmy has always brought this to the table, those other teams just didn't buy in," Posey said. "When you have a group of people who all get it and play that way, you give yourself a chance. They all have that energy, that competitive nature - from the coaches through the whole roster. The other players [in Philadelphia, Minnesota and Chicago] didn't get it. Maybe it's because they're younger and Jimmy is older, so he understands the league better. He was trying to challenge them and bring out the best in them, but some people don't like to be challenged. Those teams that let Jimmy go, they just didn't get it.
"I'm happy for Jimmy. Now that he's gotten to this point, people [on those teams] want to say, 'Oh, okay, maybe he isn't a bad leader… If only we still had Jimmy...' Nah, it's too late. Y'all were talking behind his back and whispering and everything and y'all didn't like it. Now, another team - a team of young guys, at that - bought in and are having fun and winning games. They're playing hard and competing. They aren't the most talented team, but they play well together and have that energy and make each other better. They've accepted that challenge from Jimmy."
Butler's teammates and coaches rave about him and the impact he's had on and off the court.
"When Jimmy came into this team, he wanted to get in where he fit in," Bam Adebayo said. "He didn't come in like, 'This is my show and this is how I'm going to do it; this is my way or the highway.' He came in and bought into the system. He didn't care if he scored. You've got to think about that. A lot of max players, [if] they don't have the ball, they get upset. I appreciate Jimmy because at the end of the day, we feed off each other."
In the playoffs, Butler is averaging 20.7 points, 5.7 rebounds, 4.5 assists and 1.9 steals while shooting 45.7 percent from the field. His three-point shooting has drastically improved in the postseason too, as he's knocking down 36.7 percent from deep (which is up from 24.4 percent in the regular season).
"So much of this league is just about alignment," Spoelstra said. "Can you acquire a group of people that are aligned in whatever your vision is? And you need your leaders to embody those qualities, whatever they may be. Jimmy Butler embodies those qualities, just like all the Heat players of our great past have done before: Alonzo Mourning, Dwyane Wade, Chris Bosh, Udonis Haslem. He just embodies these qualities of professionalism, of work, of accountability, of being reliable, and he leads… He impacts winning. I think everybody in the league has always known that he impacts winning. It's not about stats. It's not about anything else. He cares. And, for us, that's our language. He set the tone all season long… If you want to run a practice and compete, Jimmy is going to make sure that it's going to go to a different level. He can't do anything without competing fiercely and doing whatever it takes to win.
"He doesn't have to make any apologies for who he is. We love him for who he is and what he's all about."